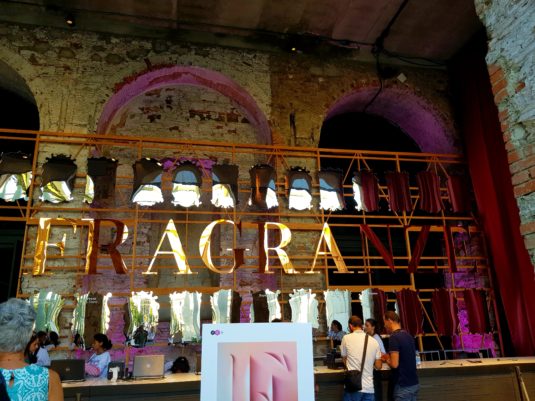 Every Pitti has its own distinctive personality, this Florentine adventure, no exception. A tangible excitement at its opening, numerous meetings and connections, friendships renewed and forged anew, possibilities of new discoveries scenting the air. It is always a privilege to attend. Certain trends emerged early, the general atmosphere more tranquil and less frenetic. I discussed this sea-change with several of the participants, there was a sense that 'Niche Perfumery Olfactory Art', is coming full circle, that the mass hysteria and accompanying crush has subsided a little and now the true Devotees and Artisans mingle and converse. It feels as if 'Niche' is coming back to its roots of purely crafted and artisanal.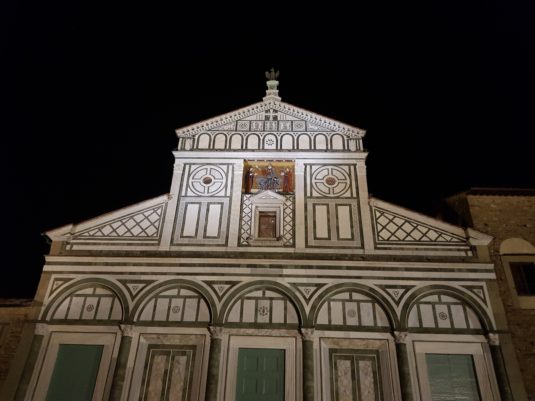 Basilica San Miniato di Monte, Firenze.by Danu
Tendencies towards smaller, little known lines that have been quietly beavering away, doing what they do with passion and verve, each in their own small corner of the World, stepped into the Pitti Fragranze 2018 arena. This made for some wonderful new discoveries and friendships to be continued.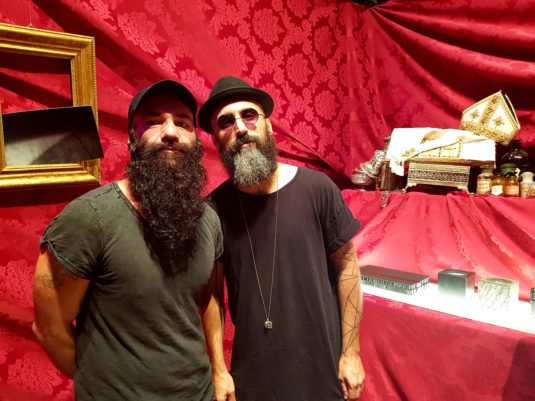 Filippo Sorcinelli (L), Yuri Kolesnikow (Pitti Fragranze 2018) Danu
Filippo Sorcinelli of Unum and Sauf always commands my attention. Releases of not one, but three new additions to the vaults of a truly rare High Art. The first two, Violon Basse and Unda Maris, distinctly different, crafted into the 'Extrait de Musique' Collection.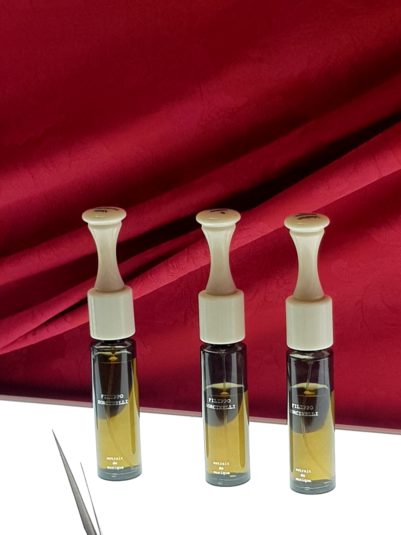 Violon Basse and Unda Maris Filippo Sorcinell by Danu
Launched at an event, 'Synesthesia of the Soul', within the walls of Basilica San Miniato al Monte, Firenze. Crescendos of organ and choir, reverberating on ancient stones, the fragrances conjured into the symphony. We were encapsulated within the Basilica, high above the lights of Firenze, gifted the Organ playing of Filippo along with choral risings, the moments of crescendo elevated by the scents distributed amongst us, similar to the Rites of Eucharist. Quite simply exquisite, catching the soul-trembling emotions.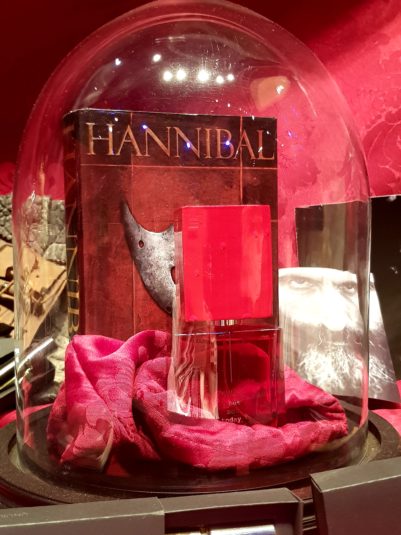 but_not_today Filippo Sorcinelli Danu Seith-Fyr Pitti Fragranze 2018
The final release needed no introduction, so eagerly awaited at Pitti Fragranze 2018 …'but_not_today', inspired by the line from the film Hannibal; "You use Evian skin cream, and sometimes you wear L'Air du Temps … but not today". The relation of two polar entities in the characters Hannibal Lecter and Clarice Starling, yet they are connected in primally and intimately. but_not_today is a raw, addictive and subtle disturbance of a fragrance, 42 notes of Blood, 18 of White Lily, heightened by its launch at Palazzo Capponi, amidst sublime music and surrounds befitting its stature. The gathering of kindred spirits, those who see beauty wherever it emerges, the music in the courtyard amidst champagne, on higher floors, a Library of note with manuscripts from 1150AD placed upon my trembling fingers. Filippo Sorcinelli on piano above accompanied by Soprano Giovanna Donini.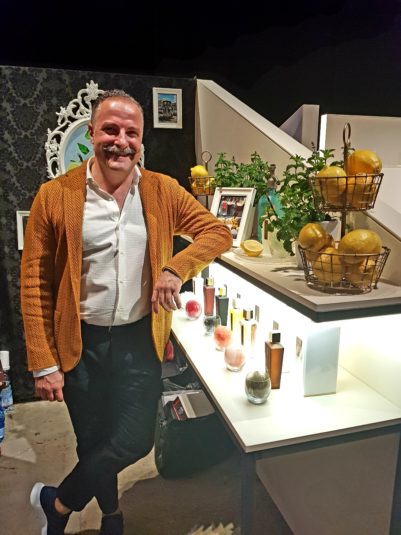 Fara, Antonio Alessandria Parfums, Pitti Fragranze 2018 Danu Seith-Fyr
Another worthy mention is for Antonio Alessandria Parfums and his new 'Fara', already beautifully reviewed on Cafleurebon, pre-release. I had yearned, quite ardently after this fragrance, since smelling its earlier incarnation at Esxence in Milan. Its warm play of refreshment on heated, sultry lips and the blessed satiation of thirst being quenched is a pure, unadulterated, sensuous delight. In its threaded carnal undercurrent lies a 'cat on a hot tin roof" languidness that transports me to the lover's bed, all crisp crumpled linen, windows wide to the heated winds, this definitive Sicilian imbibement atop a bedside cabinet, beguilement to be woven into proceedings at Will. This is most definitely where a sample will not suffice, a bottle is a must.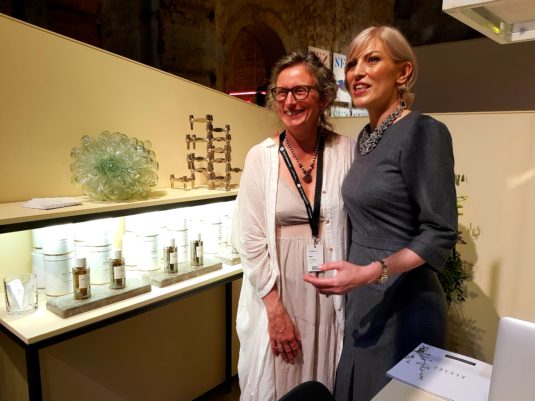 Cloon Keen Founder and Director Maggie Mangan and Danu Seith- Fyr
As a third sip from the glass of Pitti, I was delighted to discover Cloon Keen Atelier, an Irish Perfumer based in Galway. Meeting with the founder, Maggie (Margaret) Mangan and being introduced to the collection was the meeting of long-lost friends in all respects. We could have talked for hours and here at Pitti was presented the legacy of twenty years of artisanal production. Stylistically aesthetic to the eye, the fluidity continues within the fragrances. As lyrical as the soft Irish accent of Maggie herself, these fragrances entwined me within an ancient landscape and history yet were modern and inviting. All of the Collection piqued my interest, so I am eager to explore them more.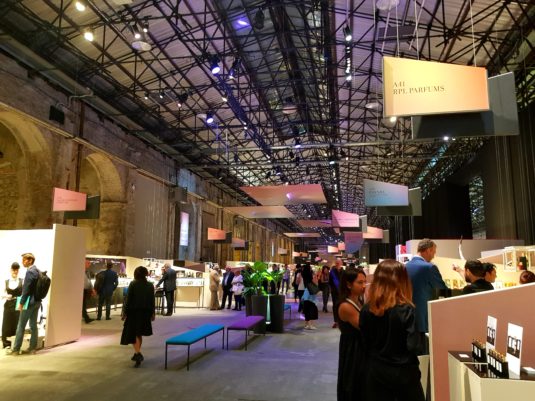 Pitti Fragranze 16, 2018
Samples received at Pitti Fragranze 2018 from Filippo Sorcinelli, Antonio Alessandria and Cloon Keen, with gratitude.
Nose and opinions, my own.
-Danu Seith-Fyr, Contributor (and contributions by Michelyn Camen, Editor-in-Chief)
Thanks the Danu we have samples from Pitti Fragranze 2018 to one registered reader anywhere in the world. To be eligible, please leave a comment saying what appeals to you about Antonio Alessandria Fara, Filippo Sorcinelli but_not_today, Violon Basse and Unda Maris, and Cloon Keen Atelier based on what she wrote in her first impressions article and where you live. Draw closes 9/26/2018
We announce the winners only on site and on our Facebook page, so Like Cafleurebon and use our RSS Blog feed … or your dream prize will be just spilled perfume