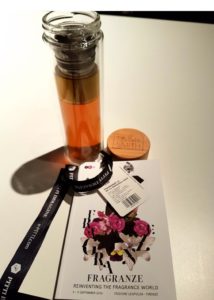 Certainly as I walked my way across the City of Florence early on Friday morning, I had a sense of the surreal. For four years I had fantasised about making the journey from my home Island, Waiheke, New Zealand to Florence and to be part of one of the world's greatest fragrance extravaganza. One of the joys of being able to attend this event is that I have met the most astounding people, some of whom were known to me through media but we hadn't met and those whom I was meeting for the first time. Michelyn had given the brief to follow my nose and to sniff just exactly where my Winemakers' background took me. This adventure has quite an 'Alice in Wonderland ' quality. Was I Alice, in wonder at it all, or the Hatter not quite knowing if I was coming or going? It veered between the two.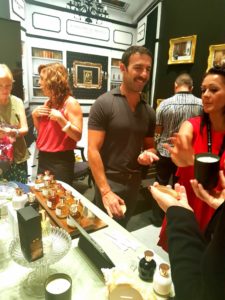 Carlos Huber at Pitti Fragranze launches ÉL and Ella
I have had the pleasure of meeting Carlos Huber of Arquiste on several occasions in New Zealand, so I was of course very interested in his new releases in collaboration with Rodrigo Flores Roux, El And Ella, I was curious to explore these two homages to the crazy dance floors of the 1970's Acapulco Clubs. Black and White. Yin and Yang, One thing for certain, these are without a doubt 'dirty' scents and Arquiste should issue a disclaimer,,,dangerous sexy scents ahead.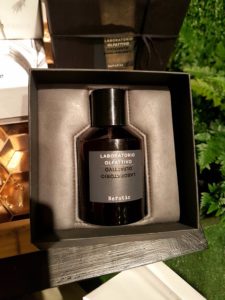 Laboratorio Olfattivo Nerotic
Laboratorio Olfattivo's latest fragrance is Nerotic by Cecile Zarokian. I am always drawn to the darker, more dangerous aspects of scent and this is no exception. There has to be an edge that draws me inexplicably to a point of decision, this fragrance exudes a sweet, headiness that sits well with its name which is a cross between, neurotic and narcotic. It's edgy, slightly unhinged, but with a sweet stupor.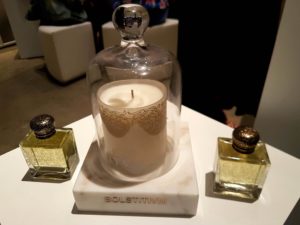 Inspiritiv Solstitium
My next discovery which certainly married up the fragrance and the creators in one exquisite package was the Rome based house of Inspiritiv. Olivia Marriotti and Luca Calvani are co –creators and Luca is the perfumer. An innate sense of the sacred and ritual in all their work and I do not speak of branding here but of the core qualities of what constitutes their fragrances and their candles. The new release is Solstitium, the turning point, a liminal sacred space. These fragrances are inner luxury at its best; they beg us to take leave from the madness of modern life.
Connecting with a creative, who functions as I do, from intuition and reflection without expectations or prior constructs. I am writing about someone very dear to Michelyn and to CaFleureBon, Olivier Durbano.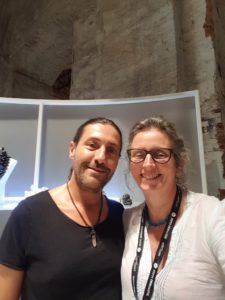 Olivier Durbano and Danu
There is actually no separation between his Art and himself, it is an intimate reflection of his inner life…..he is a true Artist.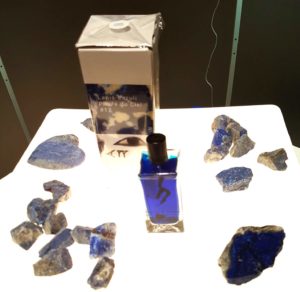 Lapis Lazuli #12 by Olivier Durbano
Lapis Lazuli Sky Stone # 12 Is the latest release from his alchemic crucible, it has clarity. It is infinite. This is a fragrance of immortality, of a star studded sky and the company of gods…close at hand.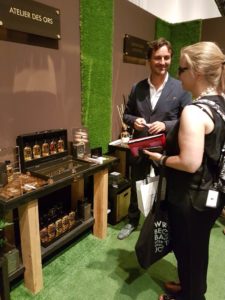 Creative Director Jean-Philippe Clermont
Atelier des Ors: Everything about this brand speaks luxury, but not of the ostentatious variety..It is the luxury of Nobility, beyond money and wealth…. How wonderful then to not only find them at Pitti but to also get to meet Creative Director Jean-Philippe Clermont, a warm and wonderful man, whose affability and openess shine forth like the gold leaf in the bottles of his fragrances. His latest is Iris Fauvre by de facto in house perfumer Marie Salamagne.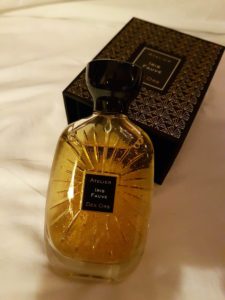 Atelier des ors fauve
I am not usually a great fan of Iris as it can be too heady and powdery for me. But this expression is timeless and very, very elegant …that is its perfection. There is residing at its centre a rich, creamy heart, saffronic, vanilla and a touch of lavender…. Jean-Philippe has taken Iris out of the closet and given her shiny new edges that speak of something racier. As it dries down there is a bold precipice that dares you to be, you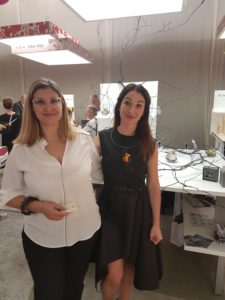 GabriellaChieffo (L) and-Michaela Bilotta
Gabriella Chieffo, this woman carries with her a wild and wonderful paradox of sensitive vulnerabilities, delicate femininity and a strength that emanates from her and is truly reflected in her scents. Her latest creation (in collaboration with super star Perfumer Luca Maffei, Taersi which Contributor Ermano Picco wrote about expansively in his report.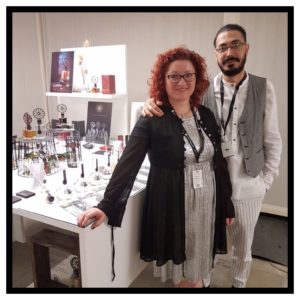 Angela Ciampagna and Enrico Ciampagna
One of the highlights of my three days was the discovery and interaction that followed with a perfumer who had been unknown to me, Angela Ciampagna. She is based in Atri, Italy and all her perfumes are created by Angela and her husband Enrico. This house has true heart and soul, and exhibits to me the closest expression in the fragrance world of that concept of wine called 'terroir'. There was not one of their collection I did not like, there is depth and integrity that underpins all of these fragrances… Their new releases for Pitti are named Favni and Ignes, the Cineres collection, Fire under Ashes.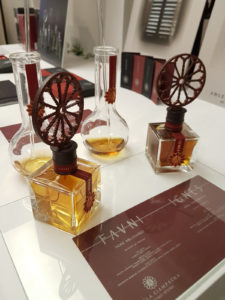 Angela Ciampagna Favi and Ignes
Favni – Top: Floral, green chord;Heart : Italian gardenia, jasminoides, Indonesian Ylang Ylang, extra woody chord, Somali olibanum;Base : Sumatran Benzoin, Colombian tolv balm, musk chord, Amber chord.
Ignes – Top: Sour chord: Heart: tobacco absolute, Balsam of Peru, Patchouli, French Labdanum absolute, maritime wood chord; Base: vetiver, sandalwood, musk, Amber chord.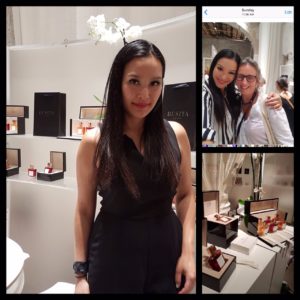 Dusita's Pissara Umavijani launched two fragrances La Douceur de Siam and La Sillage Blanc
Pissara Umavijani of Dusita, who draws on the magnificent culture of her family home, Thailand and the inspiration of her Father, the poet Montri Umavijani …. Here once again is a beautiful fragrance creator doing what true artisans have always done which is to reveal some of the workings of their innermost life through their Art. This is the Alchemist at work, placing the single facets in the crucible and observing their transformation into a whole entity.
Her new fragrances at Pitti Fragranze:
La Douceur de Siam – a reflection back to the scents of her home, clean and typical, heady, spicy and nocturnally floral. NOTES: Top- Rose de Mai, Frangipani, champaka, carnation, Ylang Ylang and violet leaf;Heart – cinnamon, Thai chalood bark, Base – vanilla absolute, sandalwood Mysore, Amber and Ambergris..
Le Sillage Blanc- Fresh and light with exotic foundations. Top- orange blossom and neroli , Ylang Ylang; Heart – leather, Artemisa, Persian Galbanum; Base – ambrette seed, oakmoss absolute, Patchouli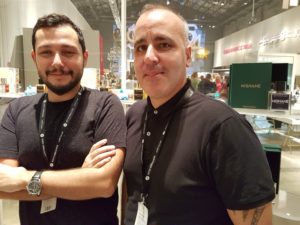 S,Mert Guzal and Murat Katron of Nishane at Pitti Fragranze
Very pleasing to find a perfume house from outside the main centres of olfactive creation, I am speaking here of Nishane from Istanbul, Murat Katron and S. Mert Guzal, who the reader of Cafleurebon know very well. Turkey has not been perceived as a fragrance capital in recent times… although its history dictates otherwise. The collection is reflective of the myriad interplay of a meeting place of continents. The duo presented Fan Your Flames and A Hundred Silent Ways from the Rumi inspired line; I loved A Hundred Silent Ways – the instant I experienced this fragrance, it was full of secrets and whispers, the way the stones of an old city yields its secrets over time, as you walk the streets. Would you be one of the few to whom it revealed its very core.Top – mandarin, tuberose, peach;Heart – White jasmin, gardenia, orris; Base – vanilla, sandalwood, vetiver.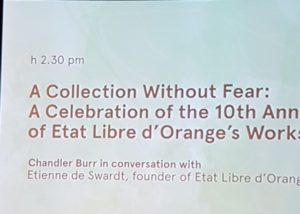 The seminar 'A Collection without Fear', conversations with Chandler Burr and Etat Libre D Orange Creative Director Etienne de Swardt, was very interesting and engaging, I have always had admiration for this house, as they push the boundaries and explore the darker sides of fragrance which at its heart touches all of us in our daily lives. Chandler, such a provocateur, asking questions to delve deeper, which only served to elicit responses in keeping with the avant garde nature of this house.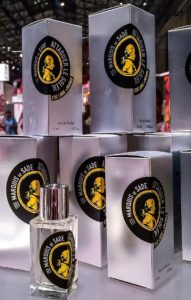 Attaquez Le Soleil Marquis de Sade Etat Libre D'Orange
All those taboos, those areas of hidden aspects of our lives that we all know so well and yet avoid in polite conversation and everyday interactions… Yet they are there at all the junctions and crossroads of our lives… It was an entertaining and candid glimpse into the sharp blade of perfumery on the edge, and as I am a fan of these allegorical edges, they were preaching to the converted… As readers have learned Quentin Bisch is the perfumer for ATTAQUER LE SOLEIL MARQUIS DE SADE.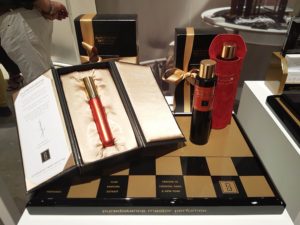 Sheiduna Puredistance
Puredistance, an already well admired establishment with several very exciting former creations…I just missed Cecile Zarokian (she had quite a few new fragrances so she was busy running from booth to booth), but this house already has a reputation and credence. The new release Sheiduna was no exception… And is the result of a collaborative effort between Cecile and the founder Jan Ewoud Vos. Their collective visions are well realised and this fragrance has an immense story to tell. You feel like an explorer, coming over the rise of the next hill to witness another vista in front of you. Notes: lemon, tangerine , blackcurrant, aldehydes, Bulgarian rose, geranium, clove, vetiver, patchouli, Amber woody, incense, benzoin, myrrh, Tonka bean, vanilla pods and musks.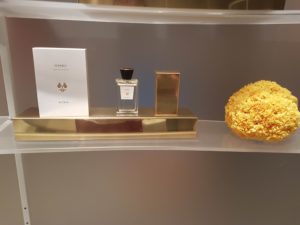 Ombu by Altaia
A final surprise, that of Ombu by Altaia, (an acronym for A Long Time Ago in Argentia). Fragrances in the range exhibited a classy finesse, this was no exception..With a strength and warmth, that had me spellbound. Elegance being the word to encapsulate. Created by Marina Serale for her husband Sebastien Alverez Murena, (we know as the Creative Directors from Eau d'Italie), in collaboration with Daphne Bugey.
Thank you to the perfumers, to Pitti Fragranze and to Michelyn for this journey. I am pleased to join the CaFleureBon team… none greater in the perfume world.
Danu Seith-Fyr, Guest Contributor with contributions by Michelyn Camen, Editor in Chief
What are you looking forward to sniffing? Are any of the Brands new to you as well?