Photo DARRYL DO
One of the my favorite fragrances from Esxence 2016 was composed by the first lady of niche perfumery, Mme Patricia de Nicolaï, who introduced her first "Oud", OUD SUBLIME created with authentic Oud from Cambodia very precious and rare.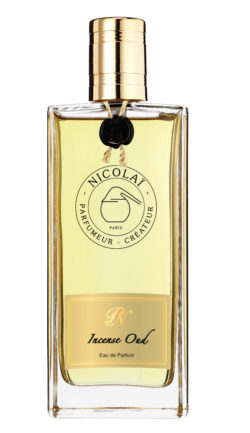 Nicolaï Parfumeur Incense Oud
This year at Pitti Fragranze September 9-11, a new oud will be introduced to the OUD Nicolai collection… Incense Oud which used agarwood was cultivated using sustainable development standards . According to Axel de Nicolai who is very involved in Mme's perfumery. "Going to the source, find the right quality of agarwood, this was the main objective once again. Incense Oud is based on an exceptional Oman incense and Cambodian agarwood essence chord. "A fresh start of artemisia and coriander revealing a sweet liquor note (absinthe) lead to a woody heart of patchouli, oud and Atlas cedar. The resin, leather and animalic notes are at the base adding tenacity, and longevity."
Price for 30 ml : 63 EUR
Price for 100 ml : 159 EUR
Price for refill 250 ml + 15 ml spray : 364 EUR
Available September 12 online at www.pnicolai.com and around the world at select stockists
Via Nicolaï Parfumeur.
Michelyn Camen, Editor in Chief