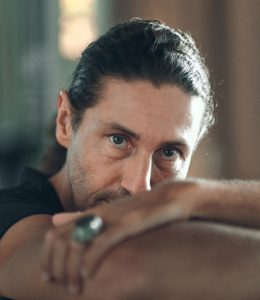 Olivier Durbano
Perfumer, jeweler and artist Olivier Durbano who has recently opened his first shoppe in Grasse, has launched his 12th fragrance in his collection Parfums de Pierres Poemes, at Pitti Fragranze 2016…Lapis Lazuli, named after the mystical gemstone with a history that spans millennia.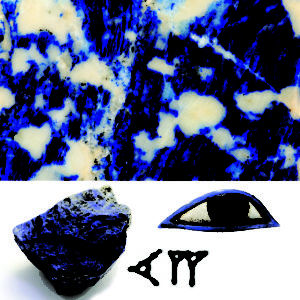 The Eye of Horus, Lapis Lazuli gemstone
Olivier writes, "Lapis-lazuli, from the Latin lapis, stone, and lazuli, azure, coming itself from Persian and Sanskrit, "King's Portion", as rare as it is precious, considered as the stone of the holy and the spiritual, is famous for its splen did midnight blue/navy blue colour sprinkled with golden specks, "sapphire" of the Antiquity, evoking the starry sky, the kingdom of heaven, making it one of the richest stone in terms of legends and properties. More than two thousand years BC, in Mesopotamia, the Sumerians, who called it "Sky Stone", were importing it from Badakhshan (which is now between Afghanistan and Tajikistan) and were chiseling Lapis-lazuli talismans giving divine magic powers and protecting against bad luck. Its midnight blue colour evokes the celestial sphere, the eyes of the divine, and its myriads of pyrite stars, sanctuary for the sacred souls.
In ancient Egypt, Lapis-lazuli is sought after for the manufacture of make-up products, jewelry, ornaments, statuettes and amulets includ­ ing the "eye of Horus" and the "heart scarab." Despite its significant cost, it also allowed to generations of painters to obtain the famous navy blue pigment, whose name comes from its origin. Symbol of the celestial forces, of luck, sign of inspiration and intuition, alchemists linked lapis-lazuli to the Air element, the Libra element, associated to the third eye chakra. In mathematics, the number 12 is said to be a "sublime" number because the number of its divisors and the sum of its divisors are both per- feet numbers.
This number always refers to resurgence, to creation, its symbolism is very important in Holy Scriptures. In astrology, the 12 zodiac signs, in astronomy, the 12 sectors, the 12 months of the year, the 12 hours.. In tarot, the Hanged Man is indeed the arcane of resurgence and new creation.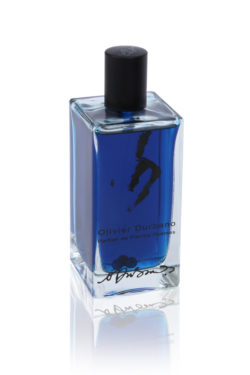 Top Notes: Artemisia, cypress, tea tree, clove, rose oxide; Heart Notes: Thyme, plant milk, spelt, iris; Base Notes: Vetiver, cedarwood, elemi, ambergris, musk, and tolu.
Via Oliver Durbano who is at Pitti Fragranze. Lapis Lazuli is my favorite gemstone. I am very excited about this release
Michelyn Camen Editor in Chief