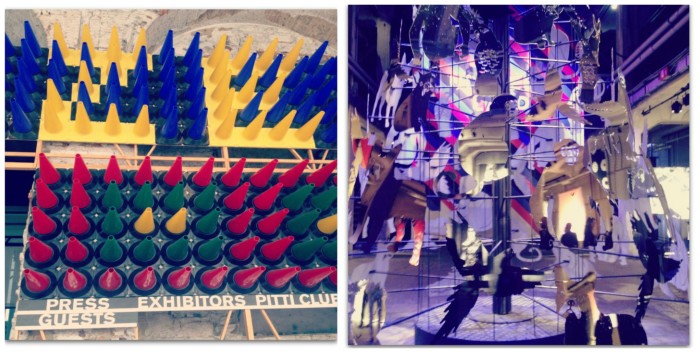 Entrance Photos Megan
Although this was my first time at Pitti Fragranze, it won't be my last. This fragrance exposition / trade fair dedicated to international artistic perfumery, (now expanded to include jewellery, beauty and bags)was held in Florence in the exquisite Stazione Leopolda September 11-13. The creativity that went into the overall look and feel of the show was impressive. "The Kaleidoscope of Scent" theme injected plenty of colour and set the tone for the entire fair.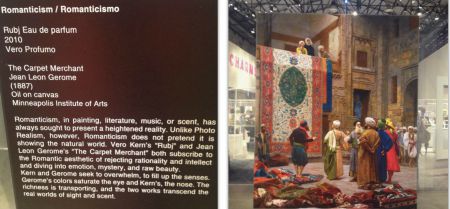 Perfume and art installations were dotted around the venue courtesy of Chandler Burr and his exhibition entitled 'Art, Objects, Shape, Color and Scent'. These made for interesting viewing and smelling and was a quiet haven where I could escape the throngs. An example of this concept; he classified Rubj EDP (one of my favourite perfumes) from Vero Profumo in the Romanticism category and paired it with The Carpet Merchant by Jean Leon Gerome.
What really makes these exhibitions so special is that it's a chance to actually meet in real time, the people who create the perfumes you admire, you respect and you write about.
Kaleidoscope at Pitti Fragranze
On the first morning, the heat was intense but we were greeted by a fabulous installation at the entrance, a lego like "larger than life" burst of colour. After collecting my press pass, I made my way into the hall. I had already bumped into Anaïs Biguine (Jardins d'Ecrivains and Les Cocottes) in the queue as well as Sarah Colton (a well respected Journalist from Paris and the US) fellow friend and blogger Lucasz from Chemist in the Bottle.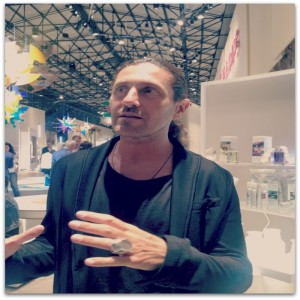 Perfumer Olivier Durbano (Photo Megan)
Once inside, my first stop was Olivier Durbano's stand as I adored him from our last meeting at Esxence, I'm interested in his creations and he's a lovely person to boot. In Florence he showcased Chrysolithe a new release. It's a perfume that sparkles up top then gets smokier the longer it stays on skin. Every twist and turn intrigues.
Onwards to Parfums de Nicolaï and Damien Flynn showed me the new creation, Ambre Cashmere Intense. It was a coup de foudre and worked very well on my skin. Gorgeous, feminine amber. Divine.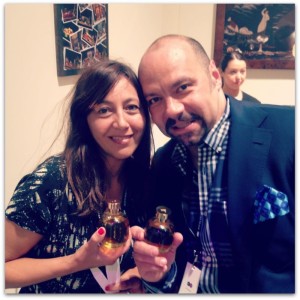 Megan with Master Perfumer Rodrigo Flores Roux holding Nanban
Creative Director Carlos Huber and Master Perfumer Rodrigo Flores – Roux spoke about their sumptuous new fragrance Nanban for Arquiste. We have already reviewed Nanban and we all seem to agree that it our favorite Arquiste to date. Arquiste also had the room fragrance and candle – Caroline's Four Hundred, made for the St Regis hotel on display. The scent is inspired by Caroline Astor, the matriarch of the founding family of the hotel. I would love my home to smell like this. These two gentlemen tell a great story and are extremely charming. Also thanks to Carlos, I imbibed my first glass of champagne for the day!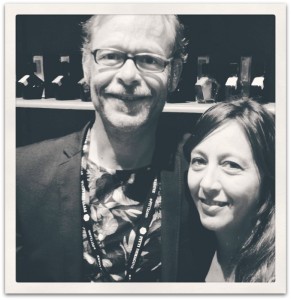 Andy Tauer and Megan
I'm a huge Andy Tauer fan and was delighted to meet him. He launched his new Sotta La Luna Tuberose at Pitti and it was a green tuberose, not the creamy style that you may be more familiar with. This is new territory and if anyone can pull this new direction off its Andy Tauer. He also had his Tauerville fragrances on display that are only available for purchase in the USA or Switzerland, so this was my first sniff session of the range. Of the three in the line – Rose Flash, Vanilla Flash and Incense Flash, it was the Rose that captured my attention.
We have always loved Marc Antoine Corticchiato's fragrances for Parfum D'Empire and with the new Tabac Tabou he's realized a brooding work of tobacco beauty. For this perfume immortelle and narcissus bring a new take on tobacco and it all seems so effortless in its execution and smells fabulous.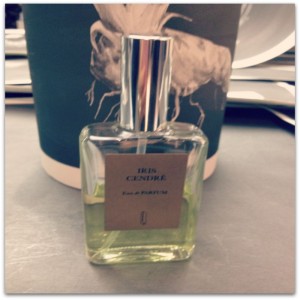 Naomi Goodsir Iris Cendré Photo Megan
Milliner Naomi Goodsir was in attendance. This was the first time I've met her and she was charming and her hat was of course best of show. Her perfumes are stunning and the new creation Iris Cendré is I believe her best yet. It really is a work of art. Iris Cendré is a green, ashen iris and resolutely offbeat created by the talented Julien Rasquinet.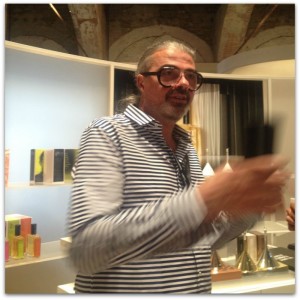 Gerald Ghislain of Histoires de Parfums photo Megan
Day 2: I met up with Gérald Ghislain from Histoires de Parfums. He launched Edition Rare Fidelis. This is a gorgeous smooth oud, coffee and rose perfume. He also told me of an upcoming launch in a totally different style.
On my must see list were Creative Directors Murat Katran and Mert Güzel from Nishane who I missed last March, but has been a favorite of CaFleureBon since their debut. Murat took me through the entire range and I was very impressed by the 16 extraits de parfums. CaFleureBon was the first to report on and review fragrances from Instanbul's first niche perfumery.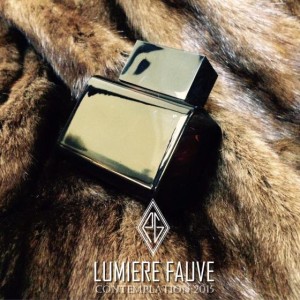 Lumiere Fauve from the Contemplation Collection 2015
It was great to catch up with Pierre Guillaume after meeting him at Esxence. Yes, he is a superstar perfumer, incredibly handsome, but he is also a lot of fun to be around. His was the busiest booth and he always treats everyone special from bloggers to buyers. His new creation for Huitième Art, Shermine is a powdered, suede iris which I liked very much. Metal Hurlant, which we have reviewed from the Collection Croisière is a perfect example of his artistry and talent. I also smelled the pungent, fecal African stone that is a component of Lumière Fauve, an experimental riff on L'Ombre Fauve and part of 'Contemplation 2015', a capsule collection designed for Pitti, to encourage discussion and perhaps become a new fragrance at a later date. Leathermore, a potent animalic leather is not for the faint hearted. My vote is bottle Lumière Fauve NOW!!!
Linda Pilkington from Ormonde Jayne who works with Geza Schoen is charming, petite and passionate. I was pleased to meet her, as I'm a fan of Ta'if and Tolu. Her new Ormonde Jayne release is Vanille d'Iris and this is definitely worth smelling. If you love both of these notes then I can assure that this is the haute couture version. Decadent yet regal. Ormonde Jayne will be more widely distributed is the word.
Norway's Kristian Hillberg from Malbrum was in attendance with his new releases (not quite finished) on show. Wildfire, Bagheera and Safari are his new creations from Delphine Thierry. My favourite of the three was Bagheera, the sweetest of the trio. Yum.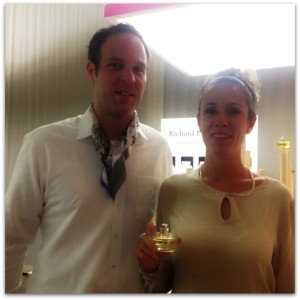 Serena Britos (Photo Megan)
Serena Britos from Richard Lüsher Britos revealed an upcoming perfume in the range, signed by Delphine Thierry, who has had a busy year. It will be released later this fall and the Moroccan mint theme was something I'm very interested to try in its completely finished state. CaFleureBon awarded Richard Luscher Britos Best Natural Perfume House of 2014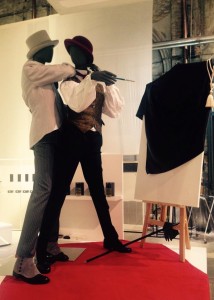 BANNED Romanza !!! Lewd? Photo Alessandro Brun
Masque Milano has a new hit on their hands. The stunning Romanza by Cristiano Canali is narcissus rich and a great addition to this house that continues to gain respect and attention. It's always a pleasure talking to Riccardo Tedeschi. One never thinks of Europeans as prudes, but in a stunning turn of events, the mannequins they had planned to use as their display were censored. They had to remove them so their stand was very bare.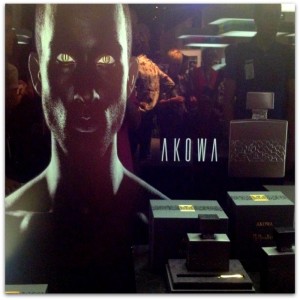 Akowa Parfums M.Micallef Photo Megan
I had the opportunity to see the team from Parfums M. Micallef once again and their new release Akowa which was darker than anything I've smelled from them. Prepare to be surprised.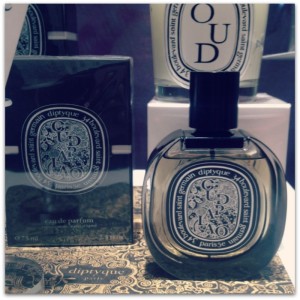 Unlike Esxence there were quite a few brands that are widely distributed. I was impressed by Annick Goutal's new Ambre Sauvage is worth seeking out. I'm not sure if it will replace my beloved Ambre Fétiche but it's definitely going to be loved. Oud Palao from Diptyque was well received. Yes it's another oud with a rosy edge but the execution is spot on and I know one blogger who sprayed himself liberally and frequently with this one.
The Brookes of Goldsmith
I met the Brookes who are the team behind the revival of the Grossmith perfume house whose two daughters also work in the business. Eleanor, daughter of Simon and Amanda has recently redesigned their packaging and the updated look is a finalist in the Luxury Packaging Awards in the UK. Jean – Phillipe Clermont of Atelier des Ors was at the show and it is wonderful to see that in 6 months that this brand is gaining momentum, it was lovely to reacquaint.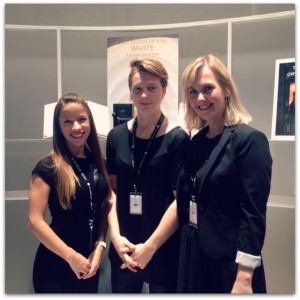 The team at Puredistance
I was happy to see Mary Gooding and the Puredistance team once again. They had new packaging and the boxes for Antonia and Opardu which are coloured to match the tone of the perfume with accompanying ribbons. Puredistance White which was released at Esxence is still one of my favorites of the year.
There was so much going on that I didn't have enough time to photograph it all: Olfactive Studio Selfie, two new perfumes from Ineke-Idyllwild and Jack and Jackie (a gourmand), a new fragrance from Etat Libre d'Orange by Quentin Bisch, Le Galion, Jul Et Mad, Luca Maffei, Ulrich Lang, Neela Vermeire and so many more. I missed Antonio Gardoni of Bogue and Tanja Bochnig of April Aromatics as well. If I left friends in fragrance out of this report, please forgive me! If there was a memo it seams that Leather and Iris was certainly on it.
I will be back for round 2- my favorite discoveries later this week. What sounds appealing to you?
Megan Paki, Editor and Editor of Megan In Sainte Maxime