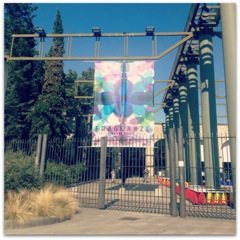 Pitti Fragranze Entrance -Megan
In my Pitti Fragranze Roundup  Part 1, I reported on what was new and noteworthy with more established  niche and artistic perfume houses. The thrill of attending these exhibitions is discovering new collections. There were so many brands and stalls at Pitti Fragranze that I knew it would be impossible to get around to them all. So it was  the packaging, the person, or something intangible that lured me in to smell their wares.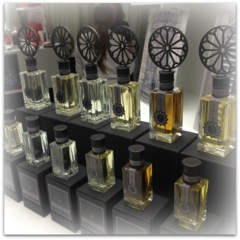 Angela Ciampagna
I was immediately attracted to a new collection, Angela Ciampagna, an Italian artisanal brand. Their bottles with a circle attached to the cap stood out and immediately grabbed my attention. Angela revealed that the circle signifies the rose window of the cathedral of Atri, her home town. You can really feel the love that goes into this brand.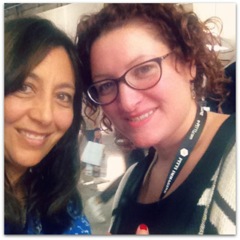 Megan with Angela Ciampagna
Talking with Angela I had the feeling that these perfumes were like children to her, very special and close to her heart. The range is crafted in small batches and the overall feel to the brand is Mediterranean with a twist. There are seven perfumes in the collection and three were standout for me. Liquo is lovely liquorice bundled in hay. Aer is a vetiver infused grassy aromatic perfume that intrigued me and Hatria is a rose oud and caramel combination. Know that Hatria is more than a cut above other fragrances with a similar note list.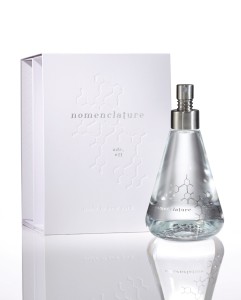 Nomenclature is the new perfume brand founded by Karl Bradl from Aedes de Venustas and Carlos Quintero, working with perfumers Firmenich perfumer Frank Voelkl and Patricia Choux that  highlights   synthetic molecules.   As reported, there are four fragrances in the range – iri_del, adr_ett, orb_ital and efflor_esce.  Frank Voelkl uses  Paradisone®  to create a  fruity tropical vibe in efflor_esce   a  sexy and magnetic  take on tuberose.  Par iri_del  by Patricaian Choux  features a stunning  iris aldehyde. It's sleek, contemporary and will appeal to those who love  their iris perfumes  as cool as the sound of  silver Louboutins on wood floors.  The bottles look like chemistry class beaker and are  incredible in person,  almost holographic and 22nd century in feel.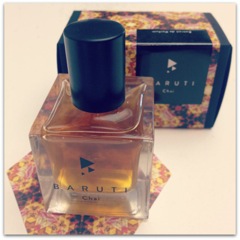 Chai from Baruti
Baruti is a Dutch perfume house founded by Spyros Drosopoulos (who also is behind Magnetic Scent). The kaleidoscopic designs on his stand caught my eye. The perfumes are influenced by the dreams of Drosopoulos and after sniffing his perfumes my hands down favourite was Chai. I like perfumes inspired by drinks – coffee, tea and booze. And this one was one of my favourites – rich, warm, dense and spicy, it conjured up Indian chai although the other perfumes in the line are also worthy of attention. One was cheekily entitled No Oud (smells like oud but contains no oud). I love truth in advertising.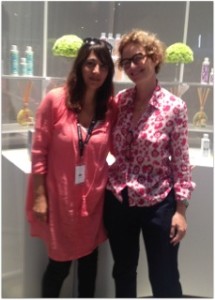 Megan with Marina Sersale Co Creator of Eau d'Italie and ALTAIA (A Long Time Ago In Argentina)
ALTAIA has a great back story. The founders of Eau d'Italie, the husband and wife team of Marina Sersale and Sebastian Alvarez Murena have launched a new brand with the acronym for A Long Time Ago In Argentina. They found through unearthing their family history in Argentina that their illustrious ancestors were involved in business together in generations past.  In fact Marina revealed that Sebastian's descendant was the first president of Argentina and her ancestor built the first railway.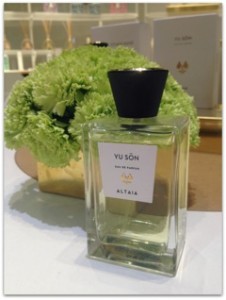 Yu Sōn
This gave them a starting point for their new fragrance line. There are three perfumes – Don't Cry For Me, By Any Other Name and Yu Sōn. Of the three I enjoyed Yu Sōn the best. Marina said this scent was inspired by her and Sebastian's love story. It's a lovely fresh fragrance centred on orange but also has a little spice and green tea.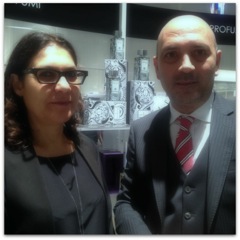 Michele Iannone, his wife Monica
Arte Profumi, an Italian perfume house based in Rome was launched in 2013 by owner Michele Iannone, his wife Monica and sister  Mariagrazia.  The range covers classic perfume themes (amber, vanilla, sandalwood …) delivered with flair, passion and power. Michele took me through the range and was patient as I wanted to smell each and every one. Ecclesiae, a church incense and Harem Soirée a fantastic loved up ambergris and rose were my picks.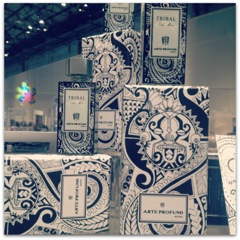 Art Profumi Tribal perfume
Their new release at Pitti was entitled Tribal, and oak moss, tonka and patchouli are central in its construction. It has a gentler tone than other fragrances in the line but it's another lovely addition to the range and worth seeking out.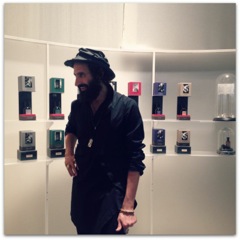 Giuseppe Imprezzabile of Meo Fuscuini
Meo Fuscuini is an Italian perfume house created by Giuseppe Imprezzabile. The mood of the brand is dark and Giuseppe was swathed in black.  While I hadn't heard of the house previously it launched its first perfume in 2010.  At Pitti I enjoyed Odor 93, the newest release. It was a perfume with a strong personality featuring tobacco, tuberose, incense and tobacco. I admit I'm going from memory as I didn't pick up a sample but it was my favourite from the collection.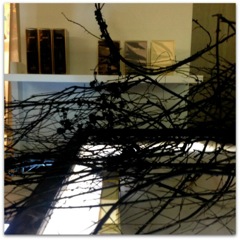 Although we have already written about the incredible incense LAVS from UNUM,  which we discovered at Esxence, it was at Pitti that I had the time to really delve into the three perfumes in the collection.  I really fell for Opus 1144 and its gorgeous blend of vanilla, sandalwood and citrus. If you like Shalimar but can imagine a silkier version then you will no doubt like Opus 1144. There is consistency across Filippo Sorcinelli's range that is clearly apparent. These are all high quality, well crafted scents. Special mention must be made of the display at UNUM. There was a mystical feel with mist surrounding branches on the display and was a real talking point.
I think some of these brands will be on your wrist very soon
Megan Paki, Editor and Editor Megan In Sainte Maxime
We have a mystery swag bag of Pitti Fragranze samples for a reader in the EU, USA or Canada. To be eligible you must be registered and leave a comment with which new discoveries appeals to you and where you live. Draw closes  September 20, 2015
We announce the winners on our site and on our Facebook page, so Like Cafleurebon and use our RSS option…or your dream prize will be just spilled perfume