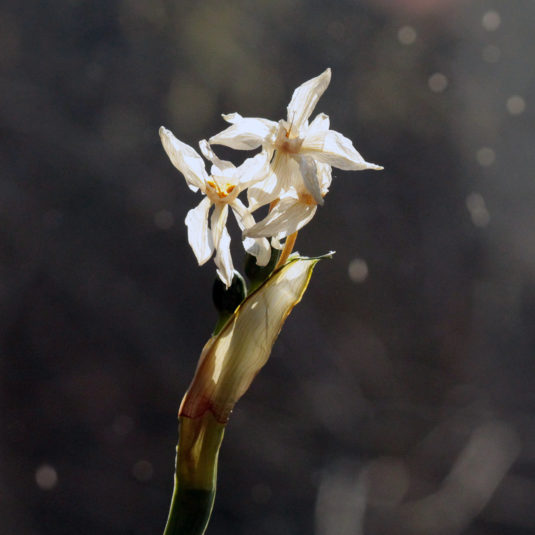 "She walks in beauty, like the night
Of cloudless climes and starry skies;
And all that's best of dark and bright
Meet in her aspect and her eyes;
Thus mellowed to that tender light
Which heaven to gaudy day denies." ~ Lord Byron, 1813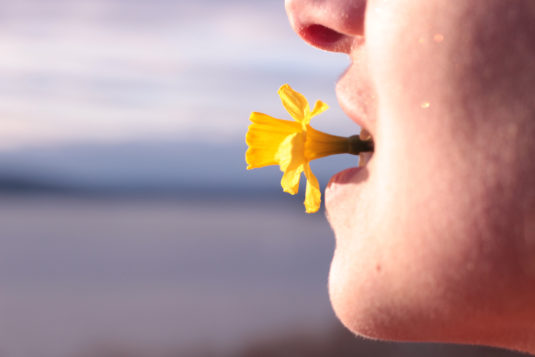 Elfin natural perfumer Irina Adam of Phoenix Botanicals is inimitable, possessed of a sonorous olfactory voice all her own. She's fearless and funny, imaginative and philosophical by turns; such complexity packed into a petite person! Irina's latest perfume echoes this facet of her – it's dark and bright and utterly beguiling. When I smelt it I thought "all that's best of dark and bright": Lord Byron raced from nose to brain without so much as a whimper (That's just my brain; I'd be interested to hear how yours works). There is innocence to (even when swathed in decadent shadowy tones) which shines through. Phoenix Botanicals Narcissus Cafe is a perfume full of contradictions which work. Irina loves her coffee (actually, I've never seen her without a cup) and her pairing between its beautifully bitter elixir and radiant narcissus is a stroke of brilliance. I love the juxtaposition of odor and color, an imagined place where both ends of the spectrum meet.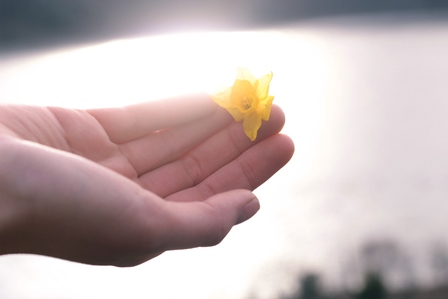 Phoenix Botanicals Narcissus Cafe opens with a shaft of light represented by mandarin; it flits across your consciousness like some lovely moth brushed up against a stained glass window. What follows next is unforeseen: fragrant polarities walking arm-in-arm like old lovers. Narcissus enters the chapel surrounded by a bevy of florals; she positively glows with unselfconscious grace. Tobacco and decadently Roasted Coffee flank her on each side, vying for her attention. It is after vespers and tendrils of snuffed ritual beeswax tapers linger spectrally, wed to myrrh and frankincense remaining from morning Mass. Its aroma permeates the sacred space like a cloak which weighs about one, felt but unseen.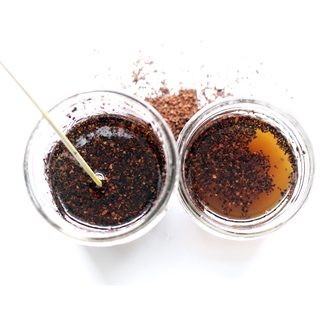 Tobacco and Coffee insist persuasively; they are charmingly persistent and not to be refused. Narcissus is swept up in the ardor of this moment; her companions draw her into the confines of some holy place, sequestered in the sacristy perhaps, far from the prurient eye… Erotic détente is a revelation. Narcissus still views courtly love through unjaundiced eyes. She searches for her psalter before the church grows dark and night falls. Notes: mandarin, narcissus bouquet, fresh roasted coffee, beeswax, tobacco, myrrh, frankincense, smoke
Sample of Phoenix Botanicals Narcissus Cafe provided by Irina Adam – many thanks! My nose is my own…
~ Ida Meister, Senior Editor and Natural Perfumery Editor
~ Art Direction: Michelyn Camen, Editor-in-Chief who used photographs provided for this review by Irina.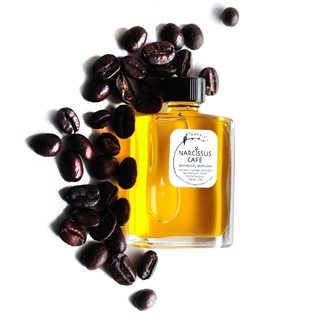 Thanks to the generosity of Irina Adam of Phoenix Botanicals, we have a 5 ml bottle of Narcissus Cafe for one registered reader worldwide (you must register or your entry won't count). To be eligible, please leave a comment with what you enjoyed about Ida's review of Phoenix Botanicals Narcissus Cafe and where you live. Draw closes 1/8/2019
We announce the winners only on site and on our Facebook page, so Like ÇaFleureBon and use our RSS Site Feed…or your dream prize will be just spilled perfume.