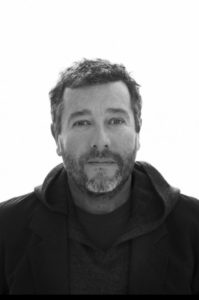 Designer Philippe Starck is renowned for his eclectic designs
Philippe Starck is a one of the world's foremost designers, with a body of work spanning decades and multiple disciplines. When I learned that he was launching his own his own line of fragrance, I was immediately intrigued; how would the designer of the Ghost Chair approach creating a fragrance? What perspective does a man who has designed everything from cell phones and hotels to Steve Job's yacht bring to the perfume table?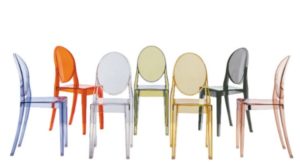 Philippe Starck famed Ghost Chairs
Having had the opportunity to experience each of his three fragrances, M. Starck brings his distinct aesthetic; deceptively simple structure, intrinsically chic, that leaves plenty of room for individual interpretation.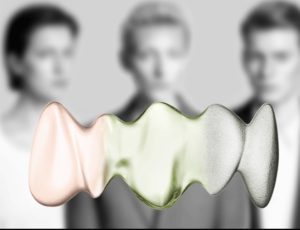 Philippe Starck sculpture inspired botttles featured in his ad campaign
M. Starck states that he never discussed notes or ingredients with the perfumers who created the three fragrances. The conversations were very conceptual, centered on " my visions, worlds I visit and had visited, explorations I had made. I was referring to the smell of an asteroid, the smell of emptiness, the smell of speed" Very few notes are given in the company's description of each fragrance, which allows the wearer to define the fragrance on their own terms, free from any pre-conceived restrictions.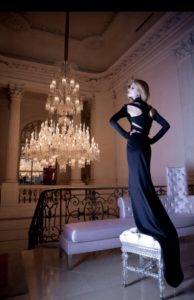 Philippe Starck Chandelier designed for the Maison Baccarat: Photo Raul Higuera
Peau de Soie: brought to life by Dominique Ropion, signed the most feminine of this trio, translated from the French it means a fine satin. There is a lovely citrus in the opening, although citrus isn't mentioned in the short list of notes. The heart is very woody and beautifully represents the paradox Peau de Soie is meant to evoke, that of femininity wrapped around a man's heart. There is a warm animalic accord that leaps out after several hours on skin. It's intimate and sensual perfume.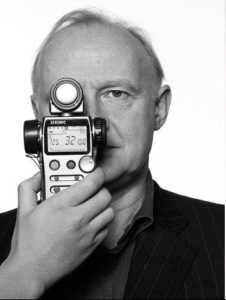 Dominque Ropion
Master perfumer M. Ropion was an inspired choice for this fragrance; in less capable hands, it might have fallen a little flat. But the ability of M. Ropion to layer beauty on top of more beauty is a a complement to Mr. Starck's aesthetic of chic simplicity.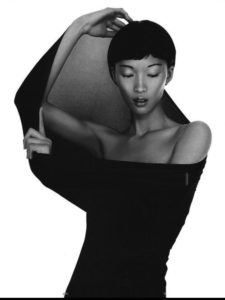 Phillipe Starck for Wolford
Peau de Pierre: For me, this is the most masculine of the line. Mme. Bugey turned Mr. Starck's vision (a masculine fragrance that reveals a man's feminine side) into reality with a healthy dose of vetiver laid over a subtle base of what smells like anise, with nuances of very clean patchouli (none of which is listed in the notes.)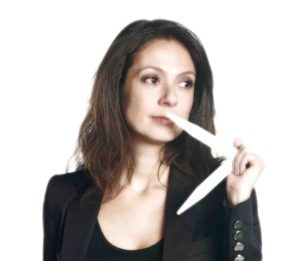 Daphne Bugey
Smoke IS listed in the notes, but it's very subtle, along with earth notes and wood. Peau de Pierre is a wonderful fragrance and easily shareable, and I predict it will have a great many fans as it crosses gender lines.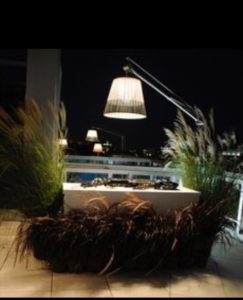 Superarchimoon Outdoor lamp designed by Phillipe Starck photo: FLOS
Peau d'Ailleurs is my personal favorite. It smells of freshly turned soil in early Spring. and that amazing scent you get with the first rain after a dry spell (petrichor, I believe it's called) It's earthy and almost chalky, very mineral-like. It's unusual, and addictive.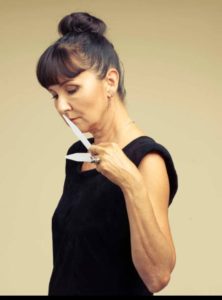 Annick Menardo
I was not surprised to learn that Master Perfumer Annick Menardo is the perfumer. If you like Bvlgari Black, I think you'll like Peau d' Ailluers, (which translated from the French means elsewhere) not because they smell in anyway similar, but because they share that intangible uniqueness. Fellow chypre lovers will find it intriguing as well, again, not because of any olfactive similarities, but because its distinctiveness strikes the same chord.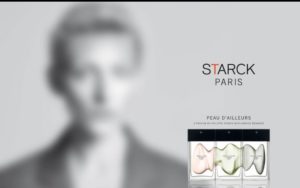 M. Starck's clear vision, the obvious care he took in matching each vision with the perfumer best suited to refining it, and his ability to maintain that vision without getting bogged down in the minutia of hundreds of notes and ingredients is impressive. That's what designers do, of course, and one of the greatest of his generation has shown us all just how it's done.
FragranceNotes: Philippe Starck allows us to fill in the blanks with our own imagination
DISCLOSURE: Starck Parfums Paris provided me with each fragrance for this review. I'm so grateful for the opportunity to try them, thank you!
Tammy Schuster, Sr. Contributor
Author's Note: Philippe Starck fragrances are exclusive to Neiman Marcus Bergdorf Goodman and online and was released as limited editions.
Art Direction: Michelyn Camen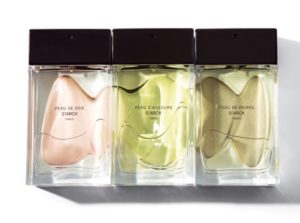 Thanks to The Fragrance Group, the U.S. distributor of Starck Parfums Paris, we have a Reader's Choice draw for a registered reader in the USA (you must register to be eligible) for your choice of one 90ml bottle/$150 of Peau de Soie, Peau d' Ailleurs or Peau de Pierre.
To be eligible, please leave a comment telling us what you liked most about Tammy's reviews, are you familiar with Philippe Starck and his designs, do you care if notes are listed and which Starck Parfums Paris fragrance you hope to win. Draw closes on December 12, 2016.
WELCOME BACK TAMMY!
We announce the winners only on site and on our Facebook page, so Like Cafleurebon and use our RSS feed or your dream prize will be just spilled perfume….