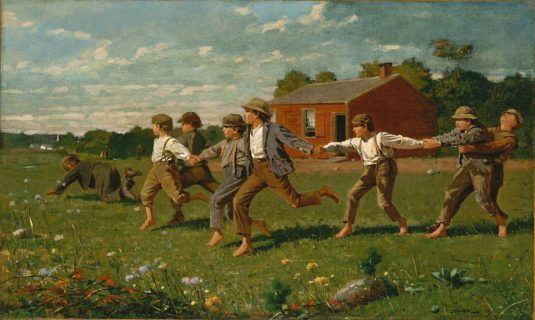 Snap the Whip Winslow Homer 1872©
Nir Guy, creative director and owner of the Perfumology Fragrance Boutique in the King of Prussia Mall, launched his second fragrance, Perfumology Grange today. Like his first perfume BLYSS, Grange is deeply personal. In order to create Grange, Nir Guy and perfumer Justin Frederico drew on Nir's childhood memories of adventures along Cobbs Creek on the Grange Estate near Havertown, PA. "The Grange Estate was first established in 1682, collecting 300 years of history before my friends and I played in Cobbs Creek. We were preadolescents, not caring that William Penn, George Washington, and Marquis de Lafayette walked the same grounds. The same trees may have listened to conversations that directed history. … Perfumology Grange is a memory in perfume, nostalgic to a moment in the woods during my childhood." – Nir Guy, Philadelphia, Pa. (February 1, 2018)
"When nothing else subsists from the past…after all the things are broken and scattered… smell and taste remain poised for a long time, like souls…bearing resiliently, on tiny and almost impalpable drops of their essence, the immense edifice of memory…" – Marcel Proust
For years people have known that scent can function like a time machine, transporting the mind to places in the heart, long ago and far away. Marcel Proust, in Swann's Way (1913/14), the first volume of In Search of Lost Time ("À la recherché du temps perdu"), writes of reliving childhood memories via the scent and taste of madeleine cookies dipped in tea. What Proust termed involuntary memory, which is now often referred to as the "Proustian Memory Effect", is a well-known and documented phenomenon that most of us have experienced in vivid detail.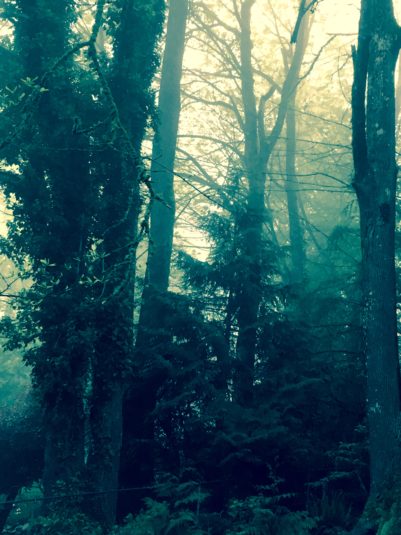 A Walk through the Forest By Gail Gross ©
"Only through art can we emerge from ourselves and know what another person sees." – Marcel Proust
It is one thing to smell a scent and relive an involuntary memory – but it quite another matter to actively and purposefully "scent a memory". Considerable skill and exquisite perception are required to create a perfume based on personal recollections that will resonate with others and at the same time convey the original experience. While my olfactory impressions of Perfumology Grange will never exactly mirror Nir Guy's childhood memories of the Grange Estate and Cobbs creek, his new fragrance at once evokes visions and impressions from his past and recalls for me elements of the streams and woodlands of my own childhood, bringing old memories to life once more.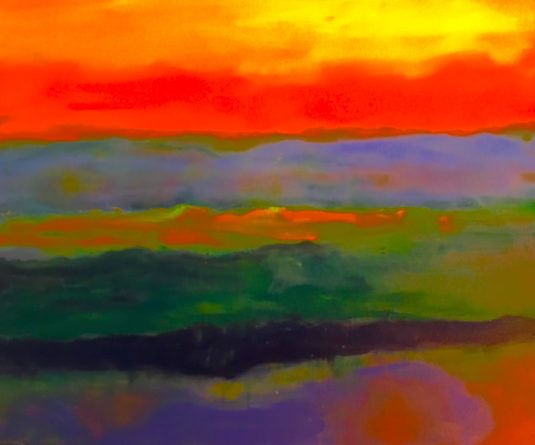 Riparian Zones by Gail Gross©
"Walk down by a stream and you enter a different world. The air is cooler, laced with the smell of water." – U.S Forest Service
As a child I spent countless hours contemplating the waters of a tiny creek near our home on the east coast of Florida. This unassuming rivulet, running through riparian zones of pine flats, live oak and palmetto scrub, had no name that I knew of but, for me, was the focus of a magical paradise. Perfumology Grange opens with a transparent rush of wet citrus scents – Mexican lime, lemon zest and Sicilian orange, recalling the cool, wet refreshment that my shaded stream offered in the summer heat. Within ten minutes the bright orange and spiced lime opening of Perfumology Grange merge with a sweet veneer of deep blue/purple ripe figs. Over the next half hour the resinous heart of the perfume comes into focus as the smoky, phenolic qualities of oak barrels and boards and the aromas of tobacco leaf gradually add a rich opaque quality to the fragrance.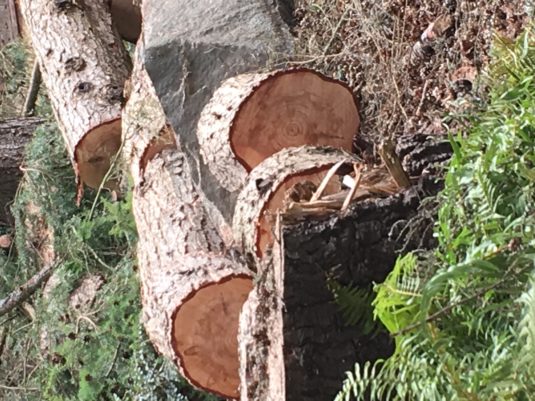 Fallen Tree by Gail Gross©
As Perfumology Grange begins to dry down I find myself leaving the riparian zones, the scrub and the immediate vicinity of the stream and entering a dark green forest of pine, American cedar and balsam fir. Over eight hours and more the shimmering citrus gradually fades, but the scent of green trees, woods and tobacco (perhaps infused with vanilla or liatris) cling to my skin and clothing through the night and well into the next morning. I find Perfumology Grange to be a fascinating, beautiful and distinctive perfume, a scent that wears masculine on men and feminine on women, a perfume that is easy to enjoy and to love.
Notes: Mexican lime, Sicilian orange, fig, tobacco and American cedar.
Disclaimer: I would like to thank Nir Guy and Perfumology for the generous sample and treasured bottle of Perfumology Grange. My opinions are my own.
Gail Gross – Senior Editor who created all art except the Homer Winslow painting for the above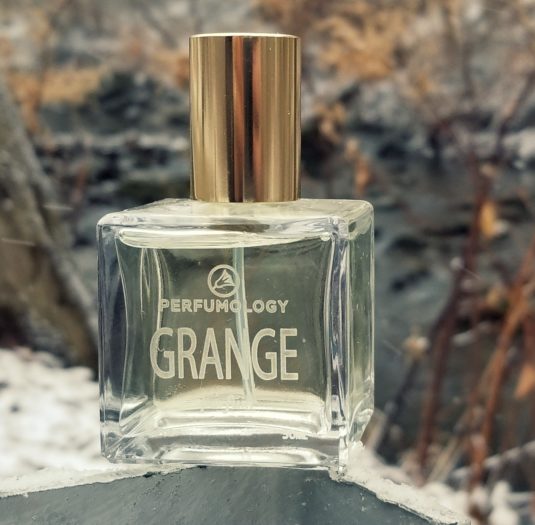 Perfumology Grange photo by Nir Guy©
Thanks to the generosity of Nir Guy and Perfumology we have one 50 ml bottle of Perfumology Grange which is an Eau de Parfum available to one registered reader in the USA ONLY. Be sure to register or your comment will not count. To be eligible for the draw tell us what appeals to you about Gail's review of Perfumology Grange and tell us about a cherished "Proustian" memory from your own childhood. Draw closes 2/8/2018
We announce the winners only on site and on our Facebook page, so Like ÇaFleureBon and use our RSS feed…or your dream prize will be just spilled perfume.