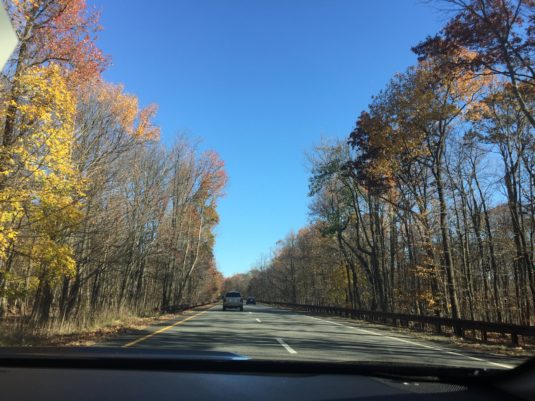 The view from The Meistermobile as she and B drove to Philadelphia to meet Nir Guy for the Launch of Clutch©
The open road: it stirs the blood in gypsies as well as inviting with crooked, curved finger the restless quotidian soul. Give a person a powerful engine, a smooth set of wheels and the intoxication of hurtling through space at many miles per hour while still earthbound and…I think you've grabbed my gist. Windows DOWN, wind whistling through your hair so fast you hear your pulse pound in your ears. It's autumn, glorious season of change – and the day is sundrenched, crisp as the Macoun apples you've picked earlier in the day (rumbling about in the back seat). You are seated in a sweet ride.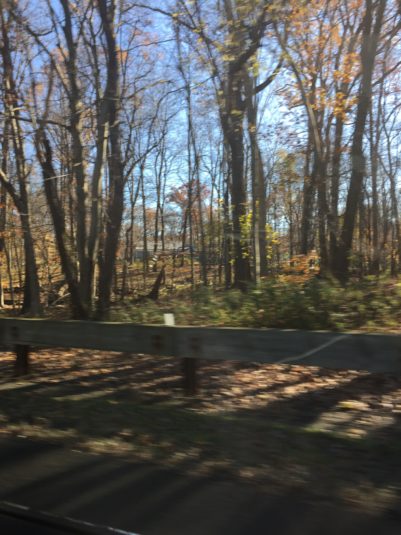 The view from The Meistermobile as she and B drove to Philadelphia to meet Nir Guy, Justin Federico and Tali for the Launch of Clutch©
Road trips are the best. While not a driver myself (unless you count driving a decrepit Rambler Rebel on bumpy dirt roads in upstate New York without a license!), I've lived with one who's particularly passionate about it for 36 years and am an impassioned passenger – never bored, scanning the landscape for anomalies floral and faunal while singing softly and telling myself stories.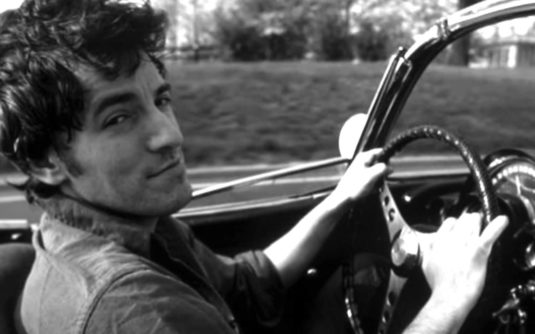 Bruce Springsteen in Stolen Car 1980
Michelyn nailed it when she chose that particular image of The Boss in youth's bloom behind the wheel. My mind follows suit with his balladic train-riff-bass lover's torment – all delivered so coolly that his anguish is heightened: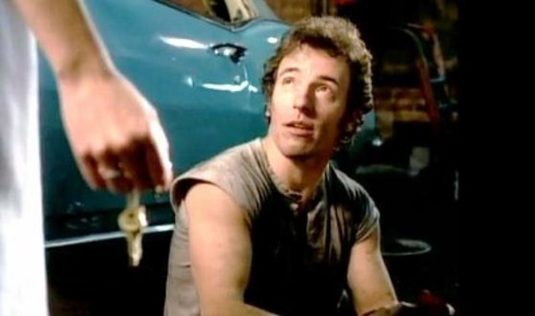 Bruce Springsteen in the video Fire 1984
"Sometimes it's like someone took a knife, baby
Edgy and dull and cut a six inch valley
Through the middle of my skull
At night I wake up with the sheets soaking wet
And a freight train running through the middle of my head
Only you can cool my desire
Oh oh oh, I'm on fire" ~ Bruce Springsteen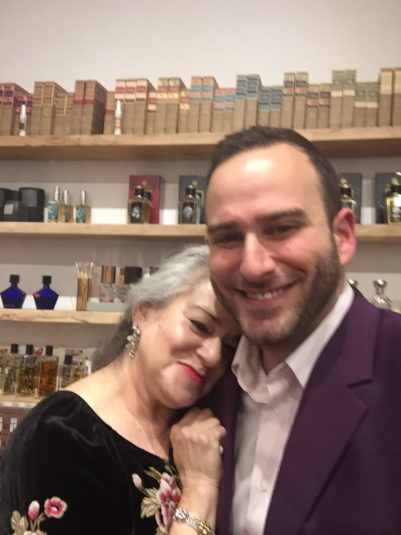 Ida and Nir at the launch of Clutch
You can be The Boss behind the wheel. Perfumology Clutch, the latest fragrant lovechild of perfumer Justin Frederico and Creative Director Nir Guy – might be a fine way to get into that groove. The Perfumology boutique in the King of Prussia Mall is the familial labor of love of Nir Guy and his mother Tali – its shelves brimming with independent perfumers' compositions now readily available to anyone who wishes to experience them, whether online or in their brick-and-mortar family-owned and operated concern.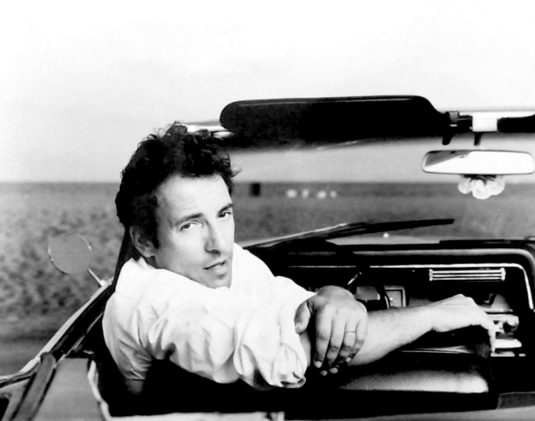 Valentine's Day Bruce Springsteen 1987
With the release of perfumer Justin Frederico's latest work, Clutch, Nir explores his passion for driving a fabulous stick-shift with the top down and inhaling his favorite autumnal-evocative aromas, the scents of the season and the open road. Man melds with machine, as comfortable as a luxurious leather-appointed auto interior or a well-loved leather jacket – and exhilarating as an adrenaline rush of acceleration and flooring that pedal. Nir is a clear-sighted man; he knows what he's looking for and what the storyline he's pursuing is all about. This is utterly refreshing, to my thinking. A fragrance is less likely to feel muddled if there is a distinct vision behind it and if the creative director and perfumer understand one another well – which in this case, they most certainly do. Perfumology Clutch is easy to wear, easy to love and smells distinctly itself without compromising quality.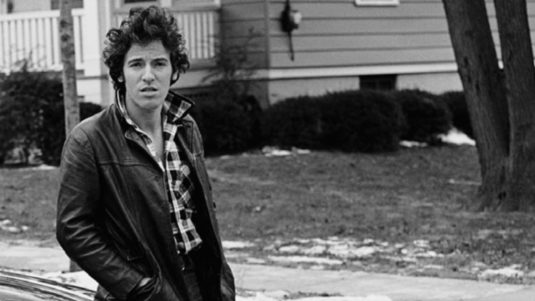 Bruce Springsteen Born to Run
I'm like a bad dog when it comes to leather. For many years I entered Bergdorf Goodman's and snorted the air hungrily avowing aloud, "If I were a dog I'd gleefully chew up every handbag in this joint" (some things never change). There's that familiarly rich expensive leather note present in Perfumology Clutch, accented by the brilliant burst of spicy tonicity black pepper provides – amplified by elemi's shimmeringly verdant/lemony/peppery prismatic hues which dry down to a woody balsam. Gingerlies at the heart of the matter, another chameleon material which may reveal any number of aspects: hot spice intensity, patisserielike gourmandise, woody warmth – or all of the above.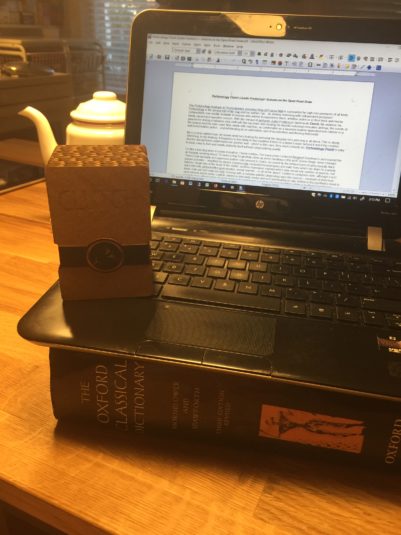 Ida at her laptop writing about Clutch
I detect a cardamom note, although it isn't listed. Oak and red cedar are drily resinous with a complex palette (depending upon the source) – resonant of dried fruit, even almond and/or anise. Leather implied is delicately smoky and isn't overbearing or raw; neither is the (synthetic) musk to which it clings affectionately. A vanillic base note contributes sweetness to a composition which in itself skews soft and tenacious with excellent longevity.
Notes: smoke, black pepper, elemi;ginger,oak, red cedar, leather, musk, vanilla
Many thanks to Nir Guy of Perfumology for the modules and my lovely new bottle (which I cherish)! And for the privilege of being the Evaluator. My nose is my own…
~ Ida Meister, Senior and Natural Perfumery Editor
~ Art Direction: Michelyn Camen, Editor-in-Chief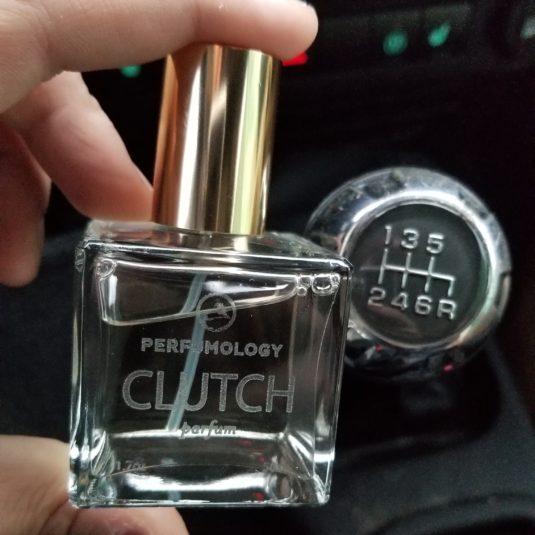 Thanks to the generosity of Nir Guy and Perfumology we have one 50 ml bottle of Perfumology Clutch Eau de Parfum available to one registered reader in the USA. Be sure to register or your comment will not count. To be eligible for the draw tells us what appeals to you about Ida's review of Perfumology Clutch, your favortie Bruce Springsteen song or tell us about your love of the open road. Draw closes 11/16/2018
We announce the winners only on site and on our Facebook page, so Like Çafleurebon and use our Blog feed…or your dream prize will be just spilled perfume.