First Edition A Christmas Carol 1843
"He was conscious of a thousand odors floating in the air, each one connected with a thousand thoughts, and hopes, and joys, and cares, long, long, forgotten…" Charles Dickens – A Christmas Carol
Once upon a time, I loved reading the dark novels and short stories of Charles Dickens. As a child, his ghostly take on the holiday season, "A Christmas Carol", especially fascinated me. I no longer celebrate Christmas and I find myself all too easily resonating with the character of Scrooge. "Bah! Humbug," I say! But no matter how hard I try to fight the holiday spirit, the story of Scrooge and his spiritual redemption loom large. This Christmas, in addition to revisiting mid-Victorian novellas, I will be hoping for a holiday redemption of my own as I revel in perfumes of Christmas Past, Present and Future: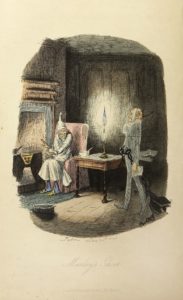 Illustration by John Leech
Christmas Past
.Ellen Covey of Olympic Orchids' Art and Olfaction award winning fragrance Woodcut begins as a bracing, outdoor cedar board scent associated with new fences and carpentry.There is no gradual transition to the next phase but simply an immediate and sudden shift to a dense and dark sap, recalling the brooding woodcuts of the artwork of John Leech, the original illustrator of the Dickens's Christmas Carol.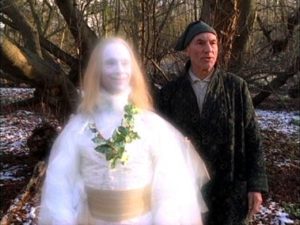 Joel Grey as the Ghost of Christmas Past and Patrick Stewart as Scrooge in the 1999 TV movie adaptation
The heart of Woodcut, sadly, brings to my mind the scent of tree blood from the destruction of the forest behind our home in the dark winter of 2013. As Olympic Orchids Woodcut shifts again, I find coziness in the caramel and vanilla surrounding a resinous balsam, and rest in a cozy, warming perfume that lasts all day and well into he night. Woodcut amazes as it brings to life three distinctly different personas of trees and woods: The bracing quality of cut cedar-boards, the dark sap of the heart and the caramelized comfort of a resinous finish. Notes: Fractional distillations of pine and cedar, oakwood absolute, tolu balsam, olibanum, caramel, burnt sugar, vanilla.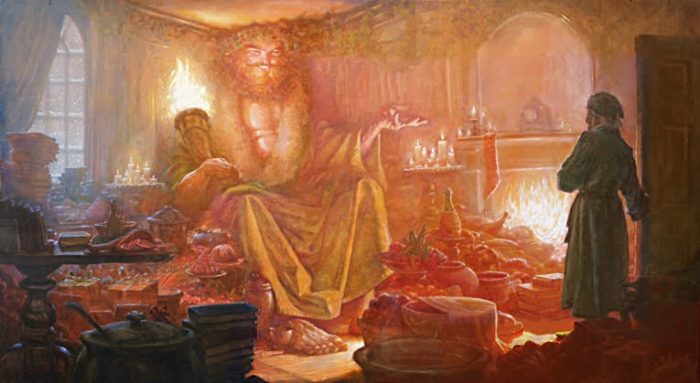 Painting by P.J.Lynch©
Christmas Present
"…External heat and cold had little influence on Scrooge. No warmth could warm, no wintry weather chill him." – Charles Dickens.
Both Scrooge and I are in need of a fiery fragrance to warm our cold, cold hearts. Aether Arts Perfumes Sacred Fire, created by Art and Olfaction Award winning Amber Jobin for 2017 Burning Man Festival. Sacred Fire begins with an immediate sensation of a slow burn guaranteed to take the chill off even the most frozen soul. The spicy rhythmic trills of woody, vanillac cascarilla bark (familiar as a flavoring in Campari and Vermouth) gradually heat up as elements of nutmeg, pepper and allspice add fuel to the sacred fire.Soon, this spicy tinder begins to light and dance with smoke, leather and the resinous aromas of a bonfire burning with incense and sweet woods. The resulting flame jumps and flares briefly and then smolders close to my skin for four more hours creating a subtle haze of woody incense and cedar, floating like sparks over embers of rose and delicate amber. Aether Arts Perfumes Sacred Fire recalls the scent of smoke, the color of flame, the blaze of passion, the incense of inspiration and the rebirth of new life from the ashes of the old. Notes: Cascarilla bark, spices, gulab and shamama attars, Choya Ral, incense notes and precious woods.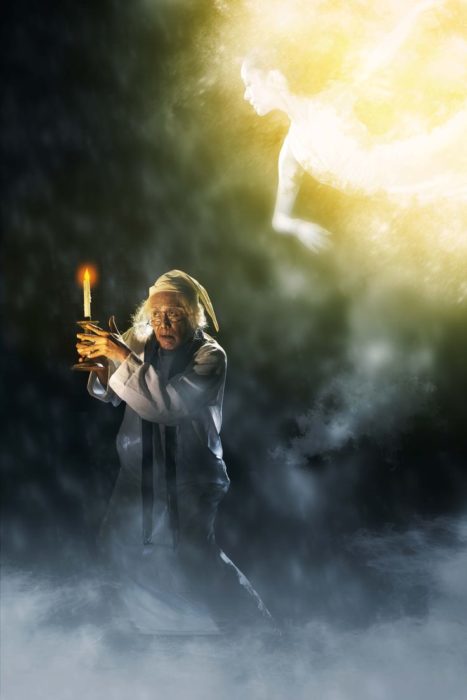 via deviantart.com
Christmas Future
"The time before him was his own, to make amends …everything could yield him pleasure." – Charles Dickens
Cured of the sickness of greed and parsimony by the terrifying vision of Marley's Ghost, Scrooge at last comes to realize that sentiment. This fall I was fortunate to sample two of 2017 Art and Olfaction Award Winner, Pissara Umavijani's of Parfums Dusita upcoming 2018 releases, Erawan and Fleur de Lalita. I fell in love with both, but found Parfums Dusita Erawan was particular soothing and comforting as I recovered from illness. I was reenergized by an opening of petitgrain and clary sage, comforted with the sweet breath of liatris and lily of the valley and warmed with an ethereal vanilla and grounding vetiver. I know that perfume can't cure the inevitable afflictions of the winter season, but this preview of Erawan was able to sustain me with its calm beauty, offering a respite from illness and distracting me with a marked sense of well being and wet woody comfort. The Thai god Airewan, the namesake of this beautiful fragrance, was responsible for bringing healing waters to the earth. As I wear Erawan I can imagine the sounds and sights of falling water, the clarity of still, blue pools, the smells of overhanging trees and surrounding tropical forests and I look forward to strength and well-being and to fragrant relief and respite from the chill of Christmases Yet to Come. Notes: Paraguayan petigrain, lily of the valley, Haitian vetiver, hay, clary sage, liatris, cedar, oakmoss and vanilla.
Disclaimer – Many thanks to artisan perfumers Ellen Covey, Amber Jobin and Pissara Umavijani for the generous samples and travel sizes of their fragrances. My opinions are my own.
Alastair Sims as Bob Cratchett holds up Tiny Tim (Glyn Dearman) on Christmas morning in A Christmas Carol 1951
May the spirits of beautiful perfumes of Christmas Past, Present and Future bring joy, peace and scented happiness.
"God Bless Us Everyone-Tiny Tim
Gail Gross – Senior Editor
Art Director: Michelyn Camen Editor-in-Chief.
There is a Perfumes of Christmas Past, Present and Future draw for three registered readers worldwide. PLEASE NOTE THAT THE LOG-IN TO REGISTER FOR OUR SITE IS RIGHT BELOW OUR AWARDS ON THE UPPER RIGHT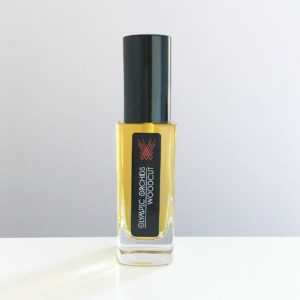 Worldwide: Thanks to Ellen Covey of Olympic Orchids for 15 ml of Wood Cut
Ellen has a 20 percent sale off every perfume on her site with the code: NOFRIDAY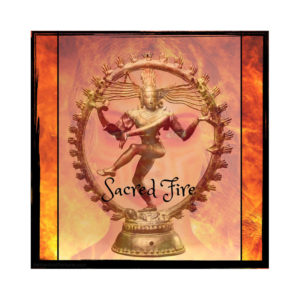 Worldwide: With Gratitude to Amber Jobin of Aether Arts Perfumes we have a 5.5 m bottle of Sacred Fire
Aether Arts Perfumes has a 20 percent off sale site wide through December 26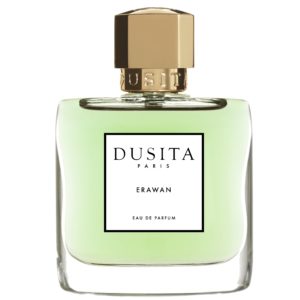 Worldwide: Merci tres chere Pissara for an avant premier of 7 ml of Parfums Dusita Erawan
Please leave a comment with what you thought of Gail's scented version of the Christmas Carol, where you live and which you would like to win, list as many as you want. Are you a Scrooge or a Tiny Tim? What is your perfumes of Christmas past, present and future? Draw closes December 25, 2017
We announce the winners on our site and on our Facebook page, so Like Cafleurebon and use our site feed…or your dream prize will be just spilled perfume