Left: 21 st century Historian, Perfumer and Author Elisabeth de Feydeau demonstrating Enfleurage and Right: 19th century maceration of flowers for enfleurage
This month we reach deep into the artisan perfumers vault to learn about the grand perfumers' art of cold enfleurage. Since the Bronze Age (look it up!) we have known that oils can absorb the scents of many flowers and herbs. However it was only in the 19th century that the art of separating aromatic extraits from oil using alcohol became practical. Some flowers like roses, violets and lily of the valley retain their scent, readily giving it up for the good of perfumery in hot oil. However, there is a more delicate class of flowers such as jasmine, tuberose and many tropical flowers that do not retain their scent and wither and die under pressure.
The "headspace" of these flowers is incredible, they possess built-in tiny scent factories that continually exhale small doses of their essence not unlike a baby's breath. Jasmine, tuberose and many tropicals behave accordingly, and it was discovered that these flowers when placed on a bed of fat would continue to exhale their precious cargo long after clipping. Voilà, cold enfleurage was born and the extrait of delicate flowers like jasmine, tuberose and many tropicals was added to the perfumers workshop.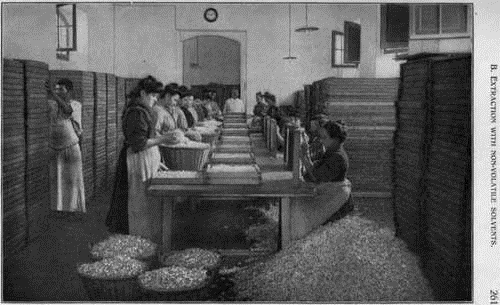 Enfleurage (to the left) and defleurage (to the right). Against the walls the piles of chassis. Parfumeries de Seillans, Dep. du Var, Southern France. (photo: African Aromatics)
Of course it all started in Grasse with boatloads of flowers picked at the perfect time of day for maximal yield, a bevvy of young maidens to place the flowers in fat-laden glass chassis ("enfleurage"), and another bevy of young maidens to remove the flowers once they had exhaled their last perfumed scents ("defleurage"). Flowers needed to be exceptionally clean and devoid of moisture and the fat kept clean to prevent it going rancid. To reach maximal levels of saturation this process often went on for upwards of two months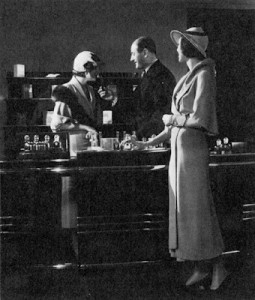 Henri Alméras charming two elegant women wearing jasmine rich Patou Joy
One of the reasons Patou Joy was the most "expensive perfume in the world": Perfumer Henri Alméras used 10,600 jasmine flowers and enfleurage in creating the classic rose/jasmine perfume in 1930.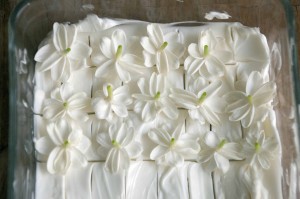 Jasmine Enfleurage Photo Elise Pearlstine ( CaFleureBon Perfume Notes and Ingredients Contributor and Professional perfumer in the Natural Perfumer's Guild)
New solvent extractions make it possible to capture these delicate floral scents quickly and scientifically, but no method of extraction captures the flower as truly as cold enfleurage. We had a heck of a time finding even a handful of active practicioners and for them it all starts in their own garden, there's no boatload of jasmine waiting to be unloaded at the docks. "Flowers produce their fragrance to attract specific pollinators which in my case are bees," Shelley Waddington of En Voyage Perfumes explains. "The blossoms are at the peak of their fragrance early in the morning, the time when the bees visit and the largest ones become unnervingly arrogant and aggressive. They turn up their buzz to the highest volume… I talk calmly to them and thank them for sharing, and have never been stung."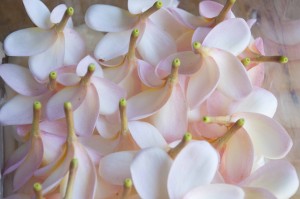 Frangipani Photo Elise Pearlstine
Nature dictates and the perfumer follows. Elise Pearlstine of Tambela Natural Perfumes is on a slow mission to Utah early every summer from her home in Florida. "After four years I hope to finally create a perfume for my mother using her peony extract". Sophia Shuttleworth of African Aromatics lives in South Africa and has the distinct advantage of a very long growing season, up to 4 months for some of her plants, and "the hotter it is the better the scent, in other words when we are melting in the heat, they just love it."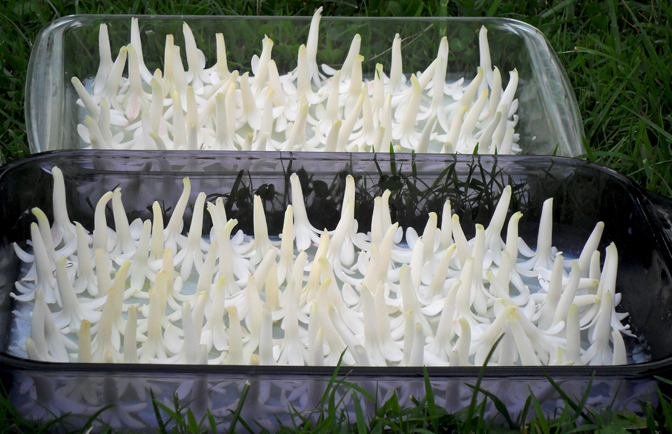 Photo: Courtesy of Dabney Rose
These modern perfumers are creating scented holograms that are pure labors of love and precision. We sampled works by three perfumers currently creating cold enfleurages. First up was "Tuberose" extrait from Dabney Rose. Currently Dabney is working on a new fragrance line (TBA) but she is a long-time highly respected producer of hydrosols and enfleurage. There are many versions of tuberose yet all our experience with CO2 extractions have been dark and sometimes muddy floral scents, like a beefsteak tomato in the middle of an otherwise mouth-watering salad. Dabney's tuberose was multi-dimensional, literally a complete perfume with a top, heart and base note but without the evaporation curve, all three aspects coexisted harmoniously throughout the wearing and a strong sense of depth was always present. Our whistle was wetted for more.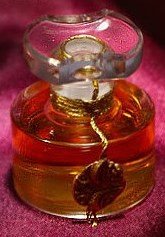 Carmel Boheme By Shelley Waddington (Read former Sr Editor Ida Meister's Review here)
Shelley and Sophia generally use these floral holograms to beautifully gild and give lift to perfumes rather than as the centerpiece of the fragrance. What hedione and ultrazur attempt to do for synthetic perfumes. We were stunned by En Voyage's ambitious Carmel Boheme perfume which totally maxes out the cold fat experience with a heart accord created with enfleurages of gardenia, tuberose, and jasmine. Divine overkill, these floral notes are so thick that they practically smother the base of amber and labdanum, and since when did you have to fight a coating of flowers to reach these rich notes? It kind of reminded us of eating a soufflé, where you really have to poke at the shell to see what else lurks within.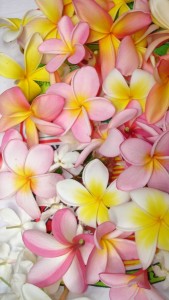 Pink frangipani and Jasmine grandiflora
African Aromatics' Melody is a very soft floral featuring Turkish rose and vanilla, but the boiler-maker icing on the cake is a syrupy dollop of pink frangipani enfleurage that serves as a scintillating counterpoint to the otherwise classic concoction. Wearing it conjured wicked thoughts of riding in the back of a limo in Vegas at twilight with twins in mink stoles on either side of us.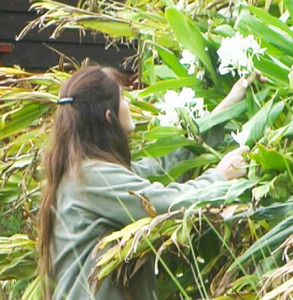 Sophia Shuttleworth of African Aromatics (a member of the Natural Perfumer's Guild)
Cold fat florals are an extreme labor of love and devotion between a perfumer and her flowers – women did the laborious work of enfleurage back in the day and continue to carry the torch today. The scented breath of thousands of flowers is transformed into highly charged particles which are then unleashed on other essences selected by the artisan perfumer to create luscious fragrance jungles and unique terroirs. These are fascinating and in some ways familiar places we have never been until now.
Writer's Note: On a more practical plane, be sure to check out Sophia's website which is a veritable encyclopedia of info about the history of perfume on the African continent with great attention to enfleurage.
David Falsberg, Contributor and Perfumer for Phoenicia Perfumes
Editor's Note: Headspace technology is a method of "capturing" the odor of a substance using an apparatus resembling a bell-jar. This allows perfumers to mimic the notes of flowers, plants, and foods which do not lend themselves otherwise to extraction. Also special thanks to Sophia for inspiring us with her beautiful Pinterest Pins "A fragrant world"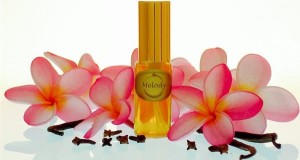 Thanks to the generosity of Sophia Shuttleworth, we have a 12 ml flacon of African Aromatics Melody, thanks to Dabney Rose we are offering a precious 1 ml of tuberose extrait obtained from enfleurage and from Shelley Waddington, a generous sample of Carmel Boheme for one worldwide reader. To be eligible, please leave a comment about what you learned in this perfumer's workshop on enfleurage. Draw closes November 18, 2013.
We announce the winners only on site and on our Facebook page, so Like Cafleurebon and use our RSS option…or your dream prize will be just spilled perfume.