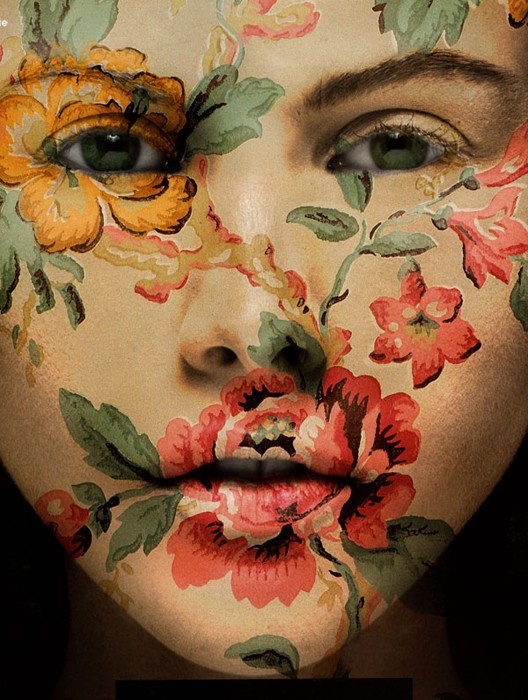 This month we visit two highly regarded ateliers and learn how modern artisan perfumers recreate scents known as 'memes', (according to the Urban Dictionary "meme: derived from the Greek mimëma, 'something imitated') using either natural materials that when alchemically blended mimic natural notes or that are impossible to extract directly from nature. That's right, we're celebrating memes this month and next, leading off with leather and gardenias as our core accords.
So let us begin with leather notes first, as they have played an integral role in perfume making since the 17th century when French glove makers began soaking their wares in a mixture of animalics and herbal oils. Spanish glove makers soon followed suit adding florals to the mix.
Real leather perfumes made their grand debut in the1900s when Lubin introduced Cuir de Russie (1900). The iconic Cuir de Russie was created by Ernest Beaux in 1924, for Chanel. It captured the heart and passion of modern femininity with a scent profile not unlike a well-used ashtray. The two key botanicals that make this scent possible are birch tar and styrax. Birch bark has been used in Russia for centuries to tan leather and styrax is a very smoky resin that has been used in medicine and incense for a millenia.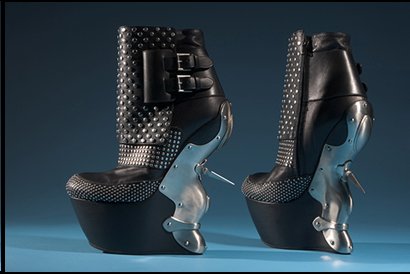 Black Leather Studded Leather Platform Boots by Alexander McQueen (2000)
Why are we so attracted to the concept and scent of leather? We put this question to natural perfumer Ayala Moriel of Ayala Moriel Parfums: "Leather and fur are both very raw materials that connect us to our prehistorical hunting ancestors or nomadic traditions that strongly relied on the leather of herd animals for survival (not only clothing, luggage and footwork were made of leather, but also tents, saddles, kayaks, canteens and more). On the other hand, the luxury industry of leather for the nobility of Europe was closely linked to perfume….in the 17th Century. And from then on, it seems like leather have had several prestigious and sexy incarnations – from the coveted Hermes bags to the dominatrix-inspired high-fashion."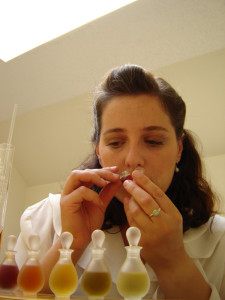 Ayala Moriel
Ayala very kindly shared her knowledge of natural leather perfumery with us. Leather notes come in two basic flavors – animalics and botanicals. Castoreum, extracted from beaver glands when used in small quantities definitely smells like real, oily leather. Essential oils extracted from trees that are used in the tanning of leather such as cade, birch tar, myrtle and cassie absolute provide vegan sources for building leather accords. Like all master natural perfumers Ayala also looks for other notes that provide olfactory textures and scents that have hints of leather aroma and textures within including tobacco absolute, hay absolute, mate absolute and osmanthus absolute. In the fragrance Espionage (love that name!) Ayala makes something of a leather "sandwich", as opposed to a composite accord. A sharp smack of Russian leatheresque cade tops a tobacco accord and is finished with a skin-musky drydown. Big thanks to Ayala for sharing her wealth of perfumery knowledge and also for sending us her newest fragrances to per-sniff. We fell straight into love with the chypre "Grin", which again is served deli style with a devilish green note of peppercorn and galbanum so tart it almost reminds us of pickle juice atop rare flowers and finished with oak moss and vetiver. Love this one for spring.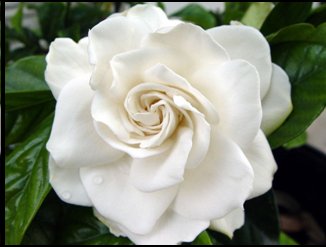 While leather perfume comes in so many variations today, the gardenia was Sigmund Freud's favorite flower and its essence cannot be extracted from the plant.* It can only be recreated out of other natural notes and/or synthetics. Sarah Horowitz-Thran built her Perfect Gardenia fragrance using a synthetic skeleton of gardenia fragrance oil that she fleshed out with natural notes to create an all-inclusive gardenia plant. She sat with her personal gardenia plant for months and utilized her perfume library in order to capture the entire essence of the gardenia plant.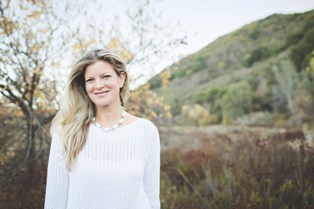 Sarah Horowitz-Thran of Sarah Horowitz Parfums
Sarah's absolute transparency about her perfuming process is a welcome relief from the Secret Squirrel school of perfumery where even the most obvious notes will never be divulged to the public. "In order to achieve the nature identical feel of the gardenia, I started with an accord of a fragrance oil of gardenia accented with both honey suckle and freesia to bring out the green of the leaves. I used bergamot in the top note to heighten this effect, and brighten the middle note. In the base note, I used a creamy vanilla note to capture the velvet like petals, I also used the slightest hint of patchouli to ground the composition and hint at the earth the plant grows in."
We sampled both the Eau De Parfum and Parfum Oil versions of this masterpiece of a meme. The EDP has a lot of lift and has that hothouse effect where you step into a tropical greenhouse and are instantly transported to an exotic idyll where the heartbeat of the fragrance overrides the mundane aspects of the daily brain. The parfum is more suggestive, less revealing, and in its minimalism entices the beholder to fill in the blanks proactively.
Meme perfumery abounds, these are but two powerful examples of mimicry within artisanal perfumery. Musk, amber and violets come to mind and remain to be explored in a future replication of the Perfumers' Workshop.
–David Falsberg, Contributor and Perfumer for Phoenicia Perfumes
Editor's Note: If you are new to Perfumers Workshop, David has authored master class posts with artisan perfumers:Tincturing (Charna Ethier, Ellen Covey, Roxana Villa) Enfleurage (with Elise Pearlstine, Dabney Rose, Sophia Shuttleworth) and Natural Hydro-Distillation (with Alexandra Balahoutis and Jessica Ring)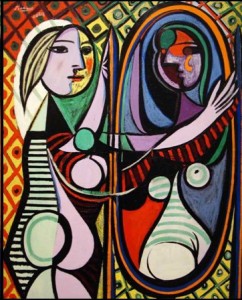 Girl Before a Mirror Pablo Picasso
Thanks to Ayala Moriel and Sarah Horowitz-Thran we have a draw for two readers
Worldwide: ALL NATURAL Ayala Moriel Parfums samples of Grin and Espionage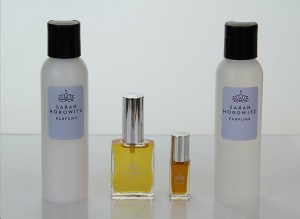 Sarah Horowitz Parfums Perfect Gardenia Mini Travel set
USA Residents: Ayala Moriel Parfums sample set or Sarah Horowitz Parfums four piece mini set of 1/2 oz Perfect Gardenia EDP spray, 1/6 oz Perfect Gardenia roll-on,4 oz lotion, 4 oz shower gel
To be eligible please leave a comment with what you learned about leather and gardenia memes as well as your choice of fragrances should you win (country restrictions). Draw closes April 24, 2014
* 5/1/2014: I received an email from Anya McCoy of Anya's Gardens, President of the Natural Perfumers Guild, corrected CaFleureBon. According to Anya, Gardenia can be derived naturally and that Anya herself has created gardenia enfleurages. She also wrote that gardenias can be hydro-distilled. We apologize for the error. However, most gardenia used in conemporary perfumery are memes.-Michelyn Camen
We announce the winners only on site and on our Facebook page, so Like Cafleurebon and use our RSS option…or your dream prize will be just spilled perfume.