Denise and Paul Poiret dressed for the "Thousand and Second Night" party, 24 June 1911 and Parfums de Rosine Aladin circa 1919
Just before the First World War, Europe discovered the exotic fashions of the Eastern world. Sergio Diaghilev's Ballet Russes came to Paris in 1909 with elaborate costumes inspired by the East. Ground-breaking and influential designer Paul Poiret was designing Eastern-influenced women's fashions like the kimono coat and harem trousers. He was also the first fashion designer to launch his own perfume line called Parfums de Rosine, the first designer fragance line. The advent of the war pushed the pause button for a while and women's fashions became simpler. With the end of the War the Roaring Twenties, an age of exploration and experimentation, began—and revitalized the fascination with the Far East.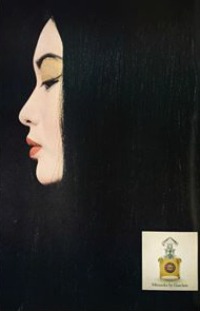 Mitsouko Guerlain Ad, photo by Guy Bourdin in Vogue May 1965
Mitsouko by Guerlain, released in 1919, a chypre with a fruity peach note was at the forefront of Western perfumery's fascination with cultures of the Far East, and told the story of Mitsouko and her secret love for a British officer. . Shalimar followed in 1925 with its amber/vanilla opulence, and Djedi in 1926, also a chypre and created by Jaques Guerlain, who along with the Western World was fascinated by all things Egyptian after the discovery of King Tutkhamen's tomb in 1923 .
Our modern artisan perfumers have taken personal inspiration from the East and define it in their own signature style. We asked them three simple open-ended questions and got some very thoughtful answers.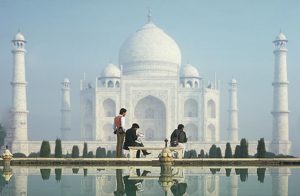 Taj Mahal morning by Paul Kiler
Why did you turn towards the East in making perfumes?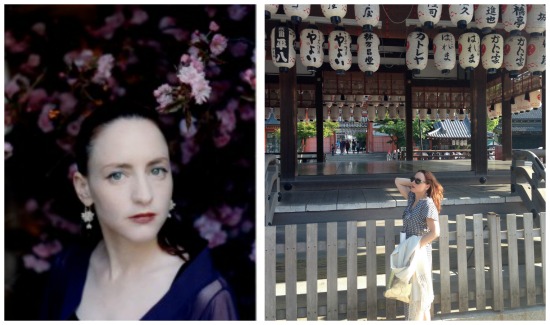 Maria McElroy of aroma M at the Kyoto Geisha Shrine Yasaka Jinja
Maria McElroy of aroma M Perfumes: My inspiration is Japan and the Geisha. I am very influenced by Japanese culture and the wonderful years I lived there. The tradition of Geisha is all about beauty, elegance, glamour, and mystery…. this is the allure for me. This is what perfume is all about. I want to wear a perfume, and feel beautiful, powerful, and sensual. I want to try on a scent, as if slipping on a silk kimono. One may be white, and pure and delicately embroidered with gold, while another is black, and adorned with bold designs, brocaded and resplendent with a sort of mystery. We all have a bit of the Geisha inside of us. Aroma M allows me to explore that mystic.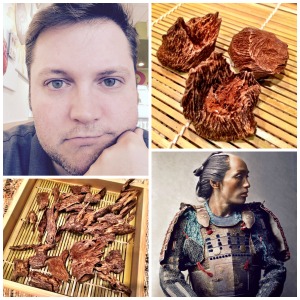 JK DeLapp, sinking borneo buttons, cambodian agarwood and Bushido warrior (bottom right)
JK DeLapp of Rising Phoenix Perfumery: I draw a lot of inspiration from my background in Chinese Medicine – which parallels my love and fascination as a child of both the Incense, Tea, and Spice Trade, as well as Archaeology. I love creating "historical" fragrances – borrowing from a particular place or time. Right now, I'm absolutely in LOVE with a fragrance I developed that will be released soon through another vendor that is called Bushido – a fragrance inspired by Samurai incense culture, and is focused around a vintage 1906 distillation of Allspice I acquired (substituted in place of "Choji" – AKA, Clove – which is "the Scent of the Samurai").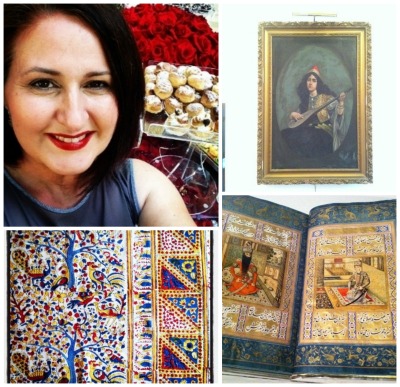 Maggie Mahboubian, Qajar era painting of dervish girls playing oud. French style painting, Persian Textile, Shahnameh (Book of Kings)
Maggie Mahboubian of Parfums Lalun: Early memories and the artifacts from our life in Iran that now surround me serve as inspiration. Also language. Certain words have such a deep connection that I don't even notice I'm using them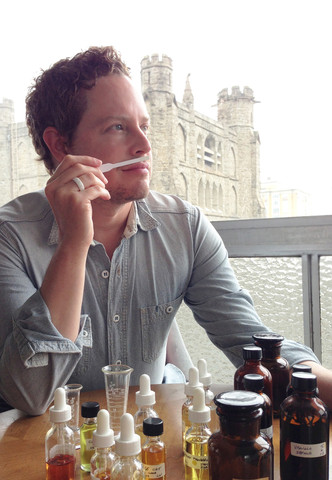 Mik Moi (Michael Coyles in his studio)
Michael "Mik" Coyle of MikMoi San Francisco: From an early age I've had an eastern influence. My mother cooked stir fry and I honestly never remember learning how to eat with chopsticks, she taught me early on. I do remember seeing kids using the 'cheater' type in restaurants, you know the ones that are connected at the top like tongs? I wanted to use those so badly because they looked so different but mom never gave in. As an adult I have studied Japanese and Chinese and spent close to a year in Asia, principally in Thailand and Hong Kong after graduate school. Since then I met and married Jasper, who is Taiwanese. On our last trip to Taiwan and Japan in 2015 we visited the Izu Peninsula, a Japanese region famous for onsen or volcanic hot springs. That trip became the inspiration for my recent collection of onsen oils and salts; Edo, Aya and Izu.
What ingredients do you like to use? Are they different or is formulation the key?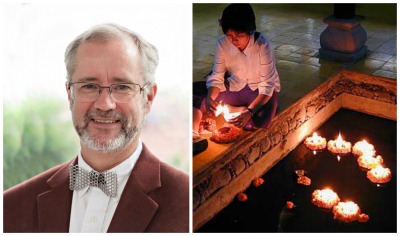 Paul Kiler and his wife Julie lighting Candles in Bali
Paul Kiler of PK Perfumes: Middle East and India: I think of heat, and a thickness of humidity, spices and fruits, smoke and incense, animals and decay, blended with traffic and environmental pollutants. I think that the challenge to portray the East, to the West, is to highlight the beauty and complexity of the place, but with a judicious bit of romantic editing for a perfumic presentation to the West. If we switch, and make a perfume *for* the East, well, it has to stand up and cut through the density surrounding it. I have a Morroccan themed scent coming out later this year, but my current Zaffran, Red leather and Gold Leather fit well here. Then there's the wild, Dirty Rose Oud Extreme, too.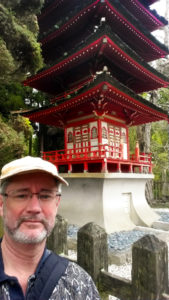 Paul at a Japanese garden
Northeast Asia: (China, Japan, Korea, Taiwan) A scent composed to convey this region would be lighter, fresher, and probably more floral and green. Refinement is what I think of: graceful-simple-elegant. Some of these countries, really only like scent to be fairly light, and last a short amount of time, but to present this culture to the West, it will need to last much longer, and maybe a tad stronger as well. My new Heaven fresh Perfume fits this genre well. Thanks for letting me talk about these, I really loved the opportunity!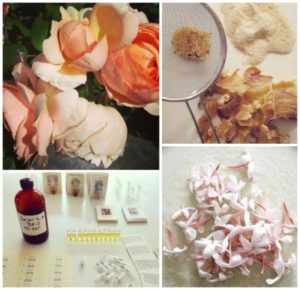 Roses from Maggie's garden, preparing gum arabic, Quajar Rose formulae, Maggie's Jasmine Enfleurage
Maggie: There are key notes that represent Persian culture such as rose, orange blossom and jasmine. Persian poetry mentions amber (ambar), most likely ambergris, and musk (moshk), but these are no longer a part of the cultural psyche anymore. Spices used in food are also important: saffron, cardamom, cumin, cinnamon, turmeric. The individual notes are just as important as combinations. Persian culture is kept alive through the cuisine that features specific flavors and traditional combinations.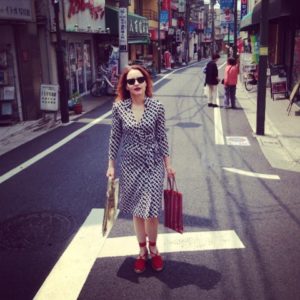 Maria McElroy in Japan
Maria: I find the exploration and discovery of the ingredients so magical. I have found many of my oils while traveling. The scent impressions of a place are very important to me, the ambient fragrances. For me both ingredients and formulation are equally important, formulation is the artistry I think.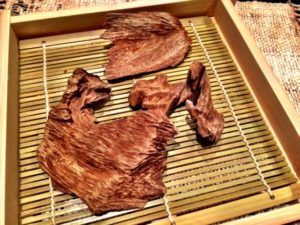 JK 's Vietnamese RedSoil Agarwood
JK: Formulation is always key – but I have a tendency to formulate with copious amounts of Oud (as we custom distill our own Oud oils) – and in place of alcohol or carrier oil, I use Mysore Sandalwood as my medium – composing in a traditional Attar-style, which in itself, is a historical manner of composing fragrances.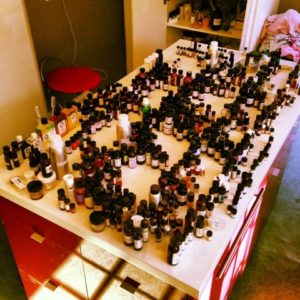 Cataloging aromatics LaLun perfumes
What is your biggest challenge (or reward) in formulating for an Eastern esthetic?
Maggie: The biggest challenge is to maintain a sense of modernity and cultural relevance so that my work does not become cliched or nostalgic. Certain smells have strong associations, but it's important for them to create new memories and interpretations. I like to experience the freedom that anything is possible when I pick up a rose extraction even if it leads me by the nose down memory lane.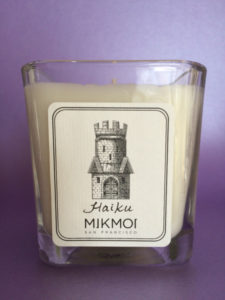 Haiku Candle MikMoi
Mik: I would say my greatest challenge is also the most rewarding and that is creating something that imbues subtly. My fragrances have been described as 'sheer' and like 'watercolors' and I am proud of that. Often American values place considerable emphasis on more is better. That value is not the same in the east. Heat and humidity don't go well with heavy fragrances nor with my esthetic. It is rewarding to create something subtle that can still last all day.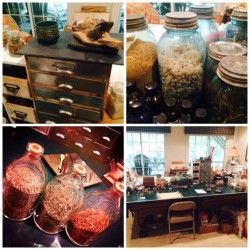 JK DeLapp of Rising Phoenix Perfume Organ
JK: Both the Near and Far East have a fascinating history, and a taste for depth and rich ingredients often lacking in more Western-style fragrances. I have been having a love affair with incense since I was young, and love both the history of the trade, and the sheer global reach of the incense and spice trade. I mean…as Americans – we literally exist as a result of their pursuit!
-Elise Pearlstine, Sr Contributor and Perfumer for Tambela Perfumes with Guerlain fact checking by Aaron Potterman; Art Direction and theme from Michelyn Camen
For our Draw there will be six winners: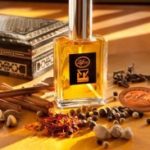 PK Perfumes 15 ml Reader's Choice of Dirty Rose Zaffron, Red Leather, Gold Leather, Worldwide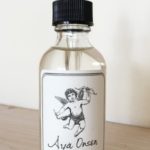 MikMoi sample pack of Edo, Aya and Izu oils Worldwide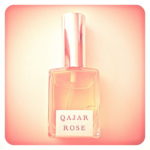 Lalun Perfumes 10 ml roller bottle of Qajar Rose in oil base, US Only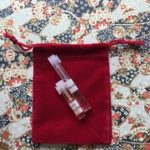 Aroma M sample set of Geisha Vanilla Hinoki US Only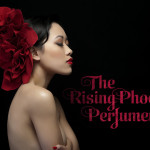 Rising Phoenix Sample of soon-to-be-released Bushido perfume or a sample of Musk Rose Attar (Art and Olfaction Top 10 Finalist 2016 ) US Only
To be eligible you must be a registered reader. Please leave a comment with what you found interesting about our artisans' influence by Eastern Culture, their use of ingredients, something memorable from this workshop, what Eastern style perfume(s) you would like to win from those above and where you live.Draw closes 5/25/2016
We announce the winners only on site and our Facebook page, so like CaFleureBon and use our RSS option…or your dream prize will just be spilled perfume