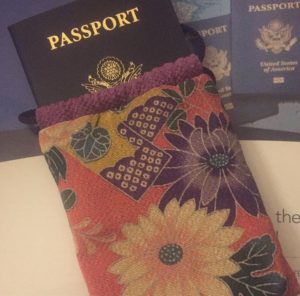 Michelyn's Geisha O-Cha pouch has been all over the world since 2005
Over the past fifteen years I have met many perfumers from all over the world. Can you imagine that one of the most talented artisan perfumers, Maria McElroy of aroma M perfumes, lived three blocks from me? We would meet at the Rose Bar at the Gramercy Hotel, sip champagne, dream out loud, compare red lipsticks (which always looked better on Maria) and ponder the changing olfactive landscape as the word niche started to be a catch phrase for so many perfumes.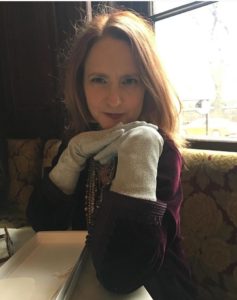 Maria McElroy of aroma M perfumes trademark red lips and vintage chic
In my 2010 article, Niche, Nicher, Nichest, Maria said, "A cult fragrance, that is what I remember aroma M being referred to, not niche, as we launched at Bergdorf Goodman, back in the 90's. There were just a handful of us and it was a thrilling to be in the Bergdorf catalogue and sell out of our original Geisha o-cha perfume. The buzz was different, no blogs or websites". My first perfume from Maria was Geisha O-Cha, which I still love as much as the day I discovered it while working with Luckyscent (as their publicist). O-Cha is luminous and delicate,with notes of clary sage and sweet orange. There is 1/4 ounce left in the bottle, and I had never nor have I since, smelled anything like it. With great pleasure we celebrate the 22nd birthday (February 14) of aroma M and Maria McElroy's achievements for this month's Perfumer's Spotlight –Michelyn Camen, Editor-in-Chief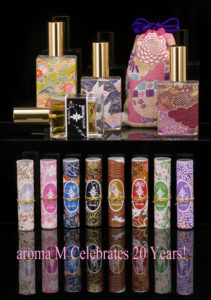 "Birthdays are always a good time for reflection. It is hard to believe that on this Valentine's Day, aroma M will be in its 22nd year of business. I'm happy to report that I still love what I do and find perfume ever inspiring. aroma M now has a collection of twenty one perfumes, we have never taken one off the line. O-cha was our first, and Geisha Vanilla Hinoki is our latest. It was just a blink of an eye, that I was launching my original three Tea scented perfumes, o-cha, hana-cha and nobara-cha at Bergdorf Goodman in New York and Harrods in London. Still my favorite part of my job is creating. One of the highlights over the years for me was creating an aroma M collection for Sephora, when they first launched in the United States and Asia.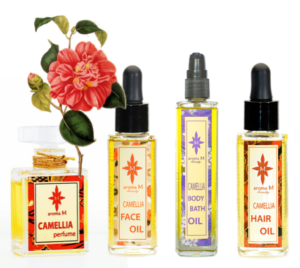 Aroma M Beauty
In 2012, I debuted aroma M Beauty, an organic Camellia Oil Beauty line comprised of five products a Face Oil, Hair Oil, Body & Bath Oil, Cleansing Oil and of course the all-natural Camellia Perfume. I had wanted to create a Beauty line for years, so this was a dream come true.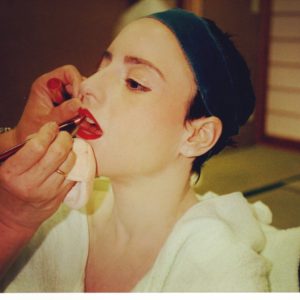 Maria in Japan
My appreciation for Japanese culture and aesthetics in addition to my extraordinary experiences in the secretive world of the Kyoto Geisha¹s, were the bases for aroma M¹s Beauty products. Adored by a slew of eco-chic ladies across the world, the Camellia oils are designed to smell beautiful and simultaneously enchant the mind, soul, and the skin. Drawing on my Aromatherapy background, I have conjured elixirs that are symbolic of aroma M¹s cross cultural concept, one that we have romanced throughout our 22 years.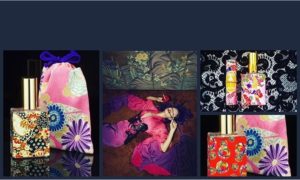 Love is In the Air 15% Off Geisha Rouge, Geisha Amber Rouge and Geisha Vanilla Hinoki.
It has been an extraordinary journey and I am excited to continue it and look to the future. This year aroma M in partnership with Slow Luxury and Epic Road Travel will be offering a Bespoke Perfume trip to Marrakech. I will lead clients on an olfactory exploration through the ancient Medina market where we will wind our way through the Souks gathering Perfume oils to create a custom fragrance. This will be a one of a kind experience, and a one of a kind perfume. I am thrilled to share this next fragrant adventure with you, stay tuned. In celebration of our anniversary, we are offering a promotion through Valentine¹s Day. 15% Off our sexy Geisha Rouge and Geisha Amber Rouge plus our super star, Geisha Vanilla Hinoki. Cheers to another year older!"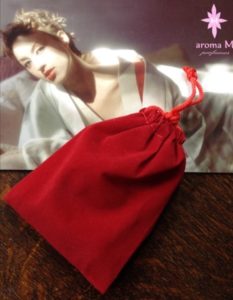 aroma M perfume samples
*all photos property of aroma M unlsess otherwise indicated
Thanks to Maria we have a draw for 2ml sprayers of both Geisha Perfume o-cha and Geisha Vanilla Hinoki for one registered reader in the USA. To be eligible please leave a comment wishing aroma M Happy 22nd birthday, what you learned about the collection and your favorite aroma m perfume. Draw closes 2/6/2017.
We announce the winners on our site and on our Facebook page, so Like Cafleurebon and use our RSS feed…or your dream prize will be just spilled perfume