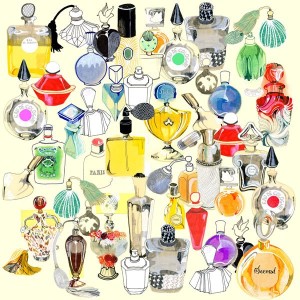 When you ask for a Kleenex, Band-Aid, or Jell-O you're really asking for tissue, bandage, or gelatin. There are many instances where brand name trumps the name of the product in the eyes of the consumer. In the early days of modern perfumery there were specific perfumers who were responsible for the style of the perfume on the label. You may love Chanel No. 5 but Ernest Beaux was the man who is responsible for the Chanel fragrance style. Same goes for Henri Almeras and Jean Patou Joy. These men were never publicly acknowledged at the time these perfumes were released but their signature style is entwined with the brand they worked for.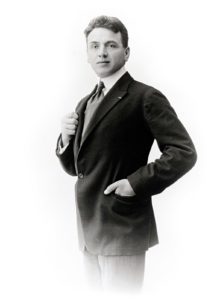 Ernest Beaux 1915
Ernest Beaux
Ernest Beaux had spent the first part of his career at the Russian perfume house of A. Rallet & Co. He chafed under the supervision of the chief perfumer Joseph Robert. After he returned from World War I he was offered his position back at Rallet; he decided to try and see what he could do on his own. He was fascinated with the new materials being used in perfumery and wanted the freedom to use them without boundaries. He started making formulas following these ideals.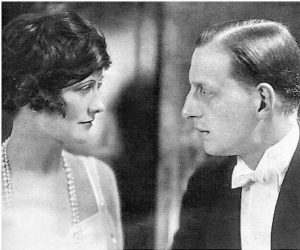 Gabrielle "Coco" Chanel and her lover Grand Duke Dmitri Pavlovich Romanov of Russia (photo CHANEL )
At about the same time Coco Chanel would be vacationing in Cannes with her then paramour Russian Grand Duke Dimitri Pavlovitch. M. Romanov knew of Beaux through his work at Rallet and made the introduction. Mme Chanel and M. Beaux were both born boundary pushers. When he presented his set of numbered constructs the story goes she chose Number 5 as the one she liked best. The, probably apocryphal, tale would begin the Chanel fragrance brand. Number 22 from that original set would also be a Chanel perfume a couple years after No. 5 was released.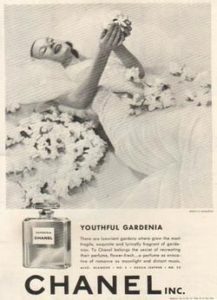 Chanel, Gardenia, 1940s
The signature in both was the use of aldehydes early on but also a floral accord; not just a single dominant floral note. Even when composing Gardenia in 1925 it wasn't really gardenia as much as an accord of other florals which evoked the titular flower. Bois des Iles and Cuir de Russie would round out M. Beaux's work for Chanel. Taken together they are what you mean when you say Chanel and are talking about perfume.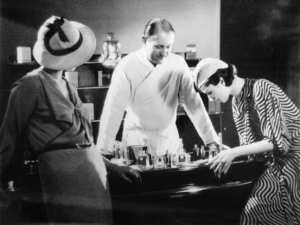 Henri Almeras with customers
Henri Almeras
Henri Almeras would also return from World War I to find his designer muse, Jean Patou. M. Almeras was a painter before he became a perfumer. That sense of densely layering colors for effect would come to be the Jean Patou signature. In 1925, he released the "love trilogy"; Amour Amour for the first rush of attraction; Que Sais Je? which means "What do I know?"
Finishing with Adieu Sagesse to represent "farewell to wisdom" replaced by love. The set were all based on carnation plus another floral or two. In Amour Amour it is rose and jasmine; Que Sais Je? combines orange blossom and orris in a lighter tone; and Adieu Sagesse is neroli and muguet.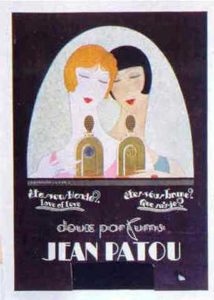 Jean Patou Amour Amour et Que sais-je 1925 ad
The signature was for M. Almeras to find places to overdose the floral notes forming a near hyperreality. It would culminate in the Jean Patou Joy which has become a perfume icon.
1938 Joy by Jean Patou Perfume vintage ad
Marketed as the "world's most expensive perfume" it was M. Almeras discovering how much rose and jasmine one could stuff in a fragrance. If you believe the PR it is "28 dozen roses and 10,600 jasmine flowers." Almost everything M. Almeras had done previously were like artist's sketches leading up to the desired opus which would become Joy. That has become synonymous with Jean Patou fragrance.
The knowledge of who the perfumers are, now allows that name to be associated with the brand like Jean-Claude Ellena's Hermes or Mathilde Laurent's Cartier. But in the beginning, it was the signatures of Beaux and Almeras that created the brands known as Chanel and Jean Patou when it came to perfume.
–Mark Behnke, Editor-in-Chief of Colognoisseur and Michelyn Camen, Editor-in Chief of ÇaFleureBon
Special thanks to the world's greatest perfume expert and evaluator, Michael Edwards, and to Margaret Khoury of Fragrances of The World for the photos of Ernest Beaux and Henri Almas for this article.
If you missed Part 1-Francois Coty, Jaques Guerlain and Ernest Daltroff, please click here