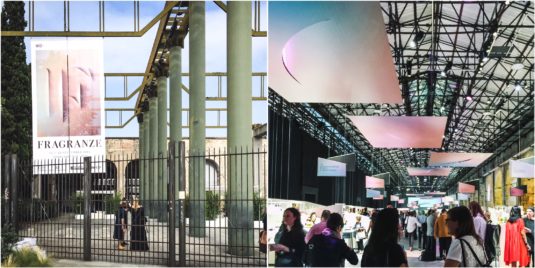 Fragranze 16 entrance and Spatialist layout
A quiet morning, here and there people seated under the kiosks in the Leopolda Station court and such a heat and humid air that you can slice it, despite being mid-September. That's the scene that welcomed me arriving at Fragranze 16 last week. Speaking about slicing, the cover image inspired by Lucio Fontana's Manifesto Bianco (White Manifesto) stands out from the street, remembering me the Spacial theme the graphic designer Diego Soprana and the architect Alessandro Moradei portrayed also in the show layout: the shape and space boundaries of a fragrance, but also a call to go beyond what's traditionally known as "niche perfumery" in a heavy rotating market. For the first time after 9 years attending Pitti Fragranze, this sense of uncertainty was palpable together with the flavor we've passed the break-even point of growth. On one hand, this reflects less new brands and less new launches which brings more substantive and thoughtful fragrances. Let's discover the most interesting Perfume Trends at Pitti Fragranze 16 and some special highlights.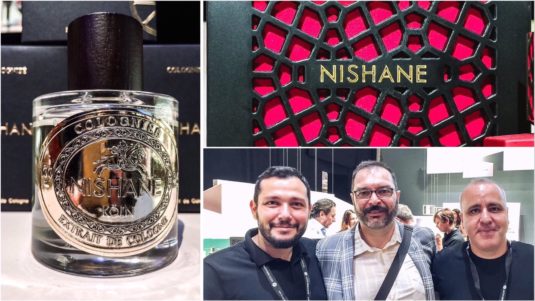 Nishane Colognisé Ermano with Mert Guzel and Murat Katran
One of the most noticeable Perfume Trends at Pitti Fragranze 2018 trend boldly introduced in Milan last spring by the Perris Monte Carlo White Collection (focusing on cedrat and bergamot from Calabria and Sicilian mandarin) steadily grows with new Mediterranean releases. First of three new Extrait de Cologne, Nishane takes inspiration from the alcohol and citrus blend typically offered to guests as a chilling splash in Turkish hospitality for Colognisé. The classical Acqua Admirabilis citrus-neroli theme is updated here by a soothing green tea and muguet infusion. Spanish designer Santi Burgas developed together with perfumer Rodrigo Flores-Roux the Primal Waters collection which cheerful cologne N (like New York, Rodrigo's hometown) shine thanks to neroli petals brightened by Givaudan captives like the leafy zest of Vert de bergamote (exhibited last June during WPC 2018 in Nice). The most awaited citrus though was Fàra by Antonio Alessandria. Fine-tuned for the best since the last spring preview, Fàra takes inspiration from the drinks people buy in kiosks downtown in Catania to chill in the heat. A soda, salt, mint leaves and freshly squeezed citrus mix is drunk so fast it gets spilled on the heated skin. The image is perfectly rendered by this edgy and sensual juice thanks also to a pinch of cumin and incense.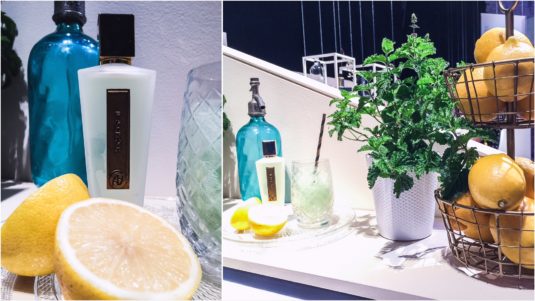 Florals are still growing strong and fashionable blooms pair with fruity and green nuances. Two of the most charming introductions come from Maison Rebatchi, a new French brand founded by Mohamed Rebatchi and portraying his love for classic perfumery together with the influence of his Maghreb origins. Housed in a refined "plumage" glass flacon designed by Pierre Dinand, Rose Rebatchi blends a charming, honeyed rose with a souk of warm spices ruled by saffron reconnecting so also with the mixed culture background of the Franco-Syrian perfumer Randa Hammami. Osmanthus lovers will rejoice smelling the captivating Joyeux Osmanthe by Maurice Roucel which finds an unique, unctuous and shimmering balance between pulpy osmanthus flower and heady tuberose.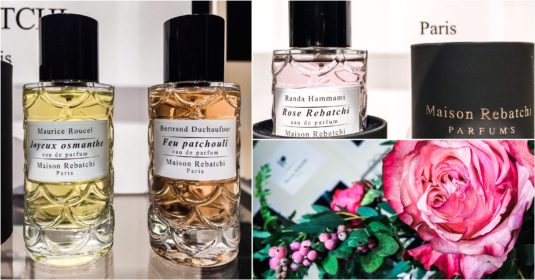 Maison Rebatchi booth
If you enjoyed the nonchalant elegance of Cap Neroli, last spring release from Mme Patricia de Nicolai, will also love the new Neroli Intense which brings a more floral, sweeter and warmer interpretation of orange blossom yet keeping the savory coastal landscape of the original. White dresses Pierre Dinand's polarizing Map of the Heart flacon as well as white gardenia makes White Heart v. 7 the most elegant creation in the line. Sprinkled with radiant lavender, cardamom and aldehydes, the green floral melts on skin with an intriguing umeboshi plummy base.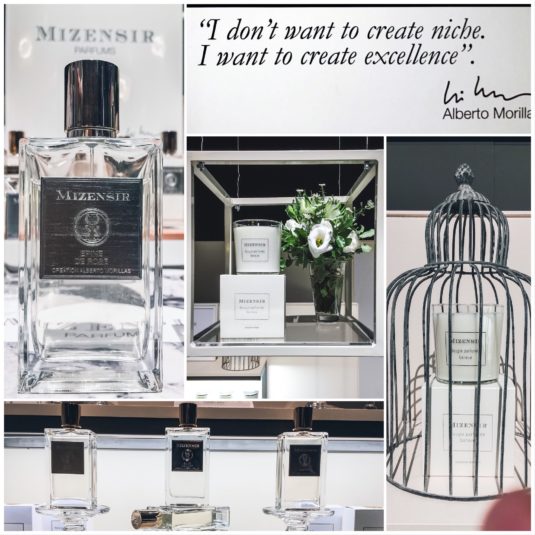 Mizensir Epine de rose
Timeless Elegance and Master Perfumers with their own collections as one of the best Perfume Trends at Pitti Fragranze 2018. Michel Almairac with his Parle Moi de Parfum, I enjoyed Chypre Mojo, a modern rendition of a fruity chypre focusing on patchouli that somehow remembered me Voleur de Roses with a sultry basket of ripe ananas, mango and guava instead of plums to the point I endearingly renamed it "Voleur d'ananas". Alberto Morillas launches with Mizensir Epine de rose that not only is one of the edgiest fragrances in the line, but this rose beautifully trapped in a shining armor of overdosed rose oxide totally brought me to the metallurgic '70s glam with its trail.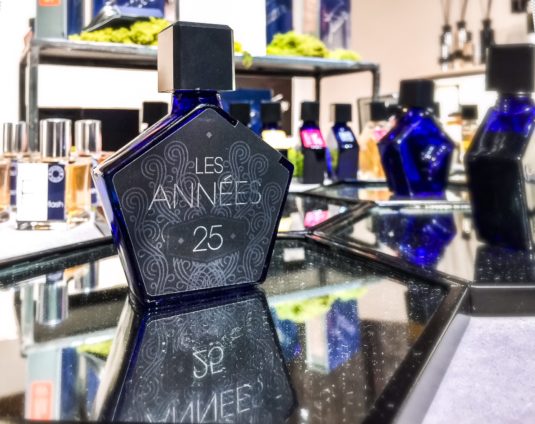 Andy Tauer's Les Années 25Andy Tauer's Les Années 25 is a tribute to the Parisian Exposition internationale des Arts décoratifs et industriels modernes held in 1925 which exhibited many masterpieces of perfumery from Parfums de Rosine, Houbigant and Guerlain among others, Les Années 25 shows Andy Tauer really knows how to bring that magic rendering an era rather than imitating a specific scent. That's a magic he already brought us with that Miriam 1950's flair and now we get lost at Midnight in Paris with aldehydes, iris, vanilla and balmy woods while smelling his new creation.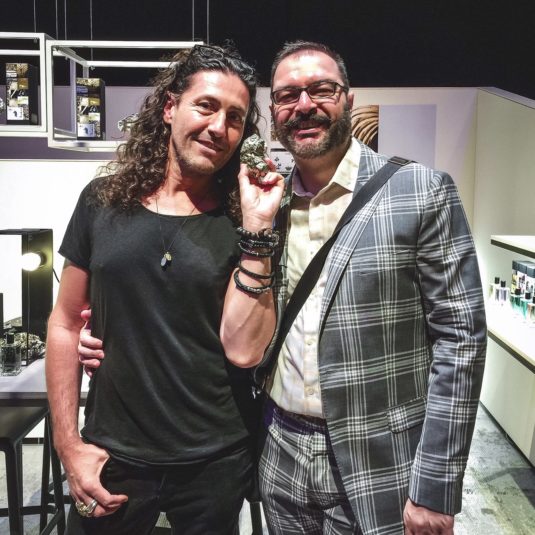 Ermano with Olivier Durbano and the new Pyrit Ana Tra (a special photo for Michelyn Camen)
One of our favorite highlights (and people) from Perfume Trends at Pitti Fragranze 2018 is Pyrit Ana Tra from Olivier Durbano. While reconnecting with his iconic Tourmaline Noire thanks to smoked and animalic facets, his 14th perfume, Pyrit Ana Tra brings us through a purifying path lifting the spirit from darkness to an intensely warm embrace of balmy and floral leather, skipping this time the signature incense in favor of echoes of the legendary Russian leathers of yore.
Don't miss part two to discover more about neo- gourmands as another of the important Perfume Trends at Pitti Fragranze 2018, how the next generation of perfumery is taking inspiration from sustainability and social responsibility and more.
Ermano Picco, Editor
All photos belong to Ermano for CaFleureBon
Thanks to the exhibitors, we have samples from the top Perfume Trends at Pitti Fragranze 2018 Part 1 and 2 to a registered reader worldwide. To be eligible, tell us what you thought of Part 1 of Ermano's PerfumeTrends at Pitti Fragranze 2018 and where you live. Draw closes 10/3/2018
We announce the winners only on site and on our Facebook page, so Like Cafleurebon and use our RSS Blog feed … or your dream prize will be just spilled perfume