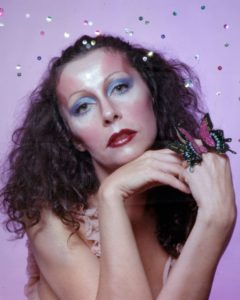 Isabelle Collin Dufresne aka Ultraviolet studied with Salvador Dali, was a superstar in Andy Warhol's Silver Factory and anything but shy or demure
Shy violet, shrinking violet, demure violet… violets have been misunderstood and grossly underestimated for nearly 2500 years. I have well over two dozen violet perfumes; it's one of my favorite notes, and I have never understood how such a bewitching, complex note in perfumery got such a dowdy reputation.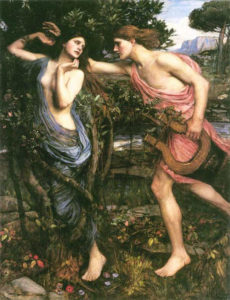 John William Waterhouse apollo and daphne 1908
It seems to have started on Mt. Olympus, with gods behaving badly, chasing after nymphs who had no interest in them. Rather than taking these allegorical bulls by their metaphorical horns and punishing their licentious behavior, the goddesses instead chose to turn the lovely victims of this debauchery into violets, which somehow led to violets being associated down through the ages with modesty.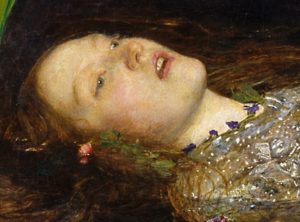 Ophelia detail Sir John Everett Millais painting wearing a necklace of violets
Shakespeare got in on the act too, his poor mad Ophelia adding a huge dose of melancholy to violet's attributes, "I would give you some violets," she whines " but they withered all when my father died". Hurry up and drown already, with that attitude.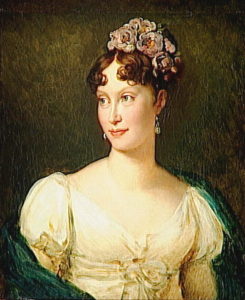 Marie Louise Duchess of Parma by Francois Gerard
As I learned when I read the most definitive history about violets use in perfumery from our own Sr Contributor Dr. Elise Pearlstine, the Duchess of Parma, Napoleon's second wife Maria Louise of Austria, seems to have gotten the violet perfume party started in the early 1800s, and while the Victorians seemed to have enjoyed violet scents tremendously, they doubled-down on sentimentality, ascribing to them all the prim and proper virtues of the time. Up until the mid 20th century, violet perfumes seemed to mirror the historical role of the violet itself; demure, old-fashioned, nostalgic-bordering-on-melancholy.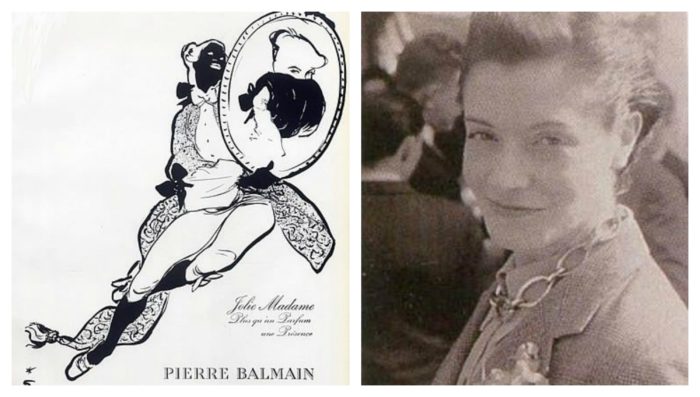 Balmain Jolie Madame vintage ad 1953 Rene Gruau Germaine Cellier
But in 1953, the first doyenne of perfumery tore the chastity belt off of violet with her masterpiece Jolie Madame. Germaine Cellier wrapped violet in leather, emboldened it with oakmoss and a kiss of civet and sent it out to conquer the world, revealing facets previously undreamed of in the meek and mild violet.
50 years later, violets are rocking the perfume world once again, and here are my three picks for violet fragrances that every perfumista should own, even if you think you don't like violet scents.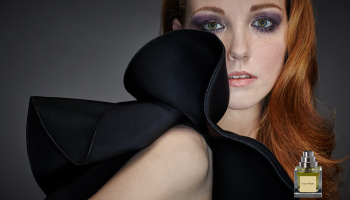 Miss Violet Ad from The Different Company
I Miss Violet, Bertrand Duchafour for The Different Company (2015): If you're missing this violet, you are really missing out. Creative Director Luc Gabriel of The Different Company gave Master Perfumer Bertrand Duchaufour a tremendously unique story to bring to life… that of a young woman, traveling the world, leaving her fragrance as a diary to the lover she left behind. M. Duchaufour took three years to polish and refine this gem of a perfume, and the special care he took is clearly obvious.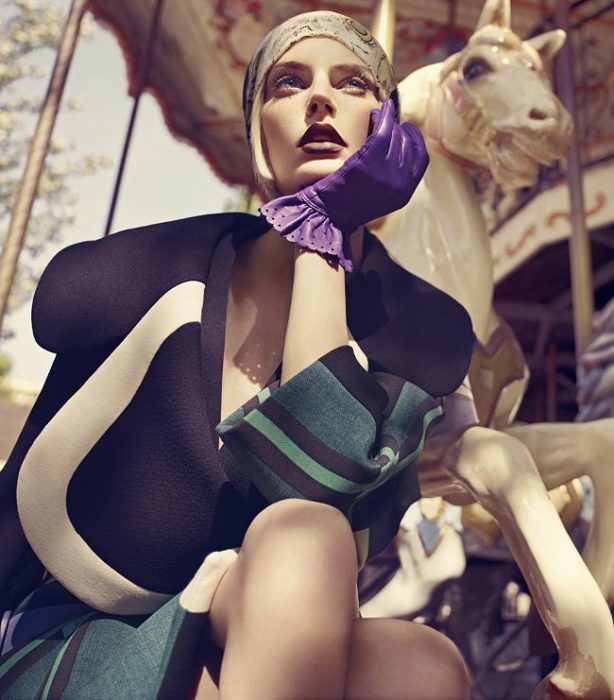 Auguste Abeliunaite by Luis Monteiro for Vogue Portugal
The duality of the distinctive vegetal leather could have come from no one else; he teases a floral aspect out of the leather, and in turn, brings out the leathery aspects of both the violet and the osmanthus. A sparkly champagne note adds to the modernity of I Miss Violet, with basil bringing spiciness and cyclamen contributing further layers of soft, subtle beauty. Quintessentially French and chic. Charming, elegant, classic but contemporary, I Miss Violet is one of my most-worn perfumes, violet or otherwise. The cool factor is off the chart here. Ms. Violet has no need to conquer the world; it falls willingly at her feet. When ÇaFleureBon awarded it a Best of Scent in 2015, I was a reader and bought a sample that I drained dry. Notes: Violet Leaves, Basil from Vietnam, Mandarin, Ambrette seeds, Champagne, Nutmeg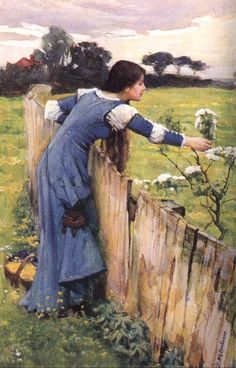 The Flower Picker by John William Waterhouse
For Walks, Kevin Verspoor for Blocki Perfumes (2015): If there were not already a perfume named Joy this would be the name I would choose. Blocki Parfums was brought back by Tammy and Tyler DeLaBar Kraemer, the first American Perfumery started by John Blocki. They enlisted Perfumer Kevin Verspoor (who is also a former CaFleureBon Contributor) who combines violet with iris, mint and Boronia flower, as well as fir and cedarwood to make a thoroughly modern fragrance that perfectly encapsulates the primal exuberance of a Spring morning, high on a mountain top. It is a joyous, uplifting fragrance that will lift your mood with every wearing. For Walks took my breath away the first time I sampled it and still does. Notes: violet, mint, fir, boronia, orris, vetiver, sandalwood and cedar.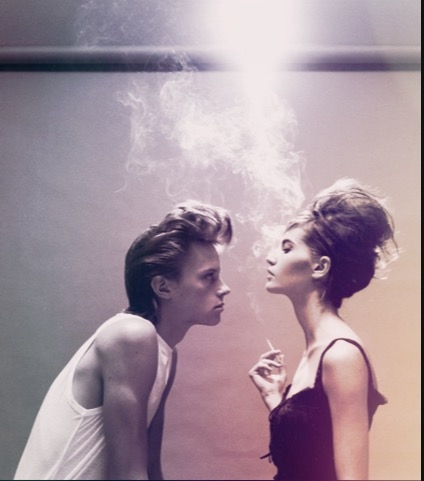 Steven Meisel Be My Baby for Vogue Italia apped by MC
Mona di Orio, Le Nombres D'Or Violette Fumee (2013): Another game-changing violet created for Jeroen Oude Sogtoen as his personal fragrance by Mona Di Orio posthumously. A bracing snap of lavender gets your attention at the opening of this modern masterpiece, but as warm resins and tobacco slowly permeate sueded violet, you'll find yourself in a purple haze of bliss. The dry down of Violette Fumee is absolutely stunning and the most sensuous thing I have ever smelled. I finally had to quit wearing it to work, because neither I nor my coworkers could quit huffing my wrists or neck, which made for some uncomfortable moments trying to explain to my husband why near perfect strangers were following me to my door. Elegance meets smoldering smoky sensuality in this must-have perfume. Anyone can wear this. Everyone should wear this. The world would be a better place if everyone did. Notes: Violet, bergamot, rose, vetiver, clary sage, opoponax, myrrh, cashemeran
Disclosure: All three fragrances are from my own collection, purchased by me; The Different Company, Maison Mona di Orio and BLOCKI Perfumes generously provided me with larger sizes.
Tammy Schuster, Sr. Contributor with contributions by Michelyn Camen, Editor-in-Chief
Art Direction: Michelyn Camen
For the Three Violet Perfumes You Should Be Wearing Draw we have a reader's choice of all three fragrances for three registered readers click here if you are not sure if you have registered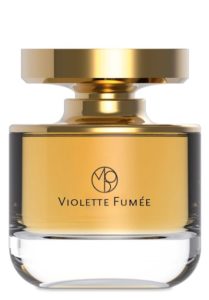 WORLDWIDE: With gratitude from Maison Mona Di Orio for 100 ml Les Nombres D'Or Violet Fumee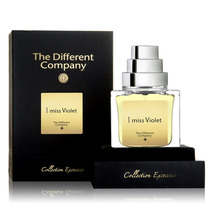 WORLDWIDE: Thanks to our friends from the Different Company we have 50 ml of I Miss Violet from the Collection Excessive.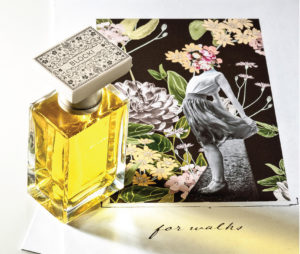 USA: From the always generous Tammy and Tyler DeLaBar Kraemer, a 50ml bottle of For Walks
To be eligible please leave a comment with what you enjoyed about Tammy's three choices for modern day violet fragrances, which you would like to win, if you enjoy or dislike violet perfumes and where you live. Draw closes 1/8/2016
We announce the winners only on site and on our Facebook page, so Like Cafleurebon and use our RSS feed…or your dream prize will be just spilled perfume.