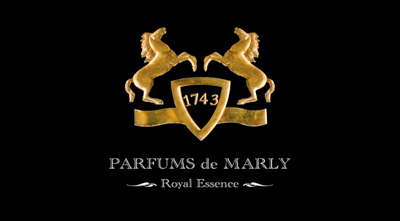 In 2013, Parfums de Marly released a collection of perfumes highlighting purebred Arabian breeds using classic Middle Eastern perfume components as the symbolic bloodline uniting all four. Creative director Julien Sprecher guided talented perfumers in the creation that further articulates Parfums de Marly's fusion of niche perfumery and purebred horses. The Arabian breed is one of the oldest breeds known to man, with archaeological evidence dating back 4,500 years. Strong sound horses with superior stamina, Arabians are known for their endurance, agility and grace. King Louis XV was gifted eight Arabian horses by the King of Tunisia, and these were introduced into champion European bloodlines and raced for the court's delight.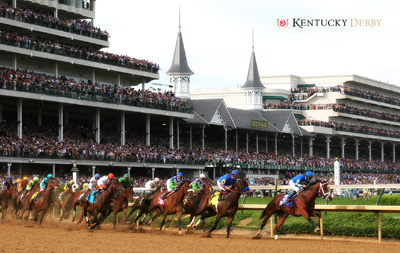 From the Kentucky Derby Website
This weekend marks the 140th year of the annual Kentucky Derby. Women don their fancy hats and celebrities, politicians and sport stars fill the stands at Churchill Downs in Louisville, Kentucky to watch the "most exciting two minutes in sports", where 19 horses will run for the roses. Over the last week, I had my own personal "Perfumed Derby" and it was definitely a close race between worthy contenders.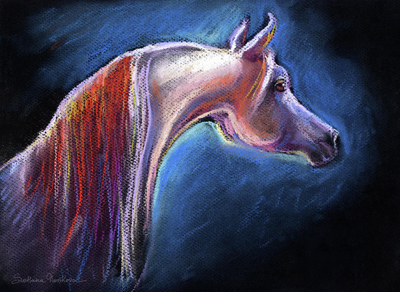 "Arabian Horse Equine Painting"
All horse images by Svetlana Novikova
Habdan is one of the five primary Arabian strains recognized by the Arabian Horse Association. Its glorious and noble breed's heritage is fittingly captured in this woody spicy mélange. Top notes of inviting saffron and cool frankincense prance excitedly, yet gracefully, entering the starting gate. A passionate heart of agarwood and rose wants to break free and bolt; but perfumer Guillaume Flavigny bridled it with a lively apple note, adding a crisp lift to brighten the mukhallat formula (saffron, rose, amber and/or oud). The smooth finish of opoponax and amber is punctuated with the unusual note of maltol, adding a grain-like aroma to its sweetness, while balancing the oud and sassy rose. Hints of incense and flowers still surround a lingering fruity wood accord, as Habdan smoothly glides across the finish line. Sillage: good. Longevity: good.
Notes: Frankincense, saffron, apple, agarwood, rose, amber, maltol and opoponax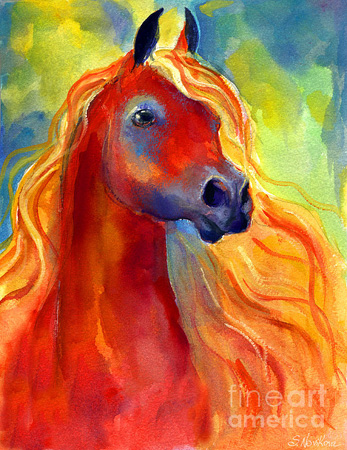 "Arabian Horse 5"
The next to intrigue me was the spicy oriental mélange of Oajan, named for a village in the region where the breed originated, bordering Iran. Blending shadowy and sweet while exuding timeless grace, perfumer Shyamala Masondieu balanced each level of this composition's development exquisitely. Osmanthus lends a delicately floral apricot aura to the opening, flanked by cinnamon, to add warm woodiness, and honey oozing heavy and golden. It trots steadily to the gate, puffing hot breath from its nostrils, as it shakes it silky mane. A resin lover's paradise awaits in Oajan's heart of labdanum fused with amber and benzoin, then brushed and rubbed down with davana. The dark booziness captures the animal's strength and power, as the resins accent the powerful strides when a horse is truly airborne while in full gallop. The gourmand-tinged, very eastern dry down shows more of the Persian influence on the breed, while maintaining its intrinsic beauty and Arabian heritage with a delicate touch of oud. This leapt across the finish line in a cloud of crumbly resin dust and spiced musk, before trotting elegantly to the stables. Sillage: good.
Cinnamon, honey, osmanthus, benzoin, labdanum, amber, davana, patchouli, musk, vanilla and Tonka bean.Longevity: very good.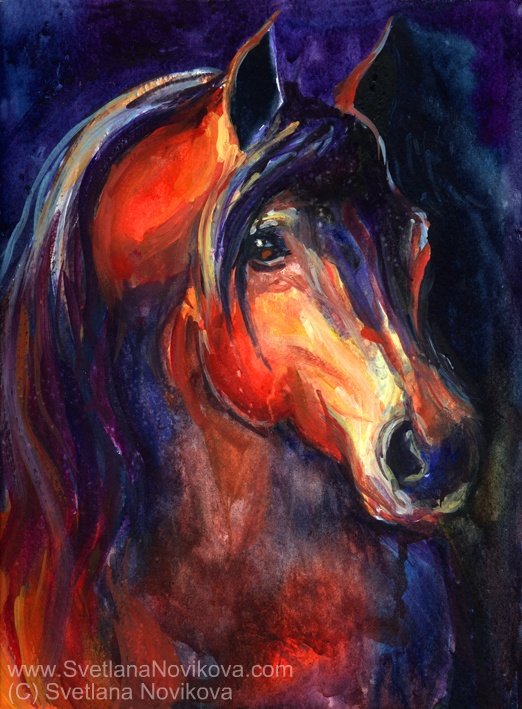 "Soulful Horse Painting"
Kuhuyan is named for horses bred for powerful frames and used as war steeds. Perfumer Alexandra Kosinski captured its impressive presence and truly charmed the heart of a rearing stallion. The unlikely opening of verdant, watery violet leaves adds a keen freshness to jasmine's indolic aroma; as it shuffles gently into the starting gate. Though it may have seemed restrained at the start, the second the gates drop; it's off in an intense burst of leather and heliotrope, cantering in waves of dry vanillic floral notes underpinned with the soft supple aroma of well-worn tack. Kuhuyan paces itself, not expending too much speed, galloping steadily and is not always among the frontrunners. It saves its final dynamic burst for a photo finish of lingering oud smoke, glowing amber and tonka bean's coumarin-rich haze as it stretches its neck, hoping to cross the line first. This particular breed is a "coming up on the outside to take the lead" type of perfume, with its subtle floral sophistication giving way to a pleasing exotic and woody sweet aroma that lasts for hours and hours. Sillage: above average. Longevity: very good.
Notes: Violet leaves, jasmine, leather, heliotrope, agarwood, amber and Tonka bean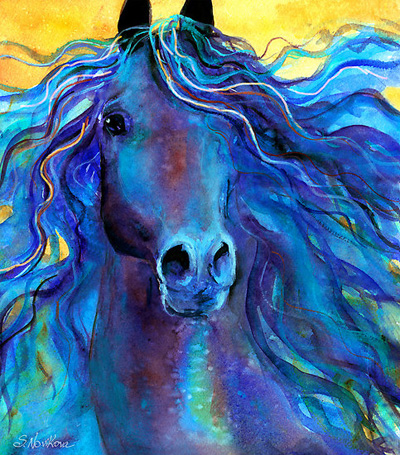 "Arabian Horse #3"
The last breed in the line, Hamdani, is inspired by one Europeans discovered crossing Arabia during the Crusades and one of the five primary strains. This strong full-spirited creature is the perfectly distilled by perfumer Fabrice Pellegrin in a very intense, almost brutal, fragrance that is all business and full of primal power. It marches steadfastly to the gate with heavy hooves and loud snorts, as camphorated myrrh and intensely cold incense reflect its sinewy strength in a lithe muscled frame. Leaping forward as the barricade falls, an intense burst of clove adds fiery impetus to the heavier honeyed thickness and dark guaiac wood in its heart, as this plows through the group jostling for a place among the pack with eyes always focused on the line. The intense opening and spiced wood and sweet earthy heart are as noble and graceful in bearing as this breed, culminating in an accord of oud, darkened and deepened with styrax, cypriol and benzoin. The ultimate dry down of leather, tobacco and sandalwood balances the ancient and mysterious intensity with robust, yet refined, elegance as it thunders across the finish line, ahead of the rest, to win by a full length. Running harder longer and faster than the others, while constantly exuding grace and strength without losing one iota of raw fury through domestication, Hamdani is whom I personally would drape with a blanket of roses, and declare the ultimate winner of my week-long Derby. Sillage: very good. Longevity: excellent.
Notes: Myrrh, frankincense, guaiac wood, agarwood, honey, clove, benzoin, leather DM, Cypriol (papyrus), sandalwood, tobacco absolute and styrax
Disclosure: Reviews based on samples sent to me by Parfums de Marly viaThe Fragrance Group (US Distribution). Parfums de Marly Arabian Breeds are available for purchase in 125 ml (4.2 oz.) EDP in the US at Osswald NYC and at select major metropolitan Nordstrom stores.
John Reasinger, Senior Editor and Natural Perfume Editor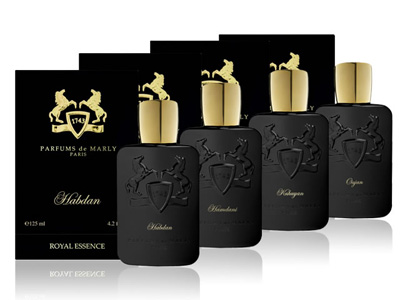 Thanks to the generosity of The Fragrance Group and Parfums de Marly, we have one 100 ml bottle ($275 US) of any of the Arabian Breed EDPs to give away to one worldwide reader. To be eligible, please leave a comment stating which of the four above from Parfums de Marly Arabian Collection you would choose, and if you will be watching the Kentucky Derby or name your favorite horse. Draw will end May 5th, 2014.
We announce the winners only on site and on our Facebook page, so Like Cafleurebon and use our RSS option…or your dream prize will be just spilled perfume.
Note: Click here to read our Parfums de Marly Galloway review and here to read our reviews and impressions of several others in the line including.Meliora and Safanad.