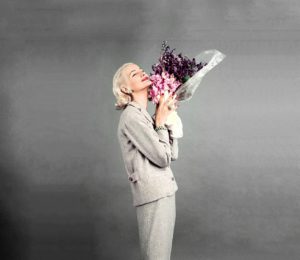 Sunny Harnett, Vogue, 1955, (Photo by Karen Radkai/Condé Nast via Getty Images)
One of the highlights of last September's Tranoi at The Tunnel in New York City was getting to know the entire Tonatto Profumi line and its lovely creative director, Diletta Tonatto. Diletta is oversees the line, which also includes the celebrated Amir, Iss and Dama. Sampling each fragrance in the collection side by side was to walk through an aromatic gallery where the artist's oeuvre was on full display.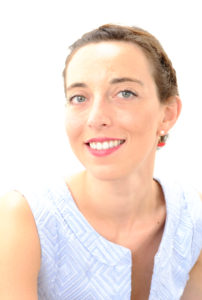 Creative Director Diletta Tonatto of Tonatto Profumi
Tonatto fragrances sing with the high quality of their ingredients and show a craftsman's attention to detail. But deserving a pedestal and spotlight of its own is Ápeiron, one of the newest in the line. Ápeiron is the first perfume created under Diletta Tonatto's aegis, and she describes its genesis as a collective effort: "Ápeiron is my first project as creative director and maybe a bit more. The staff at the lab in Torino worked non-stop with me for various months to achieve the result … and there is a little piece of everyone's heart in it."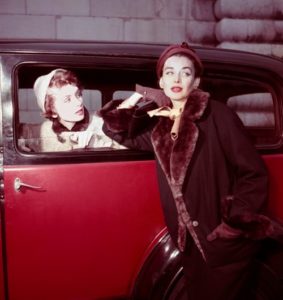 Dorian Leigh and sister Suzy Parker, photo by Georges Dambier, 1954
Ápeiron's opening is olfactory bone china, delicate, sheeny, milky. The lactonic first notes spread out quickly like a fan, joined by a powdery chord that is part violet, part musk. Its marketing says that this is a "perfume of opposites. Certainly, there is a retro-modern, girlish/womanly duality to this fragrance. So, while Ápeiron could live happily on a vanity next to vintage Miss Dior, its polished, assertive second stage makes it sleekly current enough to share space with more avant-garde beauties like Gucci Rush.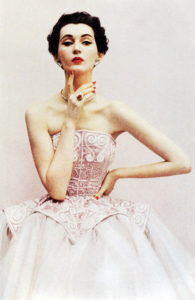 Dovima in Balenciaga, Harper's Bazaar, Photo by Richard Avedon, December 1950©
Ápeiron has a vintage elegance that brings to mind those swanlike models of the 1950s: cut-crystal Sunny Harnett's begloved, wasp-waisted grace or aristocratic Dovima gazing disdainfully at the camera, swathed in yards of Balenciaga.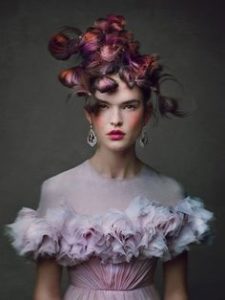 Karlie Kloss, The Icing on the Cake fashion editorial, photo by Patrick Demarchelier for W MAGAZINE, May 2013©
But then Ápeiron slowly shifts as a sleek core of liquid licorice and melted violets cuts through that well-bred beginning. There are two violets in Ápeiron; the yesteryear makeup note mixed with tonka bean, and the dark velvet, leafy flower that emerges in the middle stage. As that latter violet comes forward, an assertive licorice note then travels up through the middle of the fragrance like a swimmer breaking the water's surface, with lovely, odd glints of plastic, black cherry and ebony wood. A rivulet of light amber seeps also through. All the while the notes have been coming together and coalescing seamlessly – a signature of this refined house.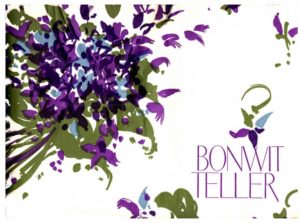 Bonwit Teller Store logo circa 1960s
Ápeiron's baby's breath and candied violets opening make me think of those gorgeous, much-missed Bonwit Teller (a chic NYC specialty store on 57th Street that closed its doors in 1980 to make way for Trump Towers) floral sprays that graced that lovely old store's shopping bags: a creamy background against which a spray of purple and blue violets flutters in the air, like a joyfully thrown bouquet. But its licorice-tonka heart, with its push-pull of bitter and sweet and subtle plasticine note, is deliciously modern. If you stole Dorian Leigh from 1952, gave her an asymmetrical bob and dressed her in Tracy Reese – that is Ápeiron.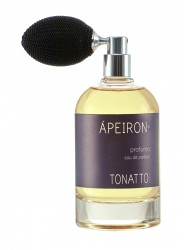 Ápeiron, photo Tonatto Profumi
Thanks to the generosity of Tonatto Profumi, we have a 30 ml bottle of Ápeiron for one registered reader in Europe or the U.S. To be eligible please leave a comment with what appeals to you about Ápeiron based on Lauryn's review, where you live and if you have heard of or visited Bonwit Teller. If you have a favorite Tonnato perfume please let us know. Draw closes 3/11/2017.
We announce the winners only on site and on our Facebook page, so Like Cafleurebon and use our RSS FEED … or your dream prize will be just spilled perfume