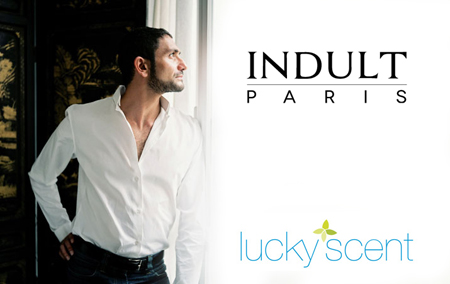 Indult is a perfume collection that was launched in 2006 with three fragrances, Isvaraya, Tihota, and Mankara, in limited editions. In 2008*, an additional scent created exclusively for Luckyscent, Rêve en Cuir, was released, garnering a 5-star review from then scent critic for the New York Times, Chandler Burr. These fragrances were spoken of in hushed, almost reverent tones by the lucky perfumistas who had gotten their hands on them. Our EIC Michelyn is a die hard fan of this line and has been since it originally launched. I was new to niche perfumes at the time, and never encountered them. Fortunately for perfume lovers like me, new company ownership has brought these fragrances by master perfumer Francis Kurkdjian back, and at a more affordable price. Acccording to Franco Wright of Luckyscent, the formulas have not changed. In the words of M. Kurkdjian: "I am very happy to see this fragrance collection under new ownership, permitting these perfumes presented under their original formulations to delight its owners." Currently exclusive to Luckyscent and Scent Bar in the US, I was given the opportunity to smell the current reissues of all four scents.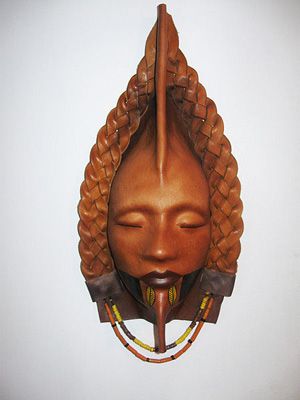 Leather art by J.C. Velasquez
The first one I wore was Rêve en Cuir, which was created especially for Indult for Luckyscent in 2008. Looking at the notes list was puzzling; how can a "dream in leather" have no leather? Curious, I took the plunge. The perfume starts off with spicy citrus notes that are just wonderful and have a way of being cozy and fresh at the same time. Extraordinarily familiar, a great mix of masculine and feminine, it sits fairly close to the skin at the beginning with just a soft breeze of spice. I decided to do a little experiment, and I pulled out my leather jacket to smell alongside my perfumed wrist. Pretty perfect, like the leather note is supposed to be added by the wearer. Surprisingly, the waft gets bigger with wear, as body heat amplifies the spicy notes, before the sweetly soft drydown.
Notes: bergamot, Lemon, Cardamom, Oregano, Clove Bud, Texan Cedarwood, Patchouli, Oak Moss, Haitian Vetyver, Crystallized Vanilla
Sweet Rose by Tina/The Art Chick
The notes list for Manakara is alarmingly simple: rose and lychee. The perfume goes on skin like a cloud of sweetly fruity syrup, and then the rose starts to peek her head around the corner to see if it is time for her appearance. A complex rose has been used in this fragrance, for it contains many attributes of rose all at once. Dewy, pungent, sweet, heady; a full-on blooming rose garden at its peak. Swirling all around it is that sticky lychee. One of my favorite fruits, for its wet, refreshing taste contained in that bumpy hard skin, the note has been put to good use here. The perfume dries down to a soft vanilla-tinged sweet rose. I would put this in a category of a loukhoum-style perfume, but the rose is more dominant and it's not quite as sweet as some I have tried. It's lovely, and I got several compliments.
Notes: rose, lychee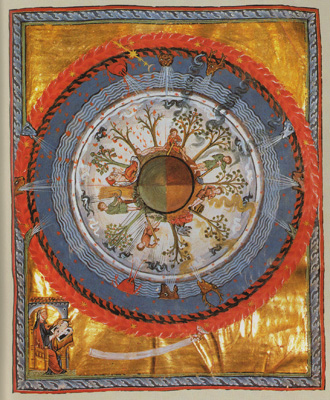 Circle of Life by Hildegard of Bingen
Isvaraya is a pungent, jammy patchouli that has a lovely whiff of rubbery jasmine. It's the kind of perfume that makes me smile, broadly, because it's slightly preposterous, but really fun to wear. It's a good patchouli, too, not the pale, bleached, transparent patchouli that is so prevalent now. The earthy notes I love about patchouli are supporting the fruit and flowers superbly. I have to be honest here and warn that if you are touchy about patchouli, or jasmine, or plums for that matter, I recommend trying before you buy. I love the amped-up versions of these notes, the more earthy and indolic the better, but I also know that not everyone travels that road with me. I do recommend trying Isvaraya, though, because the end result is lovely. As it dries down, some woodier aspects appear to calm everything down, and it starts to sit closer to the skin. I really like this perfume.
Notes: patchouli, Indian plum tree, jasmine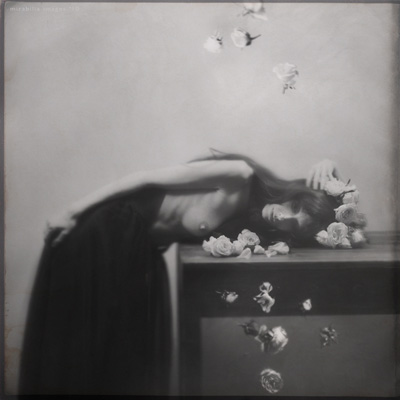 Eau de Parfum I by Mirabilia
People looking for a straightforward, delightful vanilla would do well to experience Tihota. It goes on skin like a cloud of vanilla confection. This is not smoky or boozy in the least, but straight up vanilla, sweet and comforting. I felt like I was walking on a gentle marshmallow cloud, but amazingly, it's an adult kind of sweetness, like the crackled top of a crème Brulee that enhances the creamy custard. Sometimes I talk about a perfume being a good companion, by which I mean that it is easy to spend time with; comfortable but still interesting. It doesn't need to blare odd notes at me, or take me on a sense-memory journey, but can just whisper to me once in a while and keep me company. This is one of those. I was completely content in its waft, the quiet but present co-pilot on a short road trip I took with an equally companionable friend the day I wore it.
Notes: vanilla bean, musks

The Indult collection is the kind of thing I wish came in a coffret. All four have distinct personalities, even if they have a slightly sweet undercurrent in common, and all four are lovely. I would wear any of them, and if limited to just one, I would be hard-pressed to make that decision.
I received my samples from the kind people at Luckyscent, which is where you can purchase these lovelies.
Tama Blough, Senior Editor
Thanks to the wonderful generosity of Luckyscent, we have a draw for 20 sample sets of all four fragrances, Rêve en Cuir, Isvaraya, Tihota, and Manakara, to give away to 20 of our US and Canadian readers. To qualify, leave a comment letting us know which one appeals to you, plus you must like Luckyscent on Facebook or follow @luckyscent on Twitter. If you are already doing these things, please tell us in the comments so we count your entry. Don't forget to let us know you live in the US or Canada. Draw ends on November 8, 2013.
We announce the winners only on site and on our Facebook page, so Like Cafleurebon and use our RSS option…or your dream prize will be just spilled perfume.
*Note: An additional Indult fragrance, C16, was created as a limited exclusive for the French store, Colette.