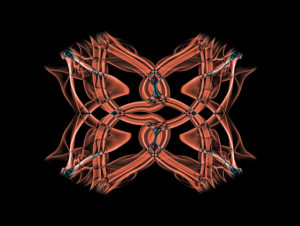 Incense smoke art by Stephen Inglis via finartamerica.com
"SO DEEP WITHIN YOU~Love's incense lingers,~ it never fades away.~ Like you ~I'm waiting for our special day.~ And now I'm lonely~ I want to feel the love~ So deep within you~ My love is burning, like a forest fire.~ My heart is yearning, I feel a warm desire.~ And now I'm lonely ~I want to touch the fire~ So deep within you".~THE MOODY BLUES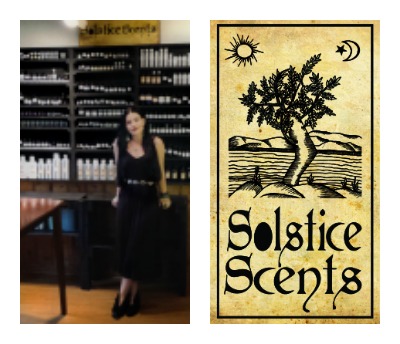 Angela St John of Solstice Scents
Since 2004, Florida's Solstice Scents has been offering handcrafted "soaps, lotions and perfumed potions" complete with mystical labeling and mastic tree logo and has a cult following. This tradition continues even as Angela St. John expands her line- including all natural offerings such as Incensum.
The Tombs" by Helen Stratton (1867-1961) Illustration of Incense Alter
Incensum is everything the name would suggest, although specific religion is not the order of the day; labdanum lovers, however, may be worshiping at this altar. Multiple labdanums complex the familiar favorite and join in zazen along side olfactive spiritual masters from many cultures such as palo santo, spikenard, and unnamed Indian attars.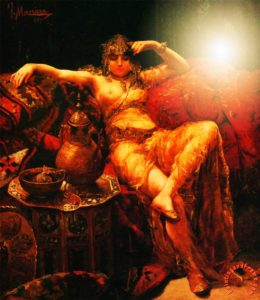 Odalisque by Francisco Masriera Manovens
As Incensum slowly burns from the skin, there is a beautiful exchange between labdanum and modifer- each time I return for another inhale, the perfume is slightly different and I have found each wear to be a slightly different burn off- certainly because of environmental factors, but also Incensum is doing what incense is supposed to do: returning your attention to focus. Grounding and centering for those seeking such goals goes almost without saying, , yet there is a strange exotic beauty that is of the realm of sensuality.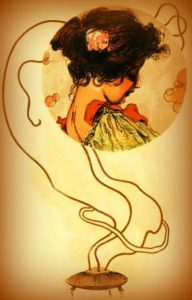 Incense Postcard by Austrian artist Raphael Kirchner (1876-1917) Digitalized MC
From an amber base, flints of accessory notes sparkle- something like a fire opal would smell, I imagine- as rose and jasmine add floral to the fire while copal and saffron reaffirm the meditative nature of Incensum. This invisible pillar of scent rises from application point, using body as censor, until as all incense what is left is the ash of frankincense and cistus.
Solstice Scents' website gives full disclosure on the longevity of a natural perfume versus synthetic, although I find the wear time extraordinary…well over 24 hours- although you may have to get intimately close by morning.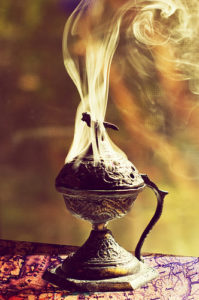 Again, like incense, one could use Incensum as not only aid into meditation or simple quiet time- but as homage to per-fumum- "through smoke". Use sillage and longevity to keep track of how long one has been still. No matter what the reason one wears Incensum, there will be a moment of pause… many moments of pleasure..
Notes: amber, frankincense, palo santo, myrrh, spices, attars, oud, vetiver, spikenard, saffron, Indian attars, frankincense, copal, amber, jasmine, rose
–Einsof, Natural Perfume Editor
*disclosure: my sample was provided by Solstice Scents for review.
Art Direction and opening quote Michelyn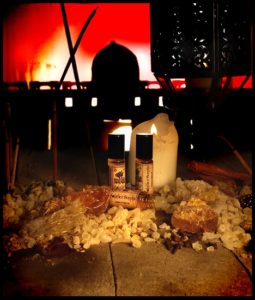 Incensum Solstice Scents courtesy of Angela St. John
Thanks to the generosity of Angela St. John we have a worldwide draw for two registered reader of 5 ml of Incensum (be sure to click on that register link). To be eligible please leave a comment with why you want to try Incensum, if you find incense fragrances spiritual or sensual, where you live and your favorite Solstice Scents perfume. Draw closes July 20, 2016
follow @cafleurebon on instagram and be sure to follow @solsticescents
We announce the winners on our site and on our Facebook page, so Like Cafleurebon and use our RSS option…or your dream prize will be just spilled perfume