Marilyn Monroe Cecil Beaton
Top notes are typically wasted on me. I have nothing against citrus or delicate fruits and flowers, but they seldom cause you to moan as your eyes roll back in your head, which is the effect I want from my perfume. You've undoubtedly heard me whine in the comments and even my reviews that I wish there were a perfume house somewhere that would skip the top notes and get straight to the point of those luscious, decadent base notes.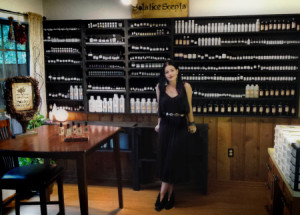 Angela St John Solstice Scents
Well, last month, the fragrance goddess smiled upon me; I discovered Solstice Scents. With concentrations of oils and EdPs, and a multitude of blends that encompass incense, amber, foresty woods, resins, leather, spices and intense florals, owner and perfumer Angela St John has created an impressive catalogue of deep, rich perfumes, tailor made for those of us who like ours on the opulent end of the spectrum.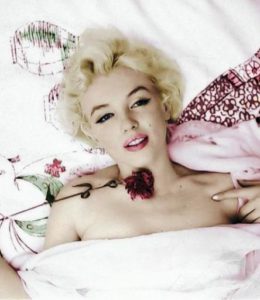 Marilyn Monroe The Carnation Series Cecil Beaton
So if you don't like opulent, sensuous fragrances, you might want to sit this review out. But if smoky carnation and rose resting on a bed of frankincense and vanilla sounds like something you might like, then make yourself comfortable and let me tell you all about Estate Carnation.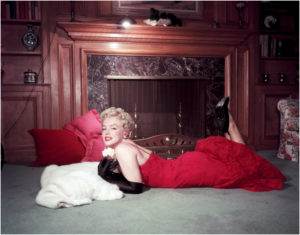 Marilyn Monroe holding a carnation in front of a fireplace. (Photo by Gene Lester/Getty Images)
Estate Carnation doesn't "open", it smolders. There is no coy flirtation; it's a blatant invitation, right from the start. Rich, spicy carnation is caressed by warm sweet, smoke, a combination so heady and seductive it probably belongs on the controlled substance list. I am of course as pure as the driven snow and have no idea what opium smoke smells like, but if it's anything at all like this, I can certainly understand why people laid around for days in rooms filled with it.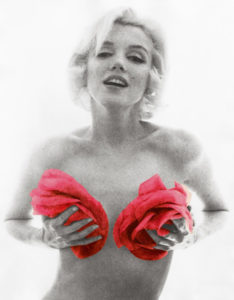 "Marilyn Monroe (Pink-Red Roses)" Bert Stern
A soft whisper of rose appears after half hour or so; she unfurls her petals as tendrils of that warm, sweet smoke swirl around her invitingly. She never fully surrenders herself, but neither does she escape unscathed. The slow burn of carnation and sweet smoke eventually ignites the frankincense and vanilla, infusing everything with more layers of smoky sweetness and spice. Absolutely gorgeous, and I can't think of any other perfume that blends these notes together so perfectly, especially the carnation and smoky notes. It's a gorgeous fragrance, at a wonderful price point. This is a Must Buy for me, and if you love carnation and/or incense, it's a Must Try for you!
Notes Vanilla, sweet opium smoke, carnation, rose, olibanum, Orris root
DISCLOSURE I based my review on one of many samples sent to me by the incredibly generous Angela St. John. She spent a great deal of time determining what kinds of scents I preferred, and I loved every single one of the eleven she sent. Thank you so much, Angela!
Tammy Schuster, Sr. Contributor
Art Direction: Michelyn Camen. Now the art choice. I was going in a different direction but I closed my eyes and envisoned Marilyn Monroe wearing Estate Carnation. There's nothing southern or goth about Marilyn Monroe. Opulent? Check. Sexy? Check? Carnation? Check. Irrestible? Check. Perfume Goddess? Triple Check !!!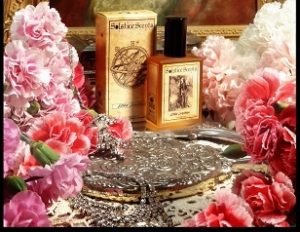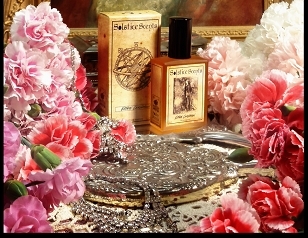 Thanks to Angela St John of Solstice Scents we have a draw for a registered reader in the USA and Canada (you must do this to be eligible) for 60 ml of Estate Carnation ($85). Please leave a comment with what you enjoyed about Tammy's review, if you like your fragrance to smoulder and if you have tried a Solstice Scent perfume and if so which one(s). Draw closes May 14, 2016
We announce the winners only on site and on our Facebook page, so Like Cafleurebon and use our RSS option…or your dream prize will be just spilled perfume