Claire Baxter of Sixteen92 Perfumes
It's been a busy 2017 for perfumer Claire Baxter of Sixteen92 Perfumes in Dallas, Texas. After being a finalist for, and ultimately winning this years' Art and Olfaction award for Best Artisan Perfume, Claire's life has been fast-tracked by having the perfume world spotlight shining soundly on her wonderful scents. Claire has been busy creating her Summer 2017 collection, as well as filling the multitude of orders that started pouring in after her win.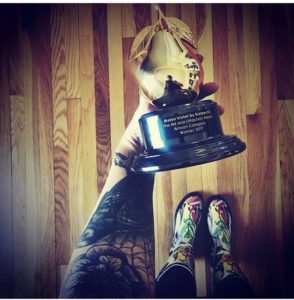 via Claire's Instagram
When I first reviewed Claire Baxter's winning Bruise Violet for Cafleurebon back in April, the perfume had just received the nomination. We were thrilled when she went on to win the award, and I recently had a chance to catch up with Claire and ask her about the effects of winning such a distinction. Here's what she told me, "Simply being named a finalist was a huge surprise, so winning was a tremendous — and quite an unexpected — honor. As an independent perfumer, I work alone; I don't have a team of art directors or a client to whom I am beholden. As an artist, that's liberating — but quite often it's also a little terrifying. I create things that I love, and I put them out into the world with the hopes that others will love them, too. But I never really quite know for sure. Will they love it as much as I do? Is it good? Is it good enough? Should I have added more of this, or less of that, or…? This is the kind of stuff that will keep you up at night if you let it. Bruise Violet was one of my favorites from the moment I began creating it, so seeing that others also liked it, and seeing it recognized in a group with so many other great perfumes and perfumers was exciting, and humbling, and surprising, and just really super cool."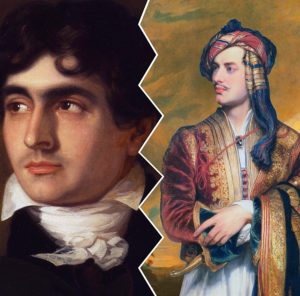 (L)Dr. Polidori and (R) Lord Byron
Claire Baxter's catalogue has a bevy of wonderful and unforgettable perfumes and oils, Bruise Violet not withstanding. However I'd like to honor the anniversary of the events of June 16 1816. It was that fortuitous moment-in-time "dark and stormy night" that found Percy Shelly, his soon-to-be wife Mary Wollstonecraft, and their summer neighbors Lord Byron and Dr. John Polidori, all gathered together in Villa Diodati on Switzerlands' Lake Geneva for a night of ghost story telling.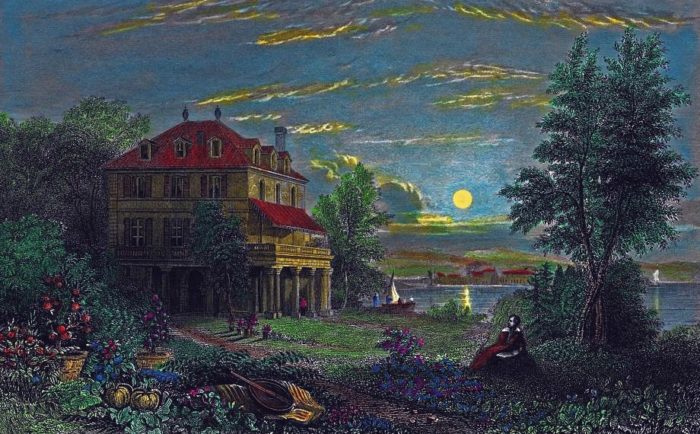 Villa Diodati and the moon, reflected in Lake Geneva, hand-colored engraving, ca. 1833, by Edward Francis Finden 1791–1857. Image courtesy Donald Olson
From that meeting came the genesis of Mary Wollstonecraft's "Frankenstein", and the retelling of the vampire legend, now transformed from shuffling monster to a character more tragic, romantic and aristocratic in Dr. Polidori's story (later attributed to Lord Byron) "The Vampyre", ultimately the inspiration for Bram Stoker's 1897 novel "Dracula".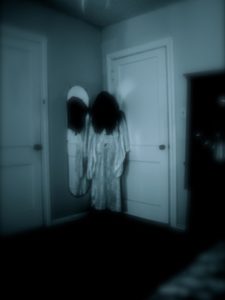 Joe Leydon Mondo Cinema Her Cry La Llorona Investigation October 2013
In keeping with this terrifying and ghostly milieu, Claire Baxter has created a fragrance lifted right out of myth and legend named La Llorona. (Pronounced Lah Yo-ROW-nuh), which has been the subject of movies, books and songs.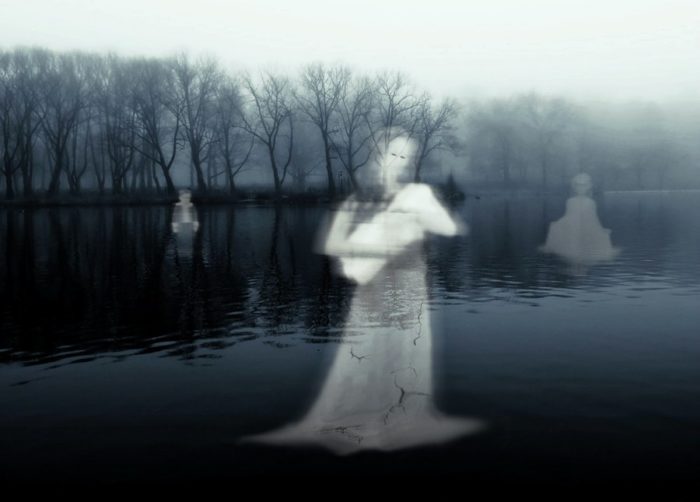 Image via wikipedia
Named after the Hispanic mythological version of the "Woman In White", La Llorona (the weeping woman) has been woven into the fabric of the West and Southwest since the days of the Conquistadores. She is the water-bound spirit of a woman who having been lost in love and abandoned at the altar, drowns her children in a river, and haunts the waterways, crying and searching for her lost children while looking for new children to spirit away. Not unlike the threat of the boogeyman, kids who misbehave are often told "La Llorona will take you away if you're not good!" Almost every culture in the world has a Woman In White story, most notably featured in British author Wilkie Collins 1850 novel of the same name, a classic gothic-style ghost story told in the then-popular "penny-dreadful" style.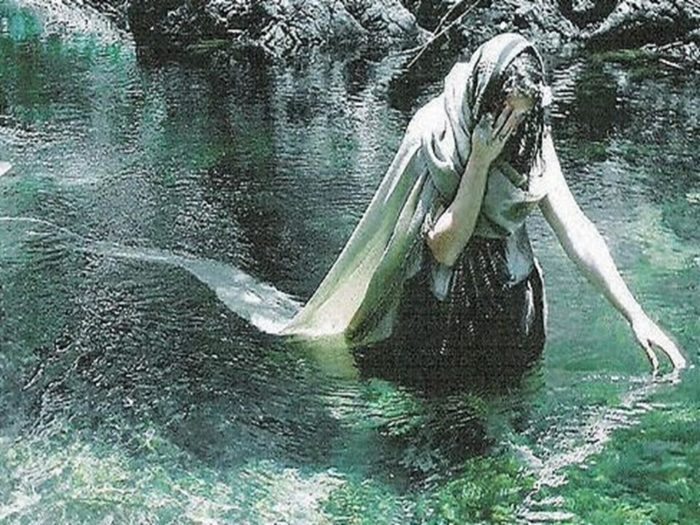 La Llorona The River: The Legend Of La Llorona (via googlesearch)
The idea of a perfume based on La Llorona is fascinating, being a story that has been told time-out-of-mind to the children of the western USA and Mexico. So how to translate that to perfume? Claire Baxter has done so brilliantly. Given the connection to flowing and shifting waters, it should be no surprise that Llorona is a misty, watery, aquatic, and mentholated lovely floral that hints of melancholy and sadness. Imagine a week-old wedding bouquet of flowers left on a muddy riverside as a tribute or memento mori. Spiced with pepper and bitter with citrus, the florals feel soft and sweet but faded and past their prime, dead and forgotten. There is a definite aqueous vibe, the ebb and flow of moving waterways, not unlike the now dead blooms sitting in a vase whose water need to be changed or thrown away. The smell of wild reeds on a muddy bank surrounded by flowers breathing their last.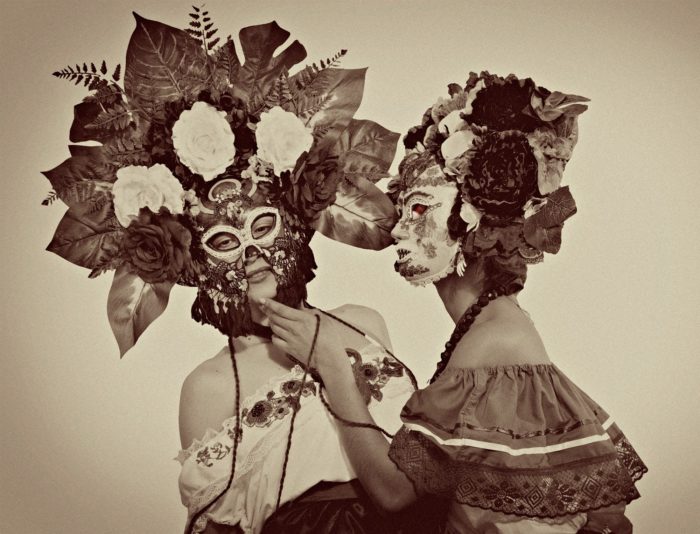 Possible photo of Frida Khalo as La Llorona with a friend
La Llorona, like the woman in white, is haunting and beautiful with a scent that cajoles, begs and entices you to dip your toe onto her swiftly flowing grief, and so is a fitting tribute to a woman grieving, weeping, and mourning the loss of love and loss of her children.
Notes: Bulgarian and Egyptian rose absolute, pink and white pepper, pink grapefruit, wisteria, cashmere wood, pale amber.
Disclaimer: The perfume oil and opinions are my own.
–Robert Herrmann, Contributing Editor
-Art Direction: Michelyn Camen, Editor-in-Chief
Follow us on Instagram @sixteen92 and @cafleurebon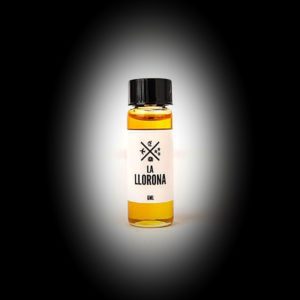 Thanks to Sixteen92 Perfumes and Claire Baxter, we have a draw for your choice of either La Llorona
OR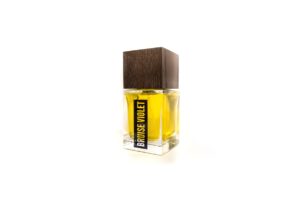 a Bruise Violet 7.5 ml. Parfum for one registered reader worldwide. Please be sure to register if you have not done so.
To be eligible please let us know what appeals to you about Robert's review, which scent you would like to win, and why, and where you live. Do you have a favorite gothic horror of ghost story? Draw closes 6/19/2017
We announce the winners only on our site and on our Facebook page, so like Cafleurebon and use our RSS feed…or your dream prize will be just spilled perfume.