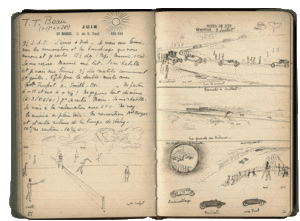 Handwritten diary of photographer Jacques-Henri Lartigue ©
Amongst thousands of fragrances at Esxence in Milan in March, I found myself drawn to booths for various reasons: eye-catching displays and bottles; vaunted new releases; meeting talented perfumers. But most of all, I was on the hunt for discoveries, lines I had never sampled, with stories I had never heard. And I found that in Simone Andreoli's stunning line, Diario Olfattivo.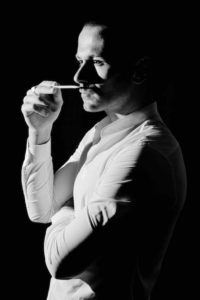 Simone Andreoli, photo milady-zine.net©
Wunderkind Simone Andreoli, at 26, the youngest nose in Italy, is a thoughtful, soulful yet confidant perfumer. His Diario Olfattivo contains pensive observations and emotional responses to mood, time and place which are then translated into scent. The line's packaging reflects the writing theme: the back of each bottle contains the elegantly scripted excerpts from Andreoli's diaries.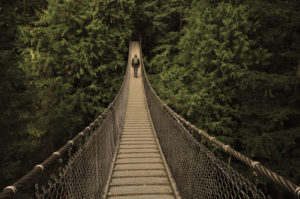 Photo, National Geographic
There are three sub-collections: Synaesthesia of Scents; Writings in the Dark; and Distant Pages, each with its own particular source of inspiration. As Andreoli says: they are scents "where olfaction becomes history, memory and emotion." All three collections struck emotional chords; Business Man could have been another well-made fougere, but synthesizes wistful countryside aromas of herbs and cut grass with the sophistication of the big city; Camouflage is a pensive violet oud and woods perfume with a chameleon-like quality. My favorites, Sentosa and Eterno are creations that are the scent equivalent of looking at the world through a personal viewfinder.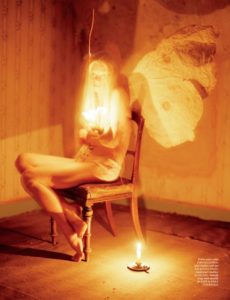 Kristin McMenamy, photo by Tim Walker for Love #7 Spring-Summer 2012
Sentosa is the perfume of small hours, constructed of notes that feel as intimate as the sliver spill of light from a single lamp in a dark room. It is sensual, intimate, warm with the wax of melting candles, the scent of a seduction that hasn't yet happened. Sentosa opens with the unmistakable aroma of candle wax, warm, moist, comforting. Sandalwood and labdanum unfold quickly. The sandalwood is smooth as varnish, possessing none of its usual emery board scratchiness, while the labdanum adds a sweaty-sweet, human chord that feels sleepy, weary, perhaps. The three notes bloom into each other, with the addition of a dry vanilla that summons the smell of high quality writing paper. Sentosa dries down into waning candles, resinous skin; an olfactory distillation of late night at home, not quite alone. Notes: Ambergris, Sandalwood, Cedarwood, Labdanum, Vanilla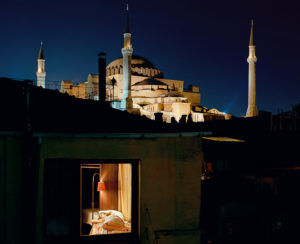 Inside Views, Floriane de Lassee
Where Sentosa is the gold glow of apartment lights viewed from a twilight street, beckoning and unknowable, Eterno is silent drama, marked by the heart-quickening smell of a wood suddenly catching fire. Its genius lies in the fact that its hot smoke note – the most realistic I've encountered in perfumery – does not make itself known until a few minutes into the opening.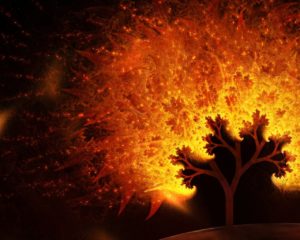 Flaming tree, stock photo
First, Eterno introduces a note of strange, disturbing beauty like the quiet before a thunderstorm as a dark, off-sweet note appears – heliotrope, that most innocent of flowers – combined with labdanum, the sexiest of resins.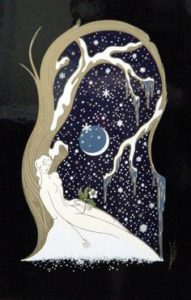 Border Design Aubrey Beardsley Salome
The effect is sinuously lovely, slightly sinister, like the elongated scrawl of Aubrey Beardsley. Sparks of cedar, black pepper and bergamot break through the richness of that top note. The wood notes continue to expand as the arboreal smell of pine resin comes into focus. Just as the pine fully opens, Eterno bursts into flame. Andreoli's extraordinary synthesis of notes create a burning forest accord that carries through Eterno all the way into the dry-down, when the incense, resins, spice and woods balance against the conflagration. Notes: Black pepper, bergamot, citron leaves, opoponax, heliotrope, labdanum, incense, pine resin, leather, myrrh, sandalwood.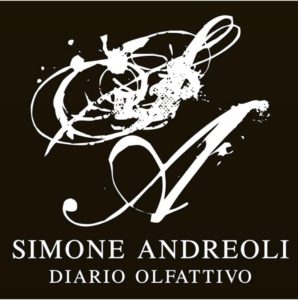 Simone Andreoli Diario Olfattivo
Simone Andreoli's fragrances are introspective, personal works. The best of them, such as Sentosa and Eterno, for all their warm beauty, retain a held-back quality that makes them deeply alluring and a little enigmatic. They wear like the confidences of someone you yearn to know better but never will.
— Lauryn Beer, Editor
Disclaimer: Samples provided by Simone Andreoli at Esxence – many thanks. My opinions are my own.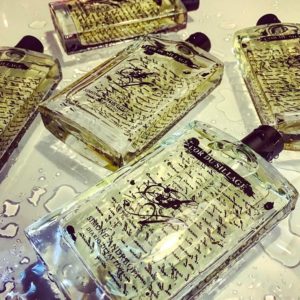 Simone Andreoli Diario Olfattivo via instagram
Thanks to the generosity of Simone Andreoli, we are giving away a full set of eight carded samples to 1 registered reader in the U.S., Canada or Europe. To enter, please comment on what appeals to you about Simone Andreoli's perfumes, where you live and which of the fragrances appeals to you. Draw closes 5/29/2017
Follow us @cafleurebon on Instagram and @simone_andreoli_profumi
We announce the winners only on site and on our Facebook page, so Like Cafleurebon and use our RSS FEED … or your dream prize will be just spilled perfume.