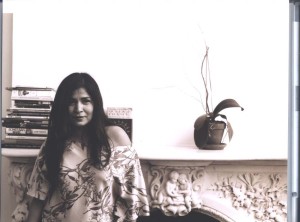 Shalini
Shalini Parfum is the concept of Bombay born couture fashion designer Shalini. Composed by award winning Master Perfumer Maurice Roucel, it is a supremely high quality fragrance of such exquisite delicacy that it has cast many of my previously adored white florals into shadow.
Shalini from Andrey Piontkovski on Vimeo.
Shalini began her career as an architect, before her innate longing for texture, mood and colour lead her into the world of high fashion and fragrance. As a child she was surrounded by scent and it seems that those memories have been integral to the creation of her eponymous perfume launched in 2004. "From an early age, my mom introduced me to all the flowers in the garden, the way they grew from bud to full bloom and how their fragrance changed through the passage of the time. Tuberoses were my favourite – they only emitted their gorgeous scent in the evening hours. As a child I would sneak into the garden at night so I could inhale them by the moonlight."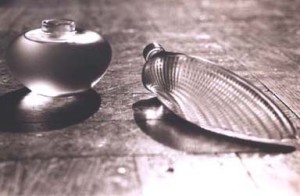 Shalini Parfum Lalique Flacon
Shalini features notes of neroli, tuberose and tiare, on a base of sandalwood and musks. On paper I can imagine many seasoned perfume lovers to think that they had smelled this fragrance before; however, the balance between opulence and tactile softness present in Shalini sets it apart from many other perfumes of this genre. The use of tuberose, a notoriously polarizing ingredient, is so refined here; it perfectly embodies the concept of a perfume as Haute Couture. The finest quality materials and no expense was spared, "Of course when you can put in very good raw materials, this is perfect. Like Shalini, it is really worth it, because I made it and I know what is in it", Maurice Roucel wrote.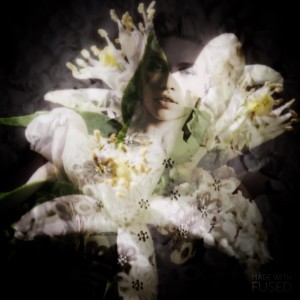 Orange blossom fused with Aline Weber for Numero magazine #132 (Susie)
The beauty begins with delicately green neroli, each white petal etched clearly into my mind's eye as it unfurls and releases precious pollen into the evening air. Tuberose is presented sheathed in emerald, which shatter in slow motion as her sensuously tactile nature reveals itself. Tiare, with its gardenia-like fleshliness, tucks tiny, unseen stitches into the bodice of the fragrance, giving it curves and structure. I find a slightly waxen touch in the first stages of Shalini, proof of the exquisite quality at work in both the raw materials and the composition.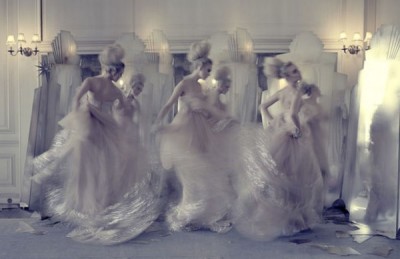 Tim Walker Snow Queen for Vogue UK
Tuberose, when left untamed, can create a heady white explosion of debauchery that colours the whole fragrance. Here it is as if that energy has been stroked and soothed into relaxation, without taking away its essential sensuous nature. Shalini has both the long, lean lines of a supermodel and the curves of a modern day odalisque. Those beautiful blooms sing all the way through this perfume's very long life, musks and sandalwood seeming to act as invisible cushions upon which the three white queens languorously croon into the night.
I am completely enamoured with Shalini, in much the same way as one might covet an impossibly gorgeous gown. The joy of it is that, although it is a top-end perfume in terms of price, it is effortlessly wearable, for any occasion. I have a feeling that it may steal many of your hearts, just as it has mine.
Disclaimer- Sample gratefully received from Shalini. Opinions my own.
Susie Baird- Editor and editor of Epiphany.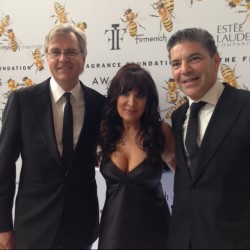 Frank Voelkl of Firmenich, Michelyn Camen in Shalini, Ilias Ermenidis of Firmenich 6/17/2015 Red Carpet The Fragrance Foundation 2015 Awards
Editor's Note: Shalini (pronounced SHAH Lynn A) is available at Aedes de Venustas and Roja Dove Haute Parfumerie in Harrod's. I was asked by quite a few perfumers at the opening cocktail party at The 2015 Fragrance Foundation Awards Winners Ceremony what scent I was wearing; this was closely followed by women who wanted to know the name of the designer of my exquisite satin couture cocktail dress. Both Shalini-MC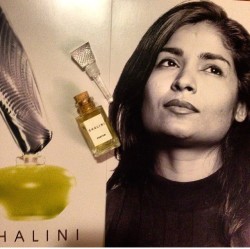 Thanks to Shalini we have a .34oz flacon of Shalini Parfum (10ml/$290) with an etched crystal stopper; (the gold cord tied around the neck of the stopper is known as baudruchage) for a registered CaFleureBon reader anywhere in the world. To be eligible please leave a comment with what appeals to you about Shalini Perfume based on Susie's review and where you live. You must be a registered reader to be eligible. Art Direction-MC Draw closes 6/25/2015
We announce the winners on our site and on our Facebook page, so Like Cafleurebon and use our RSS option…or your dream prize will be just spilled perfume