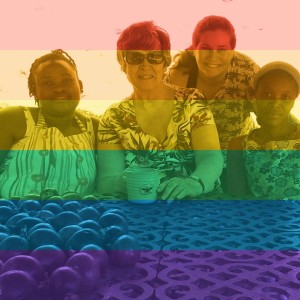 Natural Perfumer Emily Pienaar 3rd from the left (celebrateprideapp Facebook)
I have written much about the impact of aroma memory, of our limbic system and its overriding capabilities and how if clever, we can use this associative hardwiring to ensure the seeds of memory are fertilely planted in our minds. Sometimes this happens without intention or ambient randomness; when I applied Emily Pienaar of Rose En Bos Rose & Vines, I found myself suddenly considering a perfume for my wedding. I am not the kind inclined to daydream about such things. Upon hearing the news that same-sex marriage is constitutionally legal in the United States. I was certain the universe smiled upon the stunned looked on my face; I am knee-deep in synchronicity.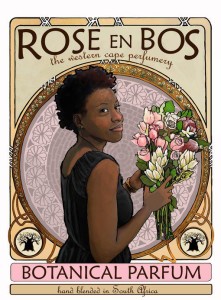 Ros En Bos hails from the Western Cape of South Africa (who declared same-sex marriage legal November 29 2006), known for geranium cultivation and indeed, Rose & Vines contains a local fynbos (pelargonium graveolens) from Riebeek-Kasteel which instantly captured my heart. Geranium, known for its cheering, rose like qualities, I have always found to be one of the most 'complete' oils in its floral, antiseptic, uplifting, sharp-then-powdery aromas- some people always have lavender on hand, I cannot do without geranium. Opening with this fynbos and quickly merging with Moroccan rose perfection, Rose & Vines is an all out rose affair, but not without piquant greens and enough booziness to understand this is celebratory. What was once only seen through rose-colored glasses becomes a legal reality in the moment Emily provides a rose scented world.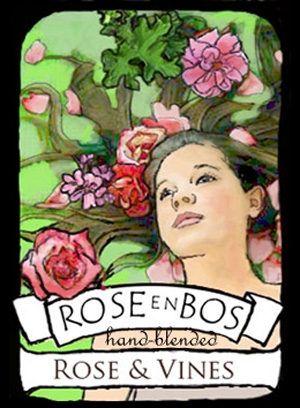 Rose & Vines was actually formulated with inspiration from the Cape Winelands, hence the cognac which brings a depth to the flora of rose and rose geranium as rich, almost sticky velveteen petals. Tuberose and cedar bring wood and cream to the affair, and were it not for my already overwritten aroma association with marriage- I would know there is clearly vine slowly growing, twisting and looping its way outward from the Rosalian heart notes. Dry down is a soft descent into not-quite musk of cognac and tuberose spirits, with dry aspects of floral among the most non pencil cedarwood. The voyage Rose & Vines takes from brilliant green rose opening to soft wooden leafed vine will always be the joyous moment of exhale of so much weight from collective shoulders lifted, of newer fresher air, and of the new promise of love, and the freedom to partake in loving relationships both personally and planetary. Notes: Riebeek-Kasteel fynbos, cognac, tuberose, Morrocan rose, Atlas cedar, vanilla
-Einsof, Natural Perfume Editor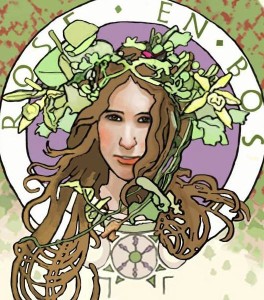 Writer's Note: Emily creates the artwork for all Ros En Bos products, influenced by Alphonse Mucha style, seals the aesthetic deal for me. and is used throughtout the review. Clearly olfaction is only one talent to this multifaceted artist. PS contemplating a wedding scent is not the same as an announcement.
Thanks to Emily Pienaar (a certified perfumer of The Natural Perfumer's Guild) we have 10 ml of Rose & Vines to a registered reader worldwide. To be eligible please leave a comment with why you would like to win Rose & Vines and where you live. Draw closes July 15, 2015
We announce the winner's only onsite and on our Facebook page, so Like CaFleureBon and use our RSS option…..or your dream prize will be just spilled perfume