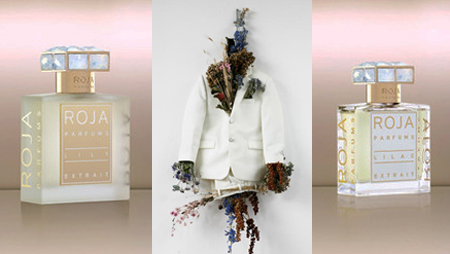 107 Flowers Installation: Simon Costin
I am not one to change fragrance by season; my general rule is wearability either by day or night. However, there is one exception to the rule, and it takes place during a tiny pocket of time at the beginning of spring and in the dead of summer when I like my fragrance to reflect what's going on outdoors, specifically in my garden. Only wearing a magnificent floral will do, and Roja Parfums Lilac and Lily Extraits perfectly fit my criteria. These extraits are built around a single flower note that not only speaks to Roja Dove's love of these two very special flowers, but also speaks to his dedication of using the finest raw materials. In perfumery, extraits contain the highest concentration of essential oils that tend to reveal themselves in an intimate way on the skin. Meaning they stay close to the skin, but give a rich experience to the wearer. Lilac and Lily are what they are; two full figured floral fragrances that tell the poetic story of how the indolic life of a flower can reveal aspects that are pure and carnal. These florals were made for men and women; perfect for our male readers to try to take a walk on the floral side.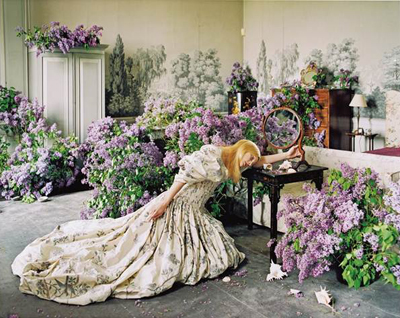 Photo Credit: Tim Walker
Roja Parfum Lilac Extrait speaks to freshness, purity, and starting anew. Lilac comes out of the bottle green and citrusy then shifts into all its glory. There is a pure happiness that lives inside this fragrance, and wearing this fragrance reminds me of putting nose to bloom and inhaling. Achieving lilac is not an easy thing to do in perfumery, as the perfumer has to recreate it. The artistry of Lilac captures an impressionistic deconstruction of the flower, especially in its heart. A stellar fresh rose, heliotrope, peach, jasmine, all work together to create what our nose knows as lilac, yet it leaves an overall wistful impression that is fresh, floral, balsamic, powdery, and modern.
Notes: Bergamot, Geranium, Heliotrope, Jasmine, Neroli, Peach. Rose, Ylang Ylang, Patchouli, Sandalwood, Ambergris, Musk, Orris, Vanilla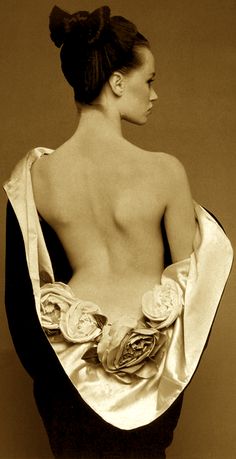 Photo Credit: Thierry Mugler Gown
Lily Extrait makes itself known by weaving a white intoxicating scented shawl around the body. This heady white floral breaths as its notes rise and fall on the skin. It contains the perfect amount of spicy elements, namely carnation and clove, that gently enliven the heaviness of the lily accord. It is a "voluptuous" fragrance as Roja Dove states, and it creates an intimate unspoken world where wearer and fragrance unite. Muget creates tenderness, and vanilla and musk base keep it all safe, cozy, and warm. Wearing Lily is habit inducing.
Notes: Bergamot, Lemon, Jasmine, Rose, Tiare, Muguet, Carnation,Ylang Ylang, Clove, Wood Notes, Vanilla, Musk,
Special thanks to Osswald NYC for the Lilac and Lily samples for this review.
Valerie Vitale, Editor
Courtesy of Osswald Parfumerie + Luxury Skincare Boutique, Soho, New York we have a draw for a sample set of Lilac Extrait and Lily Extrait. This is a US only draw. To be eligible leave a comment on which you would like to try and why and if you have a favorite Roja Parfum. If you have never tried Roja Parfums, browse Osswald's site and view the entire collection. The draw ends on May 27, 2014.
We announce the winners on our site and on our Facebook page, so Like Cafleurebon and use our RSS option…or your dream prize will be just spilled perfume.