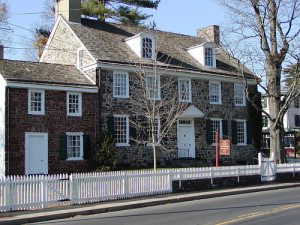 Dr George Randolph Perry Mansion
Imagine being able to go back in time and experience history firsthand; the sights, the sounds, the smells.  Natural Perfumer Anya McCoy of Anya's Garden Perfumes has made that possible, taking us back to 1859 to the town of New Hope, Pennsylvania and the home of Dr. George Randolph Parry.  After finding a cologne "receipt" in the documents of the Parry Mansion, the local historical society reached out to Ms. McCoy for assistance in recreating the formula for Dr. Parry's cologne.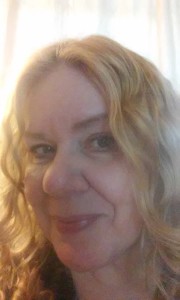 Anya McCoy of Anya's Garden
Anya McCoy has close ties to Pennsylvania, having grown up in Philadelphia just around the corner from University of Pennsylvania where Dr. Parry earned his medical degree.  She was honored and excited to accept the invitation to help recreate this little piece of history and set to work deciphering the formula.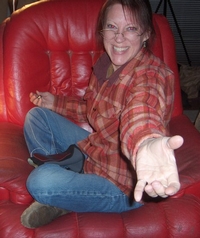 Andrine Olson
Units of measure were a far cry from what they are today, so it took some extra resources to get the measures converted to today's system.  Anya tapped fragrance history expert Andrine Olson and putting their heads and historical resources together, they were able to have a working formula in no time.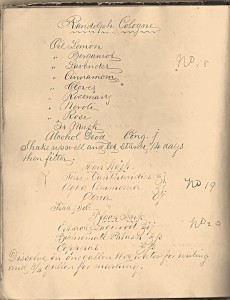 Original Formula of Randolph Parry Cologne
The recreation of the  cologne opens with an effervescent lemon and bergamot to refresh and invigorate the senses.  The citrus is then sprinkled with warm spices, clove being the most prominent, with an herbaceous note resting beneath.  The citrus and herb yields to a spring rose.  True to the period in which the cologne was created, the base is rich and voluptuous, steeped in real and now rare deer musk.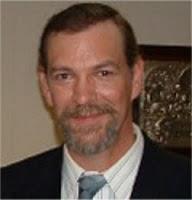 Bruce Bolmes of BMK Fragrances
To attain this precious material, Ms. McCoy reached out to colleague Bruce Bolmes of SMK fragrance, the only licensed importer of musk for the USA.  His kind donation was crucial to recreating the formula authentically.  The Randolph Parry 1859 perfume provides a fascinating peek into history and leaves one to contemplate how perfumery has changed over the past 156 years.  The original colognes were formulated with a much lower percentage of aromatics than today, roughly 3% for this cologne.  Compared to the 30% that can easily be found in current day perfumes, this makes the cologne light and somewhat fleeting.  It would have been applied liberally and often to refresh and awaken the wearer.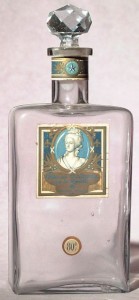 Hungary Water was made for Elizabeth,The Queen of Hungary in the 1300s
What does last longer in the cologne is the musk, which would have built on itself with each application.  The components of the Randolph Parry cologne are much in line with the colognes dating even further back, such as Hungary Water and 4711.  When you smell it, you not only get to enjoy this unique cologne from 1859 Pennsylvania, but a whiff of some of the earliest cologne recipes from Europe.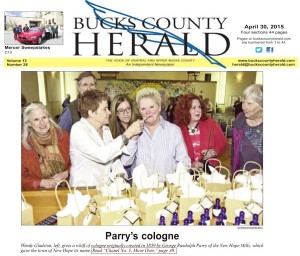 The cologne was a hit the New Hope Historical Society, and was revealed at their annual Garden Tour in June 2015.  They have not yet released the cologne for purchase, but keep an eye on Anya's blog as she will announce there when it is available.  It will likely be a one-time production due to the limited availability of musk and the possible photosensitivity issues involved with the citrus oils used in the cologne.  But what a chance to smell a piece of history!
Michael Singels, Natural Perfumery Editor & Senior Contributor
Thanks to the generosity of Anya McCoy of Anya's Garden Perfumes, we have a 2ml sample from her private stash available for one lucky registered reader.  To be eligible, please leave a comment below telling us why you would like to smell the Randolph Parry 1859 cologne and where you live.  Draw closes 9/19/15.
We announce the winners on our site and on our Facebook page, so Like Cafleurebon and use our RSS option…or your dream prize will be just spilled perfume.