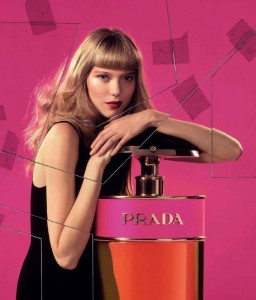 Model and actress Léa Seydoux for Prada Candy by Steven Meisel
Prada understand the singularity of oddness, the subtle leverage at the edge of conformity. Prada Candy, created for Muiccia Prada's iconic brand by Daniela Andrier was one of the more svelte and unusual launches of 2011. With its golden caramel halo and rumoured 12% overdose of narcotic benzoin (3-4% is the norm….) Prada Candy was the odour of obsession and stalking, the tiniest notes giving an obsessive affirmation of private and perfect desire. Like the afterglow of an extinguished bulb, the wing beat of a moth in amber darkness. Despite the warning signs, the craving rolled on regardless. The molten attraction of soft golden benzoin cut with white musks and powdered floral accords. Then the pre-Raphaelite honey of a drydown. For a mainstream designer release it was arresting liquid abstraction.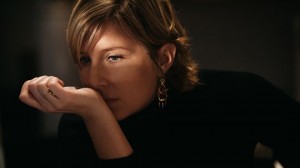 Daniela Andrier of Givaudan
It's not the first time Prada have toyed with the beauty of benzoin. Daniela Andrier's niche Exclusive line for Muiccia four or five years ago resulted in some truly extraordinary fragrances, single note essays in purity and abstraction they were presented like gifted art. They included a very haunting take on myrrh, a creamy and obsessive glowing leather: Cuir Ambre and a ritualistic Oppoponax. Despite myself I also loved the Toulouse Lautrec dazzle of Prada Oeillet; a near perfect rendition of dizzying clove dusted carnations. But the standout was No 9 Benjoin in 2007, a stormy marriage of bigarade and benzoin tears. It was a shocking scent. Vegetal, hot, spiced, sweet and incredibly heart-breaking on the skin. It moved and shifted like a virus, virtually impossible to identify as it sweetened, spiked and licked seductively at the senses. Part of me laments the rarity of the Exclusive line, but the other part of me secretly smiles and privately remembers the beauty (and the bottles I show no-one…).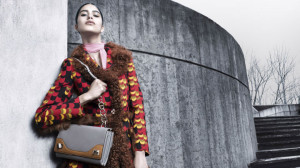 Ad Campaign: Prada F/W 2014.15: Mica Arganaraz & Karl Kolbitz by Steven Meisel
Prada is about the non-conformity of conformity. The clothes have a surface impression of normality that mask oddness and irregularity. Muiccia has never been afraid of ridicule or experimentation. There is even ugliness in the Prada palette. But always, there is harmony and a sense of direction. Prada Candy, while embracing a giddy mainstream aesthetic is also an exercise in olfactory minimalism. There is barely anything in the scent. It is a concept of sweetness, of surrender, rush and sparseness.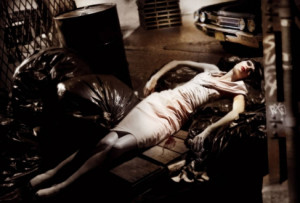 Photo: Steven Meisel For Vogue
You could argue that we don't really need another gourmand, but Prada Candy is perhaps more of an atmospheric, something to apply liberally, while waiting for events to unfold around you. The use of high levels of benzoin is encompassing. It embraces you. No 9 Benjoin was astonishing but too overwhelming to wear all the time. Small fixes were electrifying, like head rushes of golden stars, but wearing it all the time would ruin it, kill the love.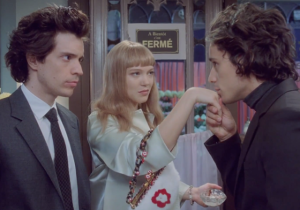 French actress Léa Seydoux for Prada Candy by Steven Meisel (ad campaign)
I recently added Prada Candy L'Eau, launched in 2013 to my collection to wear with the original Prada Candy. It is a effervescent re-orchestration of the original gourmand structure. The lacquered caramel and benzoin have been lifted with fizzy citrus notes and sweet pea. In some ways there is a little more tonality and shift in this veiled composition, the floral nuances adding texture to the sweetness of the caramelised resins. Signed off again by Daniela Andrier, Prada Candy L'Eau wears sheer to skin but has a really mellow resonance as the white musks glow into the drydown.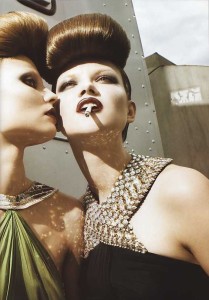 Magdalena Frackowiak Photography by Steven Meisel For Vogue Italy August 2007
Everything about Prada Candy is disarmingly soft and sensual, but this golden beguilement is wrapped around an intensely addictive core. It demands to be lavishly applied and inhaled off skin. It is serious fun too, sweetness and addictive smoke; the benzoin threading a resinous line of comfort through the scent that belies its name and pink packaging. Poured onto skin, this playful scent melts into a sweet and sighing end. It's hard to stop inhaling your own skin. The marriage of musks and caramel has rarely been bettered. It is subtle and persuasive, flowing enigmatically across the skin like liquid temptation, whispering… lick me.. inhale me….
–The Silver Fox, Editor and Editor of The Silver Fox
Art Direction -Michelyn Camen, Editor in Chief