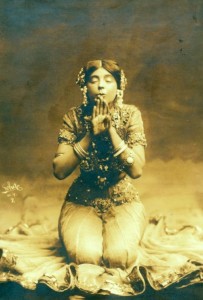 Perris Monte Carlo perfumes are known for their transportive scents of place and olfactive journeys. Today's fragrant expedition takes us to Asia and India, a magical mystery tour of glorious places steeped in a long history of wonder, spiritualism, and opulence. As one of the top ten finalists of the Fourth Annual Art and Olfaction Awards, Perris Monte Carlo's Absloue d'Osmanthe is a masterpiece in creative collaboration on many different levels It is clear that the team of Gian Luca Perris (Creative Director) and Jean-Michel Santorini (Perfumer) had an elaborate vision when they created this fragrance…one which they executed brilliantly.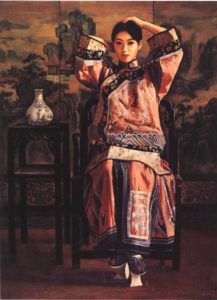 A Lady from Qing DynastyLiFeng Di
Our journey begins with the first spray. We are immediately transported to Southern China (Guangxi Zhuang Autonomous Region) around mid-autumn. Here masses of Osmanthus (Sweet Olive) trees are in full bloom.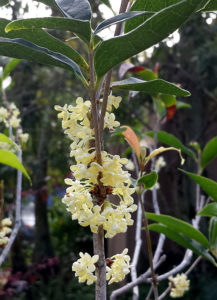 Osmanthus Blossoms by Elise Pearlstine, Editor ©
You are situated between beautiful mountains and as the air swirls around you are taken aback by the beauty your eyes and nose are beholding. The air is thick with the intoxicating blooms of the tree reminiscent of sweet apricot.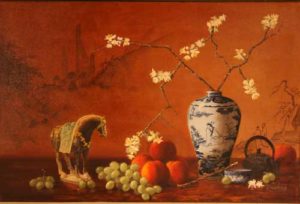 Chinese Vase with Peaches (carolchambers.biz)
The flowers are lush (with an undertone similar to light leather), and the impression of apricot is deep, luscious, and succulent. As represented in the perfume this facet is completely obvious and, frankly, one of the best renditions I have experienced. Its vibrancy and trueness to osmanthus flowers in bloom remarkable..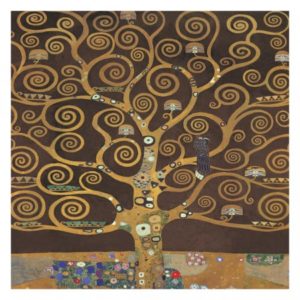 Tree of Life (Brown Variation) II Gustav Klimt
The second part of our journey takes us east into India. Here the highly prized scent of sandalwood permeates our senses from its use in religious ceremonies. The scent is literally everywhere as it rises from the temples and homes of the locals. It is said by many to aid one on a magical journey of purification enroute to a higher state of consciousness and to more easily connect to the Divine. The sandalwood presented here is sweet and very woody- perfectly complementing the osmanthus.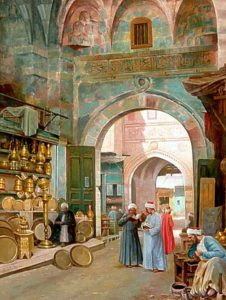 Oriental Bazaar Scene at Cairo by Filippo Bartolini – Italian, 1861
Our third stop brings us to the lands of Pakistan, Persia (Iran), and Arabia. We are in the open air markets/bazaars that offer just about anything the mind could imagine from the far reaches of the globe. It is here we are introduced to the wonders of jasmine, labdanum, tolu balsam, and vanilla. Each of these aromas mingle enchantingly with our past stops in China and India. Together, they bring darker and mysterious mystique to this perfume. The sweetness of sandalwood is accentuated nicely by the resinous aspect of labdanum.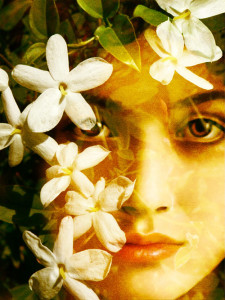 Digital Art MC jasmine
Jasmine boosts the floral aspects and really brings forward the leathery effect of the osmanthus. Tolu balsam and vanilla from across the seas to add a further element that draws the nose to the wrist, wanting more. Everything is in perfect measure.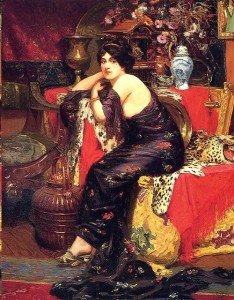 Frederic Louis Leve
Perris Monte Carlo Absolue d'Osmanthe is a stunning Oriental perfume with a decidedly Middle Eastern flair and to my nose, well worth $180 for 100 ml in these days of aspirational pricing of over $200! If you're like me and love beautiful bottles, this brand's flacons are treasures. This is a perfume that has substantial sillage and the longevity that is well above average (the base is lingering on my skin a full 24 hours after first spray). This perfume would make a fine edition to anyone's collection, especially those who enjoys darker, headier, and heavier perfumes
Notes:Osmanthus, Jasmine Sambac, Sandalwood, Castoreum, Vanilla, Plum, tolu balsam, Woods, Baie Rose
Disclaimer: Review based on an Eau De Parfum tester supplied by Perris Monte Carlo. Thank you. Opinions are my own.
Aaron Potterman, Contributor and Vintage Perfume Expert; co-written by Michelyn Camen, Editor-in-Chief who also is the Art Director
In the USA available at select stockists including Bloomingdales and Luckyscent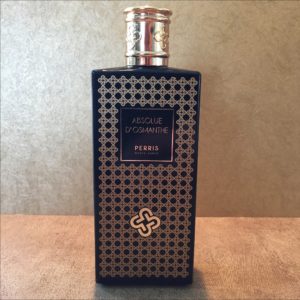 Absolue D'Osmanthe photo Perris Monte Carlo
Thanks to the generosity of The Perris Group we have a 100 ml bottle of Absolue d'Osmanthe EDP (valued at $190) for a registered US reader, (please register so your comment counts here). To be eligible, please tell us what you thought of Aaron's review of Absolue d'Osmanthe, if you enjoy Oriental perfumes or osmanthus and your favorite Perris Monte Carlo Fragrance. The draw closes 5/4/2017
We announce the winners on our site and on our Facebook page, so Like Cafleurebon and use our RSS FEED…or your dream prize will be just spilled perfume