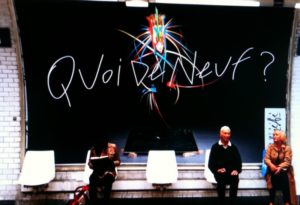 Jean Paul Goude for Galleries Lafeyette Paris
Let me teach you a game if you're new to artistic fragrances. The rules are simple… Go to a department store and ask for "the worst selling" perfumes. That's all! I'm sure you'll discover some gems when you are isolated from overrated synthetic bombs. That's not an attempt to sniff worst ever fragrances. That's a move to ignore marketing hypes and create yourself a chance to discover some underrated fragrances might sing to you.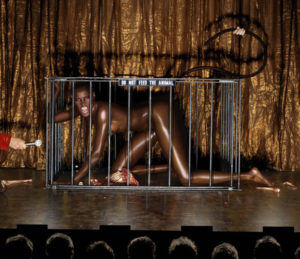 Grace Jones Jean Paul Goude Do Not Feed the Animals
The philosophy behind niche perfumery from the viewpoint of the customer is simple as the game described above. "Just find the right fragrances for your taste and avoid everything else." If you like the smell of incense, wear a heavy incense scent… If you like leather, smell like leather… And if you're in mood to smell sexy and on the prowl, wear an animalic scent!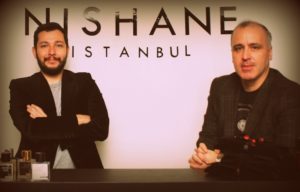 Murat Katran and Mert Güzel of Nishane Istanbul (photo Michelyn)I think most of the Cafleurebon readers already know the first Turkish niche perfume brand Nishane, founded by Murat Katrran and Mert Güzel which debuted at Esxence 2015, (where Michelyn was one of the first to report about theis exciting line. The brand initially introduced 16 extraits de parfums: Collection Miniature Art, Collection Blossom and Collection Signature. The fragrances cover every classification… from gourmands like Pasion Choco (a favorite of our EIC), woody perfumes like Munego, (a CaFleureBon Best of Scent 2015), floral perfumes such as Duftbluten,aquatic scents like Boszporousz, and journeys to The Middle East such as Spice Bazaar. But the last one of the inaugral line is a different beast. I mean it's a beast…a dirty sexy one at that.
.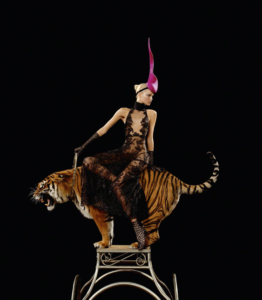 Jean Paul Goude Fashion Animals 20016
Afrika Olifant opens as a predator. She's just chased a tiny rabbit and her sweat is fresh… If the description is too much for a sensitive nose, a pink La Vie Est Belle bottle would be the best fit for you, but I* am guessing that is not why you read CaFleureBon.. Even so it is an intimidating fragrance at first, but you are not the one to play it safe!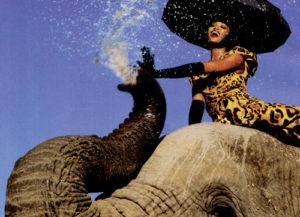 Naomi Cambell Riding an Elephant Jean Paul Goude 2009
Afrika Olifant is dark and bold. Would you expect less from the combination of castoreum, civet, oud, musk and leather? As it sounds like the all-star team of polarizing notes, the scent itself tops the most daring fragrances ever. Labdanum and myrhh used as catalyst notes that balances the harmony between animalic and balsamic sides of Afrika Olifant. So many kudos goes to Jorge Lee who is the in-house perfumeur of Nishane. It seems like the predator has a delicate side.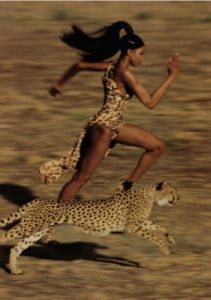 Naomi Campbell races a Cheetah for 2009 Harpers Bazaar Jean Paul Goude
Afrika Olifant turns to an addictive and refined fragrance as the middle notes dominate the field. Then it's easier to realize it's a well-blended fragrance when the rough corners fade away. Afrika Olifant is a daring and yet wearable scent. Presented in extrait concentration, Afrika Olifant is a true longevity beast. It lingers more than a day depends on the humidity. When it comes to projection, it's an extrait so close to the ski but since the sillage is masterfully regulated, there are no "performance" issues going on with Nishane's beast.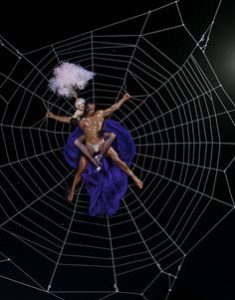 Laetitia Casta as Mae West – Photo by Jean Paul Goude
Animalic fragrances have always been the bad boys and naughty girls of niche perfumery. And let me tell you a secret from a niche-head… The nastier it gets, the more you become a magnet to anyone in your path.
NOTES: ambergris, frankincense, myrrh, labdanum, castoreum, civet, leather, oud, muscenone, Thibetone, muscone and civetone
–Contributor Berkan Basoglu, author of gurmekokular.com (with contributions from Michelyn Camen, Editor in Chief)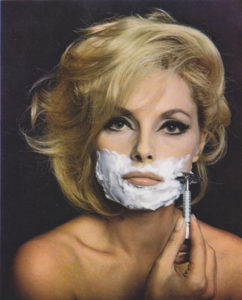 Actress Virna Lisi, March 1965 cover of Esquire. by Jean Paul Goude
Art Direction: I love these photos by fashion and pop culture photographer Jean Paul Goude who has also shot campaigns for CHANEL, Kenzo as well as the infamous Kim Kardashian BreakThe Internet photo for Paper magazine. Out of respect for our readers not shown. MC
Disclaimer M. Goude is not affiliated with Nishane, all photos are his property. I chose the images because they spoke to me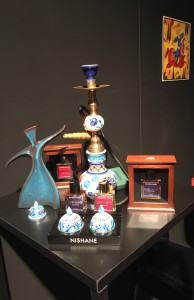 Nishane at Esxence 2016 Photo Darryl DO
Editor's Note: Murat and Mert introduced The Rumi Collection Fan your Flames and A Hundred Silent Ways at Esxcense 2016 and just returned from Pitti Fragranze 2016. More on that this week from Contributor Danu Sautot- Fryr
You can follow Berkan @gurmekokular and CafleureBon @cafleurebon on Instagram as well as @nishaneinstanbul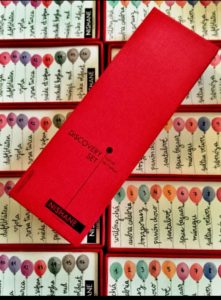 Discovery Kit Photo by Twisted Lily, who currently has the exclusive in the USA
Thanks to Nishane Istanbul we have a draw for a registered YOU MUST REGISTER SO CLICK ON THAT LINK, ÇaFleureBon reader worldwide of the Discovery Kit of 16 x 2ml of each fragrance from the original collection
Or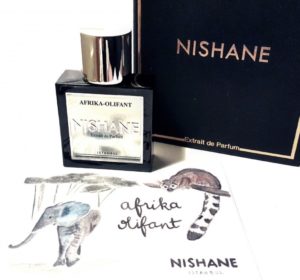 Afrika Olifant via NISHANE
50ml of Afrika Olifant.
To be eligible please leave a comment with what appeals to you about Berkan's review where you live, your choice should you win and if there is a Nishane Instanbul perfume you are looking forward to trying or have liked. Draw closes 9/15/ 2016
We announce the winners on our site and on our Facebook page, so Like Cafleurebon and use our RSS option…or your dream prize will be just spilled perfum