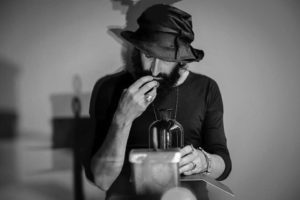 Perfumer Giuseppe Imprezzabile of Meo Fusciuni (photo: Meo Fusciuni)
"I waited for everything to pass,
that the multitude became uniqueness.
Olfactory architecture of the heart"-Guiseppe Imprezzabile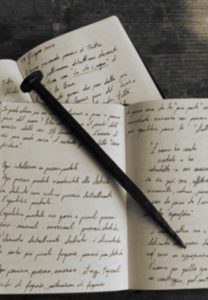 Cycle of Poetry Image (photo Meo Fusciuni)
After my visit to Florence for Pitti Fragranze , I had to return to Meo Fusciuni Notturno from 2012, composed by the skilled nose, Giuseppe Imprezzabile. "Notturno is the first fragrance of the Cycle of Poetry. Inspired by Rilke, Holderlin, Celan, Neruda and De la Cruz, five Poets, five olfactory and visual steps, five signs, five moments of the night. Just one colour, black"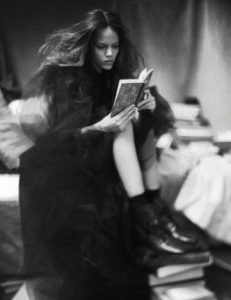 A Woman of a Singular Charm" Freja Beha Erichsen by Paolo Roversi for Vogue Italia, November 2007
Guiseppe is a poet, a creator of fragrances that are catalysed from his travels, his musings, his clear and profound aesthetic. Notturno, wraps its self effortlessly around me and I am instantly comforted like the sitting by an open fire, pen in hand, with the raging of a storm outside. This ability of Giuseppe to create a paradox is an aspect I am drawn to, the warm enveloping comfort juxtaposed with this edgy, lurking of something unseen and unknown.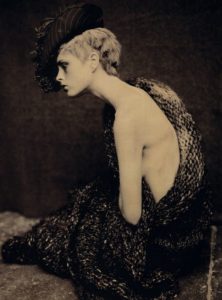 Renaissance, by Paolo Roversi for Vogue Italia
Signore Imprezzabile is a master of intention, composing his creations with a clear palette that contains elements of the unexpected. Notturno draws you close with Rum, Leather and Ink, a nightime sojourn of flooded memories, damp and vulnerable. It whispers in a warm hypnotic voice, that I should explore further, go deeper, probe my own darker yearning; unfolding in poetic scribblings and ink soaked parchment. It speaks of Night, closeted, silent and revealing where the Muse walks in unannounced and takes your heart for a spin. Words effortlessly falling to land, to mark the page and immortalise the ethereal. A silken edge of revelation, encouraging me to explore new nuances of my self as it develops on my skin.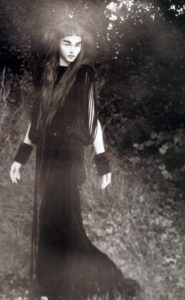 Paolo Roversi for Vogue Italia
Amber, soft and sensual lulls you into contentment yet the wildness of the forest under storms whim, Cedar and Birch ravaged by rain, dark damp Earth with a resinous Incense for companionship all challenge my senses and preconceptions. I am taken on a journey at once familiar and completely uncharted, but the lure to adventure is pendulous on my wrist.
– Danu Seith-Fyr, Contributor (with contributions from Michelyn Camen, Editor-in-Chief)
Disclosure: I received my sample of Notturno from Meo Fusciuni, opinions my own
Art Direction: Michelyn Camen, Editor in Chief (all photos by Italian born photographer Paolo Roversi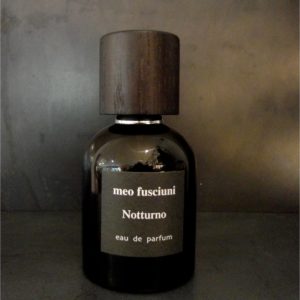 meo fusciuni Notturno (photo Meo Fusciuni)
Thanks to the generosity of Guiseppe Imprezzabile we have a draw for a registered reader in the US, EU and Canada for a 100ml of Notturno. To be eligible please leave a comment with what you enjoyed about Danu's review, where you live and what the color black smells like to you. Draw closes 1/17/2017
We announce the winners on our site and on our Facebook page, so Like Cafleurebon and use our RSS FEED…or your dream prize will be just spilled perfume