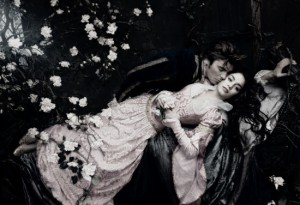 Zac Efron and Vanessa Hudgens from Sleeping Beauty Annie Leibovitz 2007 for Disney
I'm a big movie fan, and one of the games I sometimes like to play is to imagine what certain movie companies might create if they went for entirely different kinds of films. For example, what if Disney made noir films? The real bare knuckled, shadowy and desperate kind, in sharp-edged black and white, but that still retained that whimsical innocence that everyone associates with the Magic Kingdom of movies?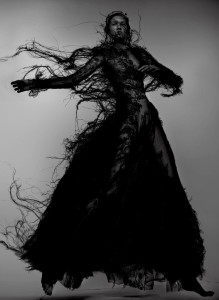 Molly Bair by Nick Knight for V Magazine Fall 2015
Imagine Sleeping Beauty as a femme fatale – a tall, thin, ethereal woman with severe, jet-black hair and a vaguely-remembered past, who finds herself wandering off the street and into the gumshoe's dim and dingy office, telling him about these strange dreams she's been having lately.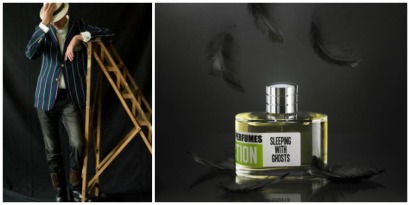 Mark Buxton and Sleeping with Ghosts (markbuxton.com)
Sleeping with Ghosts would be the movie's title, and it also happens to be the name of an intriguing and strange leather floral scent from Marx Buxton epnoymous line of fragrances. This scent is what Sleeping Beauty would wear at midnight in New York City, on her own and with nowhere else to turn. If you're a fan of Emotional Rescue, then Sleeping with Ghosts will be appealing as an ephemeral, smoky whisper to Rescue's grassy, earthy vetiver feel.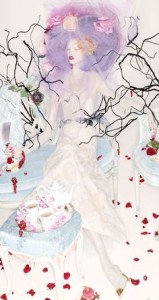 Nick Knight Haute Death
Sleeping with Ghosts begins with a dry quince note paired with tagetes, which in combination smells sweet and dark, with a slight tone of ripe, mashed apples underneath. The texture of Sleeping with Ghosts is as prominent as the opening notes – it presents itself in a vintage, faded smoothness that is both elegant and somehow fleeting. This perfume glides away from the nose in a distracted but still sensual manner – you can picture the detective lingering over the space Sleeping Beauty's silk glove defined as she delicately lowers herself down into a chair.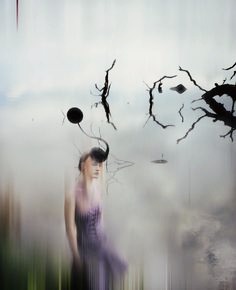 Nick Knight Isabella Blow
But the opening layer of vague, shadowy sweetness is executed wonderfully for what follows as the heart notes of peony and leather develop underneath. The rusty tang of the quince note is coyly enveloped by the innocent powdery facets of the peony note, which is then roughed up by the dry rasp of leather. At every moment in the development of Sleeping with Ghosts, the wearer is conscious of this blending of innocence and dread. You realize that you are the detective tasked with sorting out the reverie Sleeping Beauty is demurely whispering to you as your last bourbon bottle empties and the evening stretches out from under the drawn shades.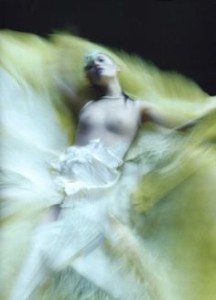 Sleeping Beauty Ming Xi – BY Nick Knight
The drydown takes its time to enter the scene in this fragrance, with vetiver and vanilla still tugging at your subconscious about whether you can trust her or not with the story she's telling. The grassy tinge underneath the vanilla note is letting you know that before you finish, you'll most likely uncover some secrets that may have been best left alone. But you knew the job was dangerous when you took it, and you'll follow her wherever this scent leads you.
Notes: tagetes, quince, leather, peony, vetiver, vanilla
Disclosure: I received my sample from Olfactif.com
Pam Barr, Senior Contributor
Art Direction: Michelyn Camen, Editor in Chief. The opening image was from Annie Leibovitz'sreimagined Disney Series. All other photos I chose were from British Photographer Nick Knight as a nod to Mark's birthplace in Derby, England.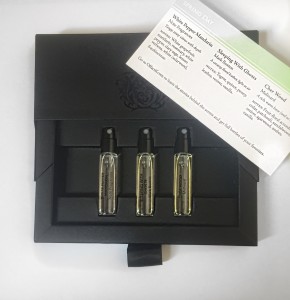 Olfactif.com April Subscription Photo Michelyn
Happy Birthday Olfactif.com and during the month of April, subscribers receive $18 off every bottle they buy, no limit this month on full size perfumes. Subscriptions are monthly, quarterly, bi annually and annually and now include men's sets too.
Thanks to Olfactif.com we have three April sets which include 2.5 ml sprayers of Sleeping With Ghosts, Note Fragrances White Pepper Mandarin and Molinard Cher Wood to three registered CaFleureBon readers in the USA. To be eligible, please, leave a comment with what appeals to you about Sleeping with Ghosts and if you have a favorite Mark Buxton perfume (to refresh your memory of fragrances not in his own line, Luckyscent lists many of them here.) Draw closes 5/26/2016
We announce the winners on our site and on our Facebook page, so Like Cafleurebon and use our RSS option…or your dream prize will be just spilled perfume