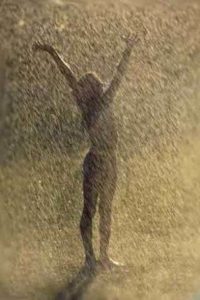 Dancing in the Rain, Simon Wilkinson©
Sounding the depths of the cry for freedom that is so often dormant in the human heart until some impetus crashes meteor-like into the sleepwalking that often passes for our everyday lives. Who doesn't, in the dark unfettered depths of Soul, hear there a longing for complete freedom, abandon, a break with all the convention and conformity that impose themselves upon us via the invention of culture and its prescribed traditions? –Andre Whidas, 2014, commentary on Albert Camus's, 'The Adulterous Woman' 1957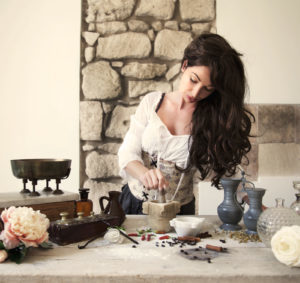 Gabriella Chieffo
'A Woman of Substance' was my very first impression of Gabriella Chieffo, with a strength that stretches out from her uniqueness and powerful vulnerability. A creative who immerses herself in her creations, so that we who wear her fragrances are graced by a glimpse her enigmatic self .The perfumes etch themselves into our flesh as if tattooed indelibly by her artistic hand. Taersia is the second creation from the 2016 collection, it means 'storm' in the Southern Italy dialect, telling the story of a moment anything could happen, the moment of destiny unfolding and the embracing of uncertainty and dangers. The fascination of an ancient story according to which in the past, young women were not allowed to smell the scent of Tuberose as it was thought to awaken 'impure thoughts'.
Only Lovers Left Alive 2013 starring Tilda Swinton
Perfect strangers, 'wild reckless people who met by the sea in need of wind and wet kisses', it beckons us to explore when touch becomes a conflagration, movement fluid, and bodily lines of form dissolve. We all know that mad feeling that envelopes us when our desire is aroused, a driven force to explore, spirited into an in-between realm where we lose sense of time and space, of our reality. A rousing invitation rather than a formal handwritten note requiring a polite RSVP, this is a carnal, Maenadial scent. The words of John Malkovich, in his role as Vicomte de Valmont, 'Dangerous Liaisons', rings in my ears, 'It's beyond my control'.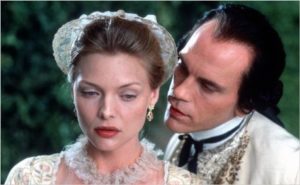 John Malkovich and Michelle Pfeiffer in Dangerous Liaisons (1988)
The summons in the opening of Bergamot, Ginger and Elemi, is a provocation, warm and sultry, verdant and wetly tumescent tropical bush, a herald of the incoming tempest, the heated winds far out at sea, airs laden with unseen portent of the storm building. Rousing and warming it prepares the ground for the Tuberose to break the surface no demure virginal of latent power, it is a curvaceous invitation and rises in my senses as a definitive seducer.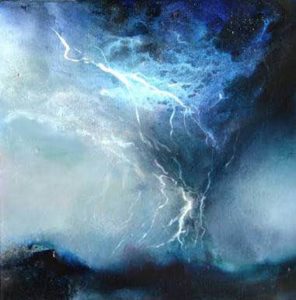 The Tempest, Lissa Bockrath©
Denuded in the shallows marveling at the force of the storm, slate blue in the sky, knowing I can do nothing more and desire no more than to be inundated by the deluge, crackling energies and rain on my skin, willingly betraying reason.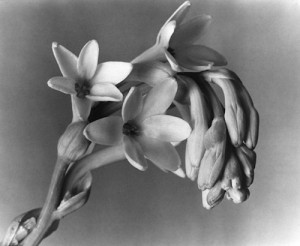 Tuberose, Imogene Cunningham 1933©
.A maelstrom of Tuberose, white, creamy and rich, saturated with enriching coffee, and the resinous sanctity of incense and myrrh. Heady and intoxicating, permeating all the notes,to bring me into the eye of the storm, where all is electrified and my senses are reeling, another touch, another kiss, elemental exposure and grasping flesh, on and on until all distinctions between are dissipated and two exist in a vortex of storm borne delirium. Knowing in its retreat, I am reinvented, shaken, gasping for breath.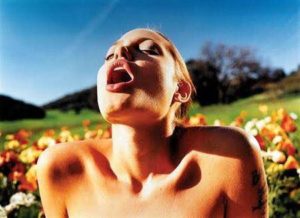 .Angelina Jolie in a Poppy Field, 2001 David La Chapelle ©
The base unfurls, a tumescence of sexual afterglow, patchouli and musk, the warmth of suffused, blood flushed bodies and the curling, intimate touch, soft and tender, animalic purring. Woods and Amber complete the dry down into a blissful repose. It should be reveled in deliciously slowly.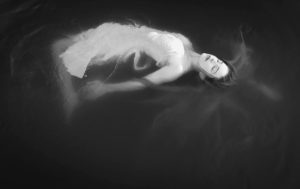 Black Water, 2016 Vitravian Studios©
No returning to my previous self from this tuberose soaked intensity, Gabriella has in this raw and vibrantly explicit scent dispersed a breath of metamorphosis into the grey recesses of human confinement.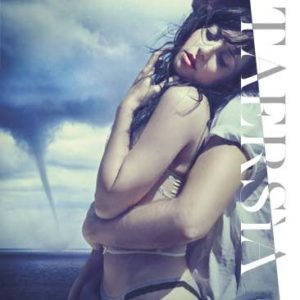 Photo: Gabriella Chieffo
You are so very dangerous, You know exactly
What you want
And you know
I want to give it to you -Samuel Decker Thompson
Top notes: bergamot, elemi and ginger; middle notes: tuberose, incense, myrrh and coffee; base notes are patchouli, cashmere wood, cabreuva, white amber and musk.
Sample received from Gabriella Chieffo, with thanks. Opinions my own
Danu Seith-Fyr, Contributor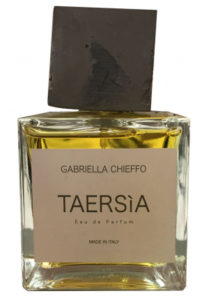 Thanks to the generosity of Maison Gabriella Chieffo we have a draw for a registered reader in the EU, USA and Canada for a 100ml of Taersia. To be eligible please leave a comment with what you enjoyed about Danu's review, where you live and which movie, poem or book brings to mind reckless desire means to you or if you like tuberose perfumes. Draw closes June 1, 2017
We announce the winners on our site and on our Facebook page, so Like Cafleurebon and use our RSS FEED…or your dream prize will be just spilled perfume