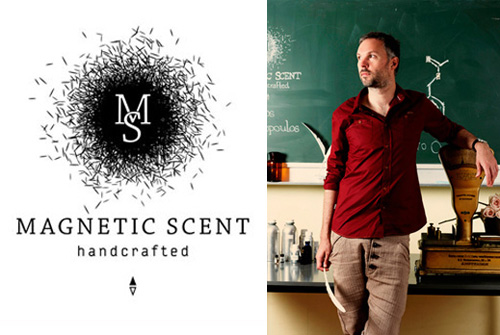 Dr. Spyros Drosopoulos
I enjoy it sometimes when I am given a perfume line that is completely unknown to me. I have to then treat my review almost more like a school report and do research and find out what's what. Magnetic Scent is that kind of collection, and it has been interesting to discover it. There are four perfumes in the line: Indigo, Tindrer, Untitled #1, and Untitled #2. Dr. Spyros Drosopoulos is a Doctor of Psychology who has been interested in perfumes and other olfactory objects for many years as a means of communication and perception. He says: "Being a psychologist with a Ph.D. in sleep and memory consolidation and a fascination for subjective perception, I guess it came naturally to extend my scientific research into private investigations of the human psyche." When he discovered niche perfumery in 2006, his scented world opened up, and in 2009 he took his first perfume workshop. In 2012 he launched his own brand, Magnetic Scent, in Amsterdam, where the company is based. The fragrances were created with a wearer's unique individuality, to be created with attention to detail and with quality ingredients, and as the name implies, to give the person wearing it a magnetic attraction.
Photo of sweet yellow violets by Ann Wolson
The first scent I tried was Tindrer. The first moments caused a bit of recoil, but then the tender aromas of moist earth and cut grass emerged and all my memory synapses started to fire. There is a distinctly tart smell, and I am reminded of sitting in the grass with friends as we chatted and chewed the tangy stems of wild sourgrass. The violet is sweetly popping up from the earth, like little Johnny-Jump-Ups lifting their faces to the sun. As the fragrance develops, it becomes drier and sweeter, as the moist earth would alter its aromas through the day. I like the drydown, too, as it smells like the earth is damped again from evening mist, and has completed its day.
Notes: Cypress, Galbanum, Wet Soil, Cut Grass, Violet, Heliotropin, Ambergris, Musk, Oakmoss, Cedar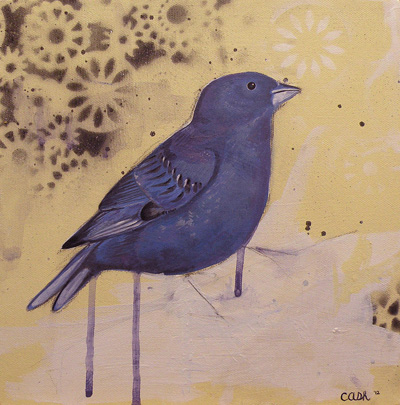 "Indigo Bunting" by Curtis Ashby
Mastic is a tree resin also known as "tears of Chios", and is used as a chewing gum and is folk remedies. It is not seen in perfume often. I'm not even sure what it smells like, but it sounds a bit varnishy. Indigo is one of the most unique perfumes I have smelled in some time. Dry, rooty, but with a wisp of flowers, this perfume is fascinating. There is something almost ancient about the way it smells, like an earthen pot you might find at an archaeological dig that once held healing ointments. Definitely an intriguing ride, and the drydown is nicely woody.
Notes: Mastic oil (Chios), Angelica root, musk Ambrette seed, Hyacinth, Rose otto, Frankincense (Oman), Cedarwood oil (Atlas), Sandalwood, Amber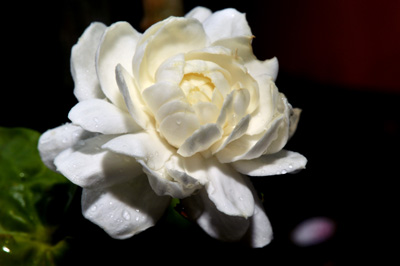 "Grand Duke of Tuscany" by Robbie
Looking for a good jasmine to add to your collection? Untitled #1 is one to try. Right out of the gate, this is a big heady jasmine made with jasmine sambac, the granddaddy of the jasmines. This perfume is vivacious, with great sillage. It has a tropical vibe, with an earthy, waxy quality deepened by a touch of cocoa, which gives it a coconut-but-better aroma.It is a tribute to the Grand Duke of Tuscany, which is a type of jasmine sambac and also a title bestowed upon various gentlemen thrugh the ages. To me it is a fabulous summer beach scent that has oomph and verve.
Notes: Complete notes are not listed, as Dr. Drosopoulos wants to leave it up to the imagination, but jasmine sambac, absinth, ginger lily CO2 extract, and cocoa are mentioned in the description.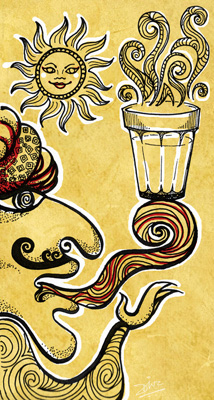 "Cuttign Chai" by Divya Suvarna
Untitled #2 is inspired by the spices of chai. Spraying it on gives an immediate lift as the orgy of spice notes wafts into your nose. Dr. Drosopoulos had a recipe for chai that included cocoa and rose, and he wanted to interpret it into perfume. He did a great job. I love to drink a good chai and the aroma is half the reason. Not only capturing the cardamom and clove and other spices, even the milkiness is there. The touch of rose and earthy cocoa give this perfume a coziness and warmth that are remarkable. However, the perfume is also remarkably lightweight, and I can imagine partaking of a street vendor selling hot chai in India, the milky hot liquid helping the body cool down. I would wear this in heat without fear of becoming overwhelmed, which is a fun thought for a spicy fragrance.
Notes: As with Untitled #1, notes are not given, but chai spices, rose, and cocoa are definitely part of the mix.

I enjoyed exploring this line and hope more scents are released, although I believe Dr. Drosopoulos is focusing on teaching and bespoke creations at this time. Information can be found on the Magnetic Scent website.
I received my samples from Indigo Perfumery. Magnetic Scent perfumes are available at Indigo Perfumery (exclusively in the US, the Magnetic Scent website, and select stockists.
Tama Blough, Managing Editor
Thanks to Indigo Perfumery we have a sample set for one lucky reader residing in the US. Let us know which one appeals to you most in the comments. Draw ends May 9, 2014.
We announce the winners only on site and our Facebook page, so like CaFleureBon and use our RSS option…or your dream prize will just be spilled perfume.