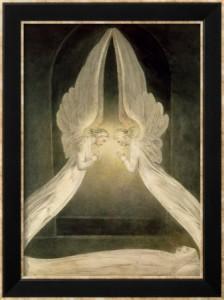 Angels William Blake
A few years back, a fellow perfume addict, knowing my love of roses, sent me a package filled with decants and samples of rose perfumes. Needless to say, I was in heaven, and when I popped open the first sample, the most divine fragrance rose up to greet me, and the angels sang…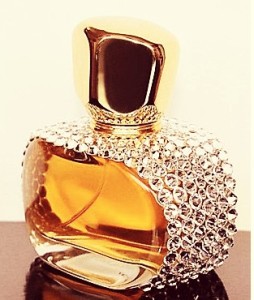 Rose Extreme Eau de parfum by M. Micallef
Okay, maybe not. My heart was beating so fast and I was so enraptured that I couldn't really tell. But it sounded like angels to me, and the brilliance of the swarvoksi crystals on the flacon was like a white light. It literally took my breath away and made me weak in the knees; it was Rose Extrême , by M. Micallef.Rose Extrême was created in 2012, a collaboration between house perfumer Jean Claude Astier and co-owner Geoffrey Nejman. It is of course a rose fragrance, first and foremost.
John Waterhouse My Sweet Rose
The website explains that rose note is composed of the best absolute and the essential oils of rose of Bulgaria. The opening of Rose Extreme is preternaturally beautiful, and it wouldn't surprise me to learn that an entire years harvest had been distilled into each sample. The rose is opulent, but never overpowering. It never drifts into grandma territory; it is rich and supremely elegant. There is no harsh, artificial aspect, no fussy powdery facet, just pure rose essence…acres and acres of pink roses, right there in your vial. The quality of the rose is unmistakable.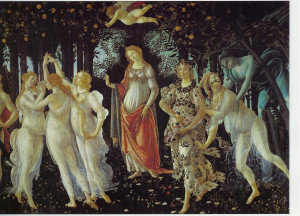 Boticelli Primavera
As beautiful as the rose note is, Rose Extrême is not just a rose soliflore. There is a gorgeous peach note in this perfume and it is perfection. Peach is one of my favorite notes in perfumery, and this one is the best I've ever smelled. It is absolutely mouth-watering; it is succulent and luscious, and combined with the honeyed apricot note of osmanthus, it adds a golden nectar-like quality to the fragrance.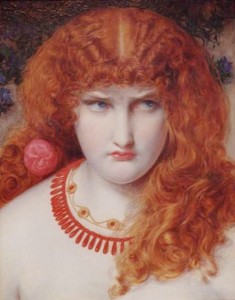 Helen of Troy 1866 by Frederick Sandys
And that's what Rose Extrême is to me: a rose nectar, fit for the gods, enveloped in a diaphanous sheath of osmanthus, luxuriating on an altar of sandalwood, musk and vanilla, ready to be worshipped by all who cross her path. It's a stunning rose perfume that will thrill any rose lover, but there is plenty there for even the most vehement rose haters to enjoy. I'd recommend Rose Extrême to anyone who loves peach or osmanthus, and of course no one does vanilla like M Micallef, (I am looking at you Notes Vanille) gourmandphobes among us shouldn't be afraid of trying it.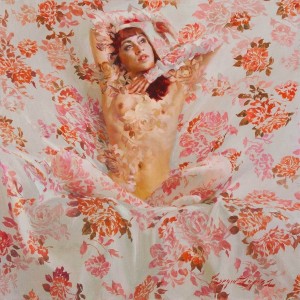 Sergio Lopez Roses
Rose Extrême is possibly the most feminine fragrance I have ever experienced; it also feels somehow deeply personal and intimate, as if it were created specifically for someone's true love… or perhaps as an ode to every woman, with a thousand roses paying tribute her beauty, intoxicating osmanthus representing her grace and charm, the peach note replicating the soft warm ripeness of her skin, with vanilla and musk whispering promises of the sweet pleasure to be found in the fullness of her curves.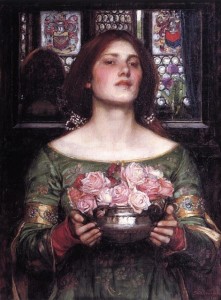 John William Waterhouse – Woman with Roses
Rose Extrême is both sensual and sensuous. While it lacks the some of the notes we typically associate with overtly sexy perfumes, the sheer femininity of the fragrance is seductive in and of itself. If Notes Vanille is a bombshell beauty, Rose Extrême is an unearthly one. My husband finds it mesmerizing, and it is the fragrance that I get complimented on the most.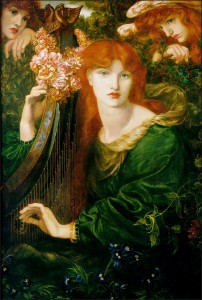 La Ghirlandata Dante Rosetti
I've gone through several samples over the years, and it's associated in my mind with many special occasions, but a perfume as exquisite as Rose Extrême can lift an ordinary day into the sublime, so it should never be held back for "some day". It is so easy to make every day extraordinary by allowing ourselves to indulge in this beautiful madness that is perfume obsession, and "some day" may never come, so start wearing all those "special occasion" fragrances you've been hoarding, and add Rose Extrême to your Must Buy list! After all every woman should feel like a goddess.
Notes, from the M. Micallef website: Absolute and essential oils of rose of Bulgaria, peach, osmanthus, sandalwood, musk, amber and vanilla.
DISCLOSURE: My review is based on many samples I've had; most purchased by me, one given to me by a friend.
Tammy Schuster, Sr Contributor
Art Direction: Michelyn Camen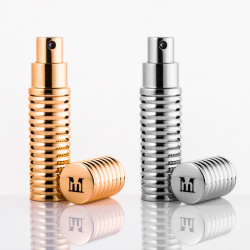 Thanks to the EXTREME generosity of Geoffrey Nejman, Martine Micallef and the team at Parfums M Micallef we have a 7ml travel atomizer of Rose Extrême in your choice of Rose Gold or Silvertone for a registered reader. To be eligible, Please leave a comment with what your enjoyed about Tammy's Review, your choice of gold or silver, where you live, and which woman of unearthly beauty, alive, fictional or from the past you can envision wearing Rose Extrême. Draw closes 3/27/2016
We announce the winners only on site and on our Facebook page, so Like Cafleurebon and use our RSS option…or your dream prize will be just spilled perfume