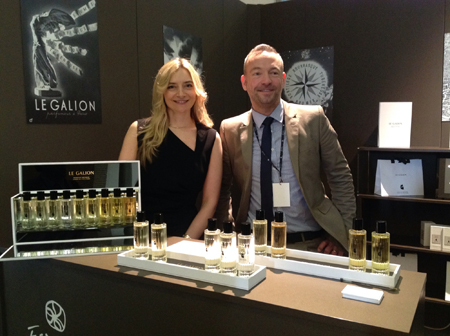 Nicholas Chabot and assistant
When I went to Exsence in Milan last March, one of the biggest buzzes was excitement about the relaunch of the House of Le Galion. Primarily famous for Sortilege (which I reviewed last May) they had a wide selection of fragrances, mostly developed by perfumer Paul Vacher between 1935 and his death in 1975. They brought nine of these fragrances back under the creative direction and new owner and Creative Director Nicholas Chabot, who purchased the company roughly two years ago. I smelled all nine, and wrote down my thoughts.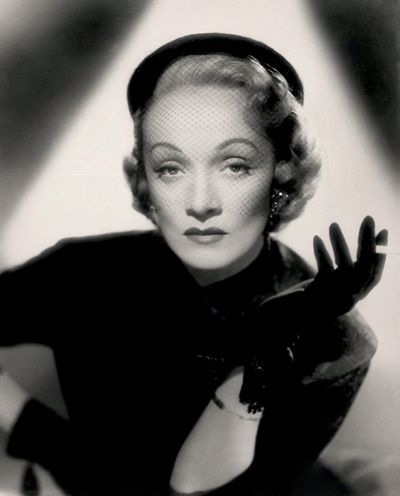 Marlene Dietrich
Snob is a very high toned sparkling floral aldehydic fragrance that instantly makes you feel like you're wearing a truly vintage perfume, even to the slightly sharp notes at the very beginning suggesting that the notes might be turning a little. This is a lady's perfume; sitting at the table in the best restaurant having lunch. Discreet, yet magnetic, wearing a fabulous hat and bright coral lipstick and obviously a snob of the highest order.
Notes: bouquet of white flower, rose, Iranian saffron, Australian sandalwood and Virginian cedar, white musk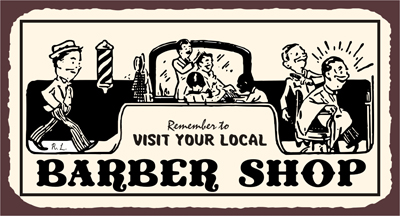 Tin Barbershop Sign

Special for Gentlemen is wonderfully old-timey, with pungent medicinal aromas that are almost primal, and excellent lavender. I'm always fascinated by smells like these: I envision the barber with his perky mustache, the slap of the steaming towel. The man wearing this would have an upright, jaunty step and an eye for the ladies..
Notes: lavender, lemon, galbanum, cinnamonn amber, cistus labdanum, patchouli, vanilla, opoponax castoreum.
Kashmir Wood Carving
222 was designed from the discovery of a tiny bottle of perfume made in the early thirties. Can you imagine discovering such a precious thing in a little box, nearly doomed to be forgotten? It is a lovely Kashmiri wood and violet blend that smells truly wild and exotic. I would love a bottle of this.
Notes: violet flowers, wood from the Kashmir. aromatic balsamic, myrrh and styrax, white musk, sandalwood, leather.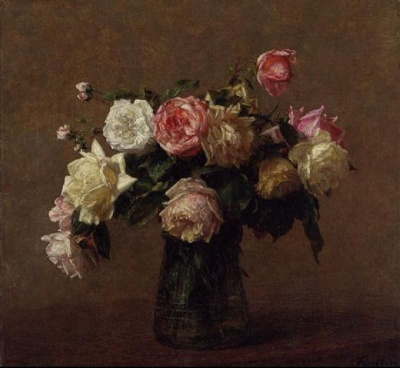 "Bouquet of Roses" by Henri Fantin la Tour
La Rose is a sweetly fruity rose soliflore which goes a bit soapy. Not a revelation in the Rose genre, but nice
Notes: rose, sensual floral ,aquatic notes, patchouli and cyprus
Iris is a nice cool nice but like La Rose, iris scents have come a long way since 1937, when this was first created. I found it a bit wan.
Iris, green mimosa, ambrette seed, Royal lily, rose, Atlas cedar, oriental amber.
Tubereuse is an interesting take on a tuberose soliflore which is well-done but a bit candied in the opening for me. I'm picky about tuberose, though, so your experience may vary.
Notes: (tuberose not listed but I'm assuming), green galbanum and mandarin. crisp fruit, raspberry and pear, cedar, amber, musk and cyprus.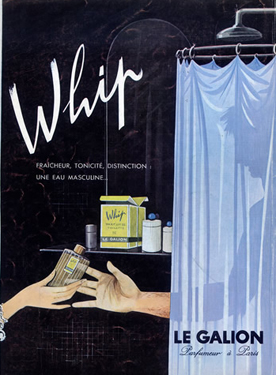 Whip is a delight, a breezy cologne-style unisex fragrance sure to lift your spirits. Any fans of cologne should try this,as well as Eau Noble.
Notes:lemons from Verdelli and Calabrian bergamot, Tarragon, lavender and cardamom, jasmine, violet, iris, galbanum, oak moss, patchouli and vetiver grass oil, leather
Eau Noble is similar to Whip, but with a stronger, woodier opening and development, done really nicely.
Notes: bergamot, lemon, Italian mandarin, galbanum, lavender and sage, geranium, oak moss, Indonesian patchouli, cedar wood, and musks
I look forward to seeing what other fragrances Le Galion pulls out of the vaults. For lovers of vintage perfumes, you will not be dissapointed; the revival of Le Galion will appeal to all fragrance connoisseurs.
I received my samples fron Fragrance & Art, with gratitude.
Tama Blough, Managing Editor
Thanks to Fragrance & Art we have sample packs – one for a reader in the EU Or one for the US. Let us know which one of these strikes your fancy, and where you live. Draw closes October 2, 2014
We announce the winners only on site and our Facebook page, so like CaFleureBon and use our RSS option…or your dream prize will just be spilled perfume.