Let me send you off to sleep with a "There, there, now stop your turning and tossing."
Let me know where the hurt is and how to heal…Nathalie Merchant – 'Trouble Me'
Olivia Giacobetti
I have loved many L'Artisan Parfumeur fragrances over the years; their quiet sensuality and aloof Parisian charms have ensured them a place in the Fox's scented library. Dzing, Patchouli Patch, Voleur de Rose, Drôle de Rose, Séville à l'Aube and my beloved Vanille Absolument/Havane Vanille are the ones I adore. But I make sure I am never without a bottle of Safran Troublant created for L'Artisan Parfumeur by the enigmatic queen of transparency Olivia Giacobetti.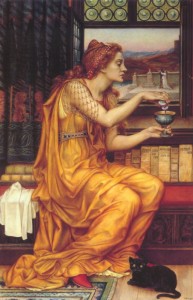 The Love Potion. By Evelyn Pickering De Morgan
Originally released in 2002 as part of a sensuous triptych entitled Les Epices de la Passion, Safran Troublant appeared alongside Poivre Piquant and Piment Brûlant both authored by Bertrand Duchaufour. The fragrances were loosely inspired by the concept of philtres d'amours or love potions. All three perfumes have aphrodisiac connotations in their manipulation of saffron, pepper and chili; spices to fire the blood and enflame the senses.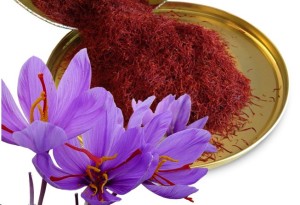 I am rather partial to saffron in scent, it has the most unique aroma of roasted earthen honey and metallic hay; it smells glowing. Saffron is the world's most expensive spice, mostly due to the intensive and backbreaking work involved in cultivation and harvesting the precious stigmas, the female part of the crocus sativa flower. To put it into some sort of perspective, 1lb or 450g of saffron requires the gathering of 50,000 to 70,000 flowers by hand, separating very carefully the golden stigmas from the rest of the bloom. The stigmas or filaments grow a vibrant red, gradually shifting into their trademark luscious yellow tones. I love the honeyed smoky taste of saffron in food and always have high quality saffron in my cupboard, a jar of sweet, earthy scented threads like strands of Chinese silk. I soak mine in warm water, eternally fascinated by the slow bloom and bleed of amber dye. My favourite use of it is in home made rice pudding, slow cooked in the oven, the rice flavoured with lemon zest, mastic and smears of golden saffron. Cradling the little strands in my palm of my hand and feeling the dry crackle of the crocus' stigmas is oddly moving. I never forget where they come from.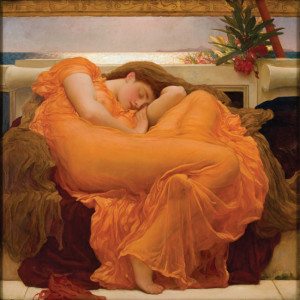 Frederic Leighton's Flaming June 1830-1896
I always felt Safran Troublant got a little lost in the general melée of the 2002 releases. Bertrand Duchaufour's work always demands coverage, although to be honest Poivre Piquant is one of his weakest creations, an unsteady pepper over milk design that has a distinctly off note as it settles. (I will be dealing with Piment Brûlant in a future post on chocolate). Both of these are linked to love potions, Piment Brûlant to the legendary drafts of hot chocolate consumed by Aztec Emperor Montezuma and Poivre Piqaunt to a recipe from the Kama Sutra. Yet Olivia Giacobetti's Safran Troublant with its milky marriage of rose and buttered golden saffron is so much more voluptuous and striking.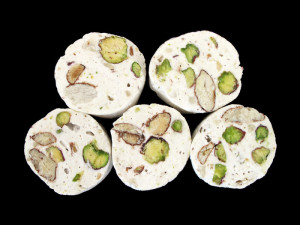 Image of Iranian Nougat Under License from Shutterstock LLC
Safran Troublant opens on a hugely edible note, the saffron asserting itself with succulent, foodie force. I smell the Iranian nougat of my childhood, stained sunshine, shot through with pistachio nuts, nibbled by ice cold pools, locked away in expat compounds. There is a lot of vanilla in the scent, you need it to temper the earthier characteristics of so much saffron. Sandalwood and a grating of ginger flesh out the mix, counterbalancing the lactic journey Olivia Giacobetti has written into this opaque oriental.
The red rose is barely there, just drawn across the surface of the golden mirror. I know a lot of reviews mention projection and longevity. I don't care. This is what it is. There is a way with L'Artisan Parfumeur scents; a sense of adaptation, the skin and mind need to adjust to subtlety, privacy and veil. I do have to spray this more than my usual scents, but this very act gives me immense saturated pleasure. There are other saffron-tinted fragrances out there but nothing comes close to this gorgeous and in my opinion much neglected minor masterpiece from L'Artisan Parfumeur, one of the most sensual and mood-enhancing houses in the business. I wear it when I'm worn to the bone, troubled and weary. It soothes me, sweetens my senses.
Disclosure – my own collection
–The Silver Fox, Editor and Editor of The Silver Fox
Art Direction: Michelyn Camen, Editor in Chief
Thanks to the generosity of L'Artisan Parfumeur we have a 100 ml bottle of Safran Troublant for a draw to one US or a Canadian reader. To be eligible please leave a comment about what you enjoyed about The Silver Fox's review, if you think Safran Troublant is an unsung perfume hero and your favorite L'Artisan Parfumeur fragrance by September 6, 2014.
We announce the winners on our site and on our Facebook page, so Like Cafleurebon and use our RSS option…or your dream prize wil be just spilled perfume