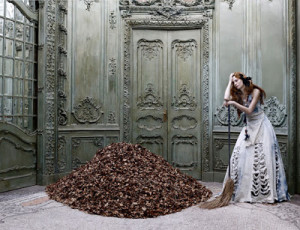 Tim Walker set design by Simon Costin
When lilacs last in the dooryard bloom'd,
And the great star early droop'd in the western sky in the night,
I mourn'd, and yet shall mourn with ever-returning spring.
Ever-returning spring, trinity sure to me you bring,
Lilac blooming perennial and drooping star in the west,
And thought of him I love.
From 'When Lilacs Last In The Dooryard Bloom'd' by Walt Whitman -1865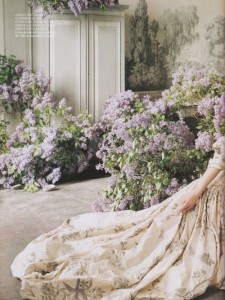 Photo: Lilacs Tim Walker
You rarely see lilacs these days, they are a flower lost to time. The cascades of intensely perfumed mauve, blue and white blooms seem somehow a part of our memories of gardens and childhood. Their aroma is thick with indole, the divisive aroma occurring naturally in white flowers such as lilies, gardenia and orange blossom but also in faeces and decaying flesh. This disturbing closeness of carnal petal, death and waste is what disconcertingly attracts so many of us to the glories and innate sexiness of these come-hither blooms. It explains the macabre turn so many of these flowers take as they die, turning burnt-edged and eerie, their once gorgeous displays reeking of decay and abandonment. Yet in its youth, spattered with spring rain lilac is heady with mulch, wet paint, soap, pepper, sweet cinnamon dough, clove and licquorice.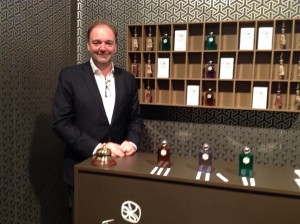 La Parfumerie Moderne and Creative Director Philippe Neinrick at Esxence 2014 Photo Tama Blough
I've opened this piece with a wander through lilacs as I've been wearing Désarmant all day, one of three splendidly architectural and stylish fragrances from a new niche house called La Parfumerie Moderne, founded by Philippe Neirinck who debuted three fragrances at Esxence -The Scent of Excellence in March of 2014 and more recently at Pitti Fragranze. He has worked closely with the enigmatic Marc-Antoine Corticchiato, the Corsican-born nose behind the sultry and imaginative fragrances for Parfum d'Empires. The other two perfumes in the collection are a leather entitled Cuir X and the oddly named No Sport. The sleek, deco style bottles are made of coloured glass, which while adding to their undeniable allure, also protect the juice inside. Marc-Antoine has reined in his usual oriental symphonic style for a more studied effect, more akin to olfactory cloissoné, an assembling of delicately tones vibrant pieces fired together to create extraordinary lustre.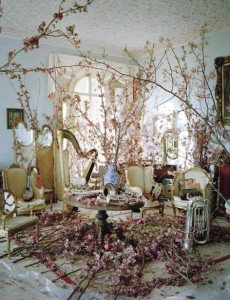 W Magazine, 'Magical Thinking' photo by Tim Walker, Set design by Simon Costin
The notes for Désarmant are beautifully assembled; orange and styrax in the bluey opening of cluttered bloom lead into a soapy tea facet from a weird scotch-tape smelling osmanthus note. The woody sweetness of barky cinnamon over resins adds to the underpinning of sadness that lies very carefully in wait behind the heady rush of wind-rattled flowers. It reminds me a little of the industrial bloom-making of Christian Astuguevieille in his creative Comme des Garçons scent labs, conjuring up flowers made from metal, concrete, ink and sheets of heat blasted plastic. He uses oddity and the unexpected juxtaposed with moments of astonishing beauty to remind us that if roses can bloom amid Chernobyl concrete ruins, they might be a little different.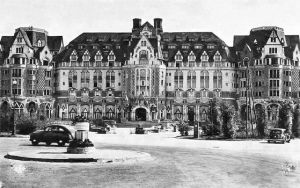 62 Le Touquet Hotel Royal Picardy II Photo: La Parfumerie Moderne
Marc-Antoine Corticchiato rarely strays from the luxurious safety of Parfums d'Empire, so Philippe Neirinck's offer of collaboration must have seemed very intriguing. Clayton Ilolohia, in a lovely piece on his blog What Men Should Smell Like mentions how Philippe's obsession began with an unmarked vial of scent he found in a suite of rooms while wandering at the Royal Picardy Hotel in Le Touquet, when he was a boy in the 1960s. With all the power of Proust's madeleine, this precious vial of what was a lilac scent set in motion what would become La Parfumerie Moderne. I love the idea that a mysterious scent has threaded its way through Philippe's life from boyhood to businessman.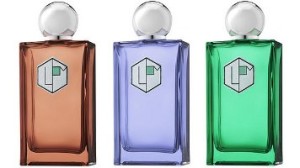 Art Deco Style Bottles from La Parfumerie Moderne
Each of the fragrances is linked to hotels in some stylised and thematic way. Cuir X is a Parisian late night rendez-vous, whisky spilled on faded leather couches, a faint whiff of cold cigarettes wafting in off the streets. No Sport is quite fascinating. The name comes from Sir Winston Churchill being asked how he remained so youthful… 'whisky, cigars and no sport..' was his answer. I was a little thrown by this scent at first, it has a fractured, ambivalent personality, partly outré and bombastic and the other side much more mellow and contemplative. Essentially a rose with lashings of foliage and barbed corsage, it wraps the ambiguous rose in a cloud of malachite-tinted geranium and vetiver notes that drop softly down into almonds and rooty galbanum.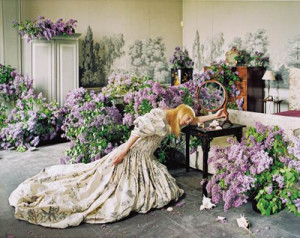 Photo: Lilacs Tim Walker set design by Simon Costin
But as its name suggests. Désarmant is indeed disarming and unexpected. A luminous and oddly desolate portrait of one of nature's most forsaken blooms. We smell lilac in our detergents and fabric softeners, in air fresheners and soap but this robust and oddly animalic portrait of syringa vulgaris will go a long way to restoring the reputation of one of horticulture and perfumery's most beautiful flowers.
Disclosure – From my own collection
– The Silver Fox, Editor and Editor of The Silver Fox
Note on the Art Direction: British Fashion Photographer Tim Walker and the legendary Art Director/ Set Designer Simon Costin are long time collaborators. Although they work in different genres, Marc-Antoine Corticchiato, is a true master of creating layers of meaning that most artists would miss. Michelyn Camen, Editor in Chief
La Parfumerie Moderne is available in the US exclusively at Barneys New York 100 ml $200, and in France at Jovoy Paris and online
For our US readers we have a sample set of Cuir X, Désarmant and No Sport thanks to Barneys New York OR for our EU readers, Thanks to Jovoy we have a 15ml bottle of Désarmant. (There is only one winner). To be eligible, please leave a comment with what appeals to you about The Silver Fox's review of Désarmant, or about La Parfumerie Moderne and where you live. Draw closes October 1, 2014
We announce the winners only on site and on our Facebook page, so Like Cafleurebon and use our RSS option…or your dream prize will be just spilled perfume