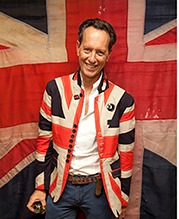 Richard E. Grant, photo by WMNO Vergnault
The 1987 cult film Withnail And I put Richard E. Grant on the map. His performance as the dissipated, irascible out-of-work actor Withnail, railing torrents of witty abuse at the universe like a down-at-heel Oscar Wilde, is breathtaking. Now, 30 years later, Withnail remains one of the great eccentrics of British film. So it is unsurprising that Grant's first foray into perfumery, Jack, carries more than a touch of his most famous character.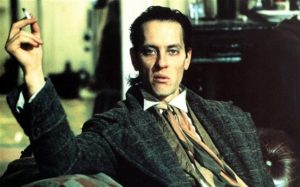 Richard E. Grant in the film Withnail And I, 1987
Jack, winner of the 2015 Fragrance Foundation UK award for best new independent fragrance, is what Withnail might very well have sported had he become a success. It was created in partnership between Grant and former IFF and now Symrise perfumer Aliénor Massenet. The name alludes to that epitome of Englishness, the Union Jack, and the dozen other colloquial meanings Jack has in the English-speaking world.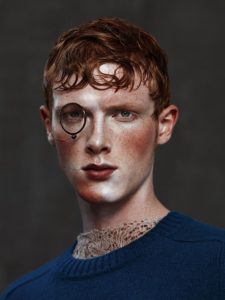 Gucci Menswear 2015 Fashion Editorial, photo by Kiki Xue for Boycott
Jack could be described as a tonic with a hit of hemp; very modern and quite English; proper and quirky in equal measures. Its opening is as sharp as a Wildean quip, dominated by a top note remarkably like the bitter-fresh scent of just-cut grapefruit (an olfactory trick created by lime and mandarin). Hurrying into the top notes is a slightly smoky, herbal note that initially smells half basil, half juniper. It gives the sense of a perfectly made gin-and-tonic without smelling literally like one.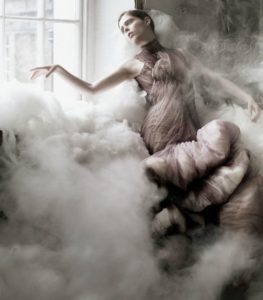 Coco Rocha, Curiouser and Curiouser fashion editorial, photo by Tim Walker for Vogue, Feb 2007
Stage two is all about the weed. The herbal note huddles down into an earthier place as the opening chords become more distinct. The grapefruit fades more recognizably into lime and the sweetness of mandarin is now discernible. The citrus notes provide a bright backdrop for the loamy cannabis, keeping the scent from dropping hazily into hippie territory. This cannabis is not the sly, fresh green note of DSH Perfumes' Agrestic, nor the dreamy reefer of Parfumerie Generale Coze, but a smell of freshly turned earth and plant leaves, a quality emphasized by a bone dry vein of vetiver.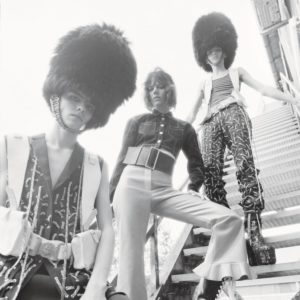 Tim Walker for W Magazine, Denmark, Dec 2016
Citrus-based scents often have a predictable descent into soapy musk. Not so with Jack. While there is musk, a smack of pepper and dry tobacco in the dry down add a warm, sturdy base to the herbal-fruit upper notes. I don't pick up the oud or incense, but the ending manages to hold the lime rind/grapefruit note and herbs in balance while allowing them to stay front and center throughout Jack's finish.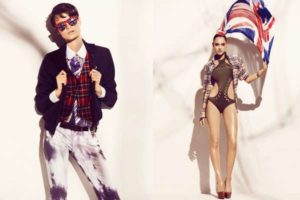 Photo by Alexander Neumann for L'Officiel, Paris, Jun-Jul 2012
Designed to be unisex, Jack is chipper, dapper, refined with an intriguingly likable louche note, like a Jermyn Street suit on a gigolo, or a rumpled crinoline on a garden party debutante. If you like your scents straight up with a twist, Jack is deliciously for you.
Notes: lime, cannabis, mandarin orange, cloves, pepper and nutmeg, agarwood (oud), vetiver, white musk, tobacco and olibanum. Sillage is on the modest side and longevity is average.
Sample provided by Aedes de Venustas – many thanks. My opinions are my own.
— Lauryn Beer, Editor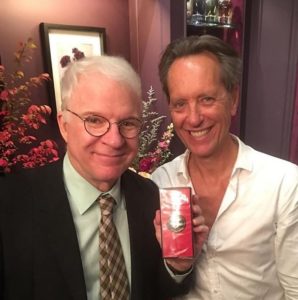 Steve Martin with Richard E. Grant
Editor's Note: Aedes de Venustas held a party for the launch mid October 2016; celebrities such as Steve Martin, Joel Grey, Parker Posey, and Trudy Styler turned out in full force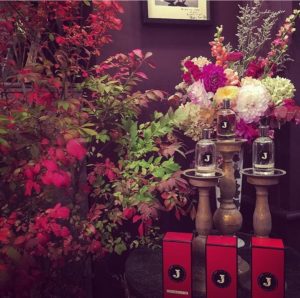 Jack, photo courtesy of Aedes de Venustas
Thanks to the generosity of Aedes de Venustas, we have samples of all three Jack perfumes Jack, Jack Convent Gardens and Jack Picadilly 69 for 3 registered readers in the U.S. To be eligible, please leave a comment with what appeals to you about Jack based on Lauryn's review, if you are familiar with Richard E. Grant and if you have a favorite Richard E. Grant film or role. Draw closes 1/9/2016.
We announce the winners only on site and on our Facebook page, so Like Cafleurebon and use our RSS Feed or your dream prize will be just spilled perfume