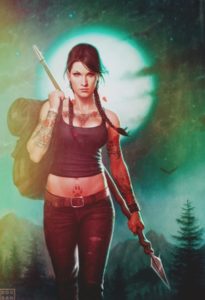 Mercy Thompson Book Cover for Night Broken Book 8 (apped MC)
"Coyote never loses. Because I change the rules of the games my enemies play. What are the rules of your game?" -Patricia Briggs, Frost Burned (Mercy Thompson)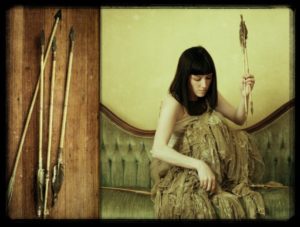 Jill McKeever carrying spears photo from Jill McKeever
Natural perfumer Jill McKeever of For Strange Women whose home base of Missouri lies within an artery of Native American history- created Coyote (For Strange Women (and Men)) in 2011. Coyote is the Native American trickster teacher, buffoon and hero, created creator, teaching paradox and duality; kin to the raven, Loki and The Fool. Known for his wild antics and raging libido- undoubtedly there was something quite irresistible in his perfume.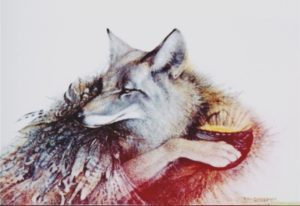 Coyote illustration apped MC
The soothing freshness of Coyote is immediate and a bit surprising for a perfume with such a notorious moniker. Bergamot lightened neroli is neither ingénue nor seductress, its power lies in its ambiguity. And while I cannot even say the Coyote archetype is what Jill had in mind, it is the turn of the heart of Coyote which almost solidifies my theory.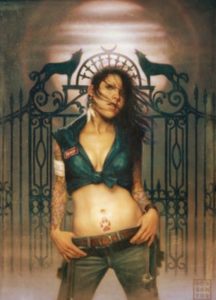 Cover art for Moon Called (Book 1) apped MC
A Wolf in sheep's' clothing musk starts to give the game away as Coyote lifts the petaled citrus veil to reveal a smooth, bay-spiked patchouli; another of Coyote's impressive slights of smell. The bay is without piquant sharpness and spices the patchouli tinged musk in the most delightful way. Coyote remains more treat than trick, and the potentially overpowering combination of notes remains quite tame. What remains after dry down is this musk accord, souvenir of the dance under the full moon.
For Strange Women is a house full of Lokean moments of chaotic, madly liberating and surprising aromas; a compendium of olfactory stories to be passed from nose to nose, generation to generation. Read more at For Strange Women's blog,
Notes: bergamot, neroli, bay leaf, patchouli, musk accord, spices
*disclosure: my sample is my own.
–Einsof, Natural Perfume Editor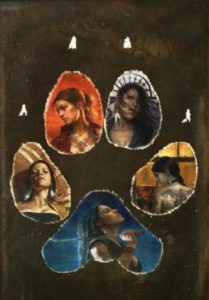 Mercyverse
Art Direction: Mercy Thompson art by Dan Dos Santos. Mercy is one of my favorite urban fantasy heroes; her character is a "walker", a Native American shape shifter, a coyote raised by wolves; Jill's resemblance is uncanny. Mercy Thomposn Fire Touched, Book 9 will be released January 31, 2017 -Michelyn Camen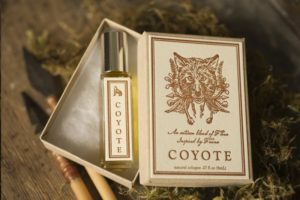 Thanks to Jill Mckeever we have a draw for an 8 ml rollerball of Coyote for a registered reader in the USA (don't know how to register…click here!!) Please leave a comment with why you would like to win Coyote, if you have read any books in the "Mercyverse", or if you can shape shift into an animal which would it be, and your favorite For Strange Women fragrance. Draw closes October 30, 2016
Follow @forstrangewomen on Instagram and @cafleurebon
We announce the winners only on site and on our Facebook page, so Like Cafleurebon and use our RSS Feed option … or your dream prize will be just spilled perfume.