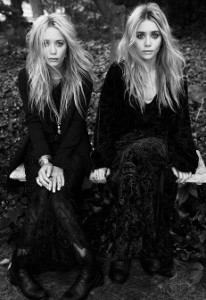 Mary-Kate and Ashley Olsen
What do you do with yourselves if you are world-famous multi-millionaires by the time you're eighteen, but no matter what you do for the rest of your life, people will always regard you through the prism of childhood stardom? If you are Mary Kate and Ashley Olsen, you make the best of it, using your resources to express yourself creatively while quietly turning out the best work you're capable of.
In the early 2000's the Olsen twins became influential in the fashion world when their idiosyncratic street style (which seemed to have been inspired by a desire not to leave their warm beds in the morning) spawned many imitators. Since then, the sisters have created multiple fashion lines that are sold from JC Penney (Olsenboye) to Barneys New York and Net-a-Porter (The Row), all of which are surprisingly sophisticated.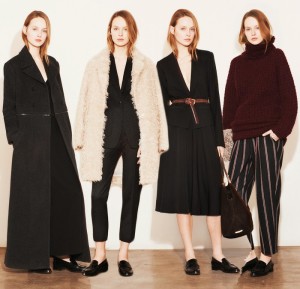 Elizabeth and James, Fall 2014
Their contemporary chic Elizabeth and James line, inspired by vintage clothing and named for their younger siblings, debuted in 2007. It marries masculine tailoring with feminine detail to create a timeless androgynous look with a distinctive Olsen stamp, comprised of pieces that combine endlessly.
Late last year, in an exclusive collaboration with Sephora, Elizabeth and James introduced its first pair of fragrances, Nirvana White and Nirvana Black. They are intended to embody the multiple dualities of the clothing line (masculine and feminine), the reality of being a twin (a pair that is often seen as a single entity), and the contrasts between light and dark.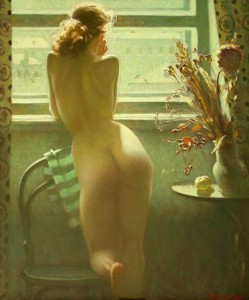 Artist Sergey Kondrashov
The nose for Nirvana White is Master Perfumer Honorine Blanc of Firmenich, and according to Sephora the official notes are peony, muguet and tender musk. On me, it opens as a fruity floral; the peony is supplemented with juicy plum and mandarin orange, and the muguet smells almost like green tea. Over time, the fruits and florals blend into each other like watercolor washes, with the musk that is the true star of this show rising up to greet them. While clearly synthetic, it manages to be simultaneously clean and seductive. Imagine coming in from a sweet, spring rain, undressing, and wrapping in a towel fresh from the dryer.
For me, Nirvana White is the simpler of the two fragrances, but this is not a criticism. Numerous "skin scents" falsely market themselves as enhancing the wearer's personal chemistry, but in this case I find it to be true. Nirvana White smells its best at the end of a mildly active day on warmed skin.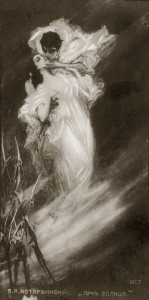 Artist Wilhelm Kotarbinski
Nirvana Black was created by the renowned Pierre Negrin of Firmenich, who was the nose for Amouage Opus VII, Amouage Interlude Man and the reformulation of Fracas in 1996, to name a few of his ultra luxe fragrances (he also worked with Honorine Blanc on Calvin Klein Encounter in 2012 which makes for nice symmetry). Nirvana Black has just a few notes according to Sephora – violet, sandalwood, and vanilla. The sum is more than its parts, as I get at least four distinct stages from the scent. Upon application, the first two notes combine to present an impression of green wood that is slightly fresh for my taste, but the violet quickly subsides to create a straightforward sandalwood.
If it stayed this way I would have liked it just fine, but Nirvana Black has some tricks up its sleeve that turn a crush into an obsession. The violet returns in tandem with vanilla as the very slightest touch of powdered sugar, and a subtle hint of spices (I detect cinnamon and myrrh) turn up the heat. This time, imagine coming in out of the cold and being greeted with a kiss which warms you from the inside out and you'll approximate the sensation of Nirvana Black's drydown. I have not enjoyed the base notes of a fragrance as much since Yves Saint Laurent Opium before it was reformulated.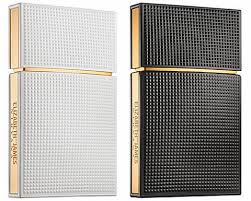 Nirvana White and Nirvana Black -The flacons were designed by Mary Kate and Ashely and were inspired by a vintage keepsake in their own personal collection
Press materials for the launch of the Nirvanas suggest layering both, but I don't think this is the best way to enjoy them. Like Mary-Kate and Ashley Olsen themselves, while they definitely go together, they deserve to be appreciated as individuals in their own right.
Longevity on both scents is excellent, and sillage is intimate, but that is appropriate here. The scents whisper sophistication rather than screaming for attention, and given how seductive they are, it's a plus that they are best enjoyed by people you permit to touch you.
I can't quite believe that I'm mentioning the Olsen twins in the same breath as Opium without a hint of irony, but the surprise factor is a delight. Nirvana White and Nirvana Black represent two of the best designer fragrance releases in several years. It is a measure of their quality that when I am wearing White, I am convinced that it is the better of the two, but when I am wearing Black, it becomes my favorite. As much as I adore niche fragrances, these are two beauties that work in virtually any situation, and I have been finding myself reaching for them multiple days in a row while neglecting more expensive fragrances.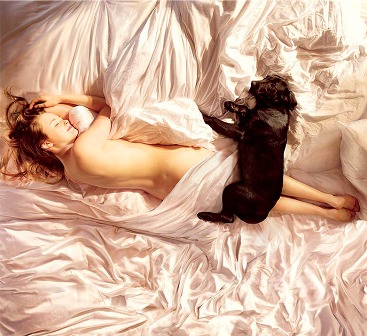 Ad campaign for Elizabeth and James Nirvana Perfumes
Thanks to the generosity of Elizabeth and James Nirvana, we have a reader's choice drawing for 50 ml of either Nirvana Black or Nirvana White for one lucky U.S. reader. To enter, please leave a comment indicating which of the fragrances you would select if you win and why, as well as confirming you reside in the U.S.Draw closes March 31, 2014
Disclosure: Review based on bottles provided by Elizabeth and James Nirvana for promotional consideration
–Nancy Knows, Sr. Contributor and editor of the fragrance blog Make Perfume, Not War
We announce the winners only on site and on our Facebook page, so Like Cafleurebon and use our RSS option…or your dream prize will be just spilled perfume.