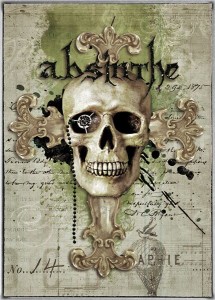 "After the first glass of absinthe you see things as you wish they were. After the second you see them as they are not . Finally you see things as they really are, and that is the most horrible thing in the world" -Oscar Wilde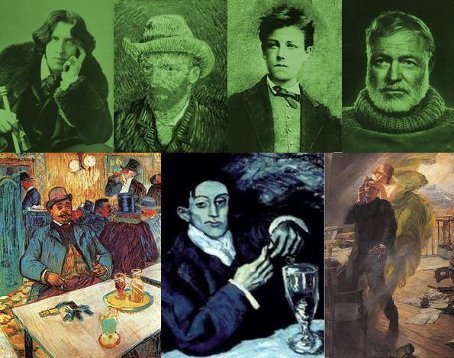 Clockwise from top right: Oscar Wilde, Van Gogh, Arthur Rimbaud, Earnest Hemingway, 'The Absinthe Drinker' by Edouard Manet, 'Green Muse' by Albert Maignan, 'Angel Fernández de Soto with Absinthe' by Pablo Picasso
Perfumer Daniel Josier, the former student of Jean Claude Ellena composed Interdit Absente based of the notorius and much storied Absinthe liquor, made famous in Bohemian Paris (La Fee Verte or The Green Fairy) and known for its alleged pyschotropic properties. Writers and artists such as Ernest Hemingway, Charles Baudelaire and Les Poetes Maudits, Toulouse-Lautrec, van Gogh, Oscar Wilde, and Pablo Picasso were known to drink absinthe using it as both a muse, sometimes to excess, and as a subject of their art and literature. Hemingway wrote about Absinthe in For Whom the Bell Tolls, "Whiskey… does not curl around inside of you the way absinthe does … There is nothing like absinthe." –Excerpted from Elise Pearlstine's Anise in Perfumery article.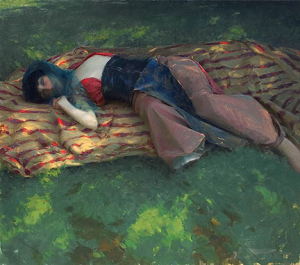 Painting by Jeremy Lipking
Absinthe Interdit with a fresh burst of citruses; grapefruit, lime and bergamot awaken the senses and provides a bright backdrop for the licorice laced Absinthe accord. The heart contains green romantic notes of rose leaves with a hint of ginger spice and the scent of fresh cut grass and blossoming flowers on a spring morning. As the fragrance develops it takes on a woody softness compliments of sandalwood, white flowers and musk. Over all this fragrance is juicy, fresh, and delightful.. surprisingly perfect for a spring day or for those cold winter nights when one wants to be transported away from the winter. The longevity is exceptional lasting around 8 ½ hours and the projection is very good and in keeping with Daniel Josier fragrances- it wears close to the skin, but can also be detected by those within arm's reach.
Notes: sagebrush, grapefruit, ginger, bergamot, rose leaves, white woods, musk, and sandalwood.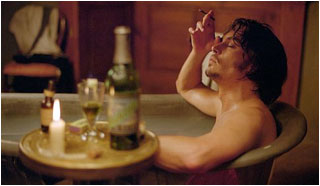 Johnny Depp Drinking Absinthe
Absinthe makes the heart grow fonder by The Nosey Artist
I could smell the Absinthe on his breathe as he feverishly grasped the back of my head and pulled me in for another kiss but I didn't care, I was suspended in the moment and subdued by the sheer pleasure of what was to come. 16 month, 21 days, and 4 hours had passed since we first "met" and now it all finally came to a head. I embraced his beautiful face in my delicate hands and felt the bristle of his five o'clock shadow in my palms as I kissed him back; all the late night Skyping, the virtual vision boards, the let downs from foreign politics, and the trust issues associated with a long distance relationship were with it- we were finally together for the first time, but it felt like we had known each other our entire lives.Suddenly he made his way down the crook of my neck and began to nibble on it ever so gently; as he did I was immediately entrapped by the lustrous fragrance he was wearing. Even in this fantasy moment my mind traveled back to the times when he used to hand write me poems and spray them with his favorite scent before he sent them my way, in his absence he would always find a way to somehow be an anchor in my life and that made me love him even more.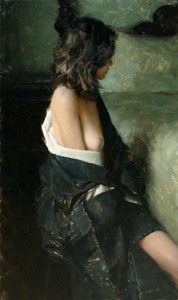 Painting Jeremy Lipking Bedside
I opened my eyes slightly to take in his face once more as he lifted his head and smiled while he undid my blouse. I began to breathe heavily as I again took in the woody fresh aroma of his fragrance and then abruptly an earth shattering boom rippled through the city streets with a force so strong it shook the entire hotel and knocked us both to the floor. Once the shaking stopped we arose to our knees and looked out the window to survey sparks flying from broken telephone wires as well as smoke and dust everywhere from the aftermath of the bomb, but once we realized we were both ok we lightly chuckled and began our intense session once more. Here we were in my home country during a time of pure chaos and sorrow making love to the sounds of gun fire and bombs bursting all around us, but neither one of us seemed to mind. If we were going to die, at least we'd die together and spend the rest of eternity in union never to be apart from one another again.
The setting for The Nosey Artist's prose is alternately modern day and France during the Nazi Invasion.
Art direction and some contributions by MC. I chose the art of Jeremy Lipking , a contemporary artist who has been compared to John Singer Sargent, there is that sense of timelessness. The photo of Johnny Depp is gratuitous pleasure
The Nosey Artist, Contributor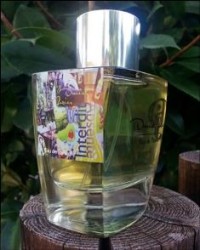 Courtesy of Daniel Josier we have a worldwide draw for one full sized bottle of Interdit Absente for a registered reader (please make sure you are registered) To be eligible comment below with what you enjoyed most about The Nosey Artist's prose and why this perfume appeals to you or intrigues you the most. Draw closes January 15, 2016
We announce the winners on our Face Book page so be sure to Like Cafleurebon and use our RSS option…or your dream prize will just be spilled perfume.