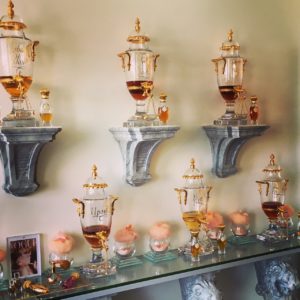 Caron Paris Display of Urn Fragrances in New York @ One Grand Central Place| 60 E 42 St (photo Hernando)
Of all the myriad of perfume houses that have developed over history there is one that I hold in very, very high regard more so than any other and that is Caron. Along with Houbigant, Patou, Guerlain, Coty, and Schiaparelli it rounds out my top favorite houses. The one thing about Caron is that every single one of their creations are of such high quality and finely crafted that is very difficult to hold a candle to compare their output to any other house out there. Whilst many may not agree with my statement, I stand by it firmly. This goes for both vintage and modern.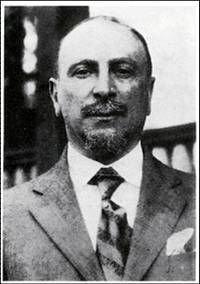 Ernest Daltroff (photo courtesy of CARON)
Ernest Daltroff has always been a hero of mine. He had that magic touch that absolutely drove my nose and my mind into overdrive imagination status. His artistry has inspired me in so many ways I cannot even begin to describe it. Frankly, the man is legend. His life should be made into one heck of a movie I would think. It would be beautiful, romantic, and sad story of love and loss and everything that came with it. After Daltroff's death in 1941 Michel Morsetti was unlisted with the task of creating new perfumes for the house. I must say he did not disappoint – his hands and nose were more than capable of the privilege to continue where Daltroff left off. His creations have gone on to be iconic and, in fact, make up a big part of the overall success of the brand to this day.
Farnesiana Tree in the Sunlight (Photo Aaron)
One of my favorite of his creations is the stunning Farnesiana. The perfume was created in 1949 upon notes Daltroff left behind. If one is not familiar with what Farnesiana is, it is the lovely golden yellow flower (also referred to as Mimosa) of the Sweet Acacia tree that can be found growing in many parts of the world, particularly abundant around the Mediterranean. The scent is very striking and simply cannot be missed if you are in its presence during its blooming period…talk about inspirational…oh my goodness. There really isn't much to compare it to. However, to get an idea you need look much further than Daltroff's ghosted notes echoed in Michel's rendition.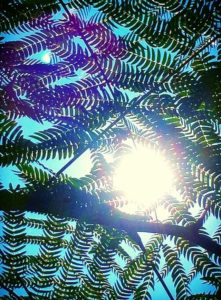 Farnesiana starts out with a huge blast of the star of the show. The beautiful yellow powder puff flowers are resplendent, bringing to mind a beautiful yellow sunshiny day under a crystal blue sky. It's very dense, but oh so airy at the same time.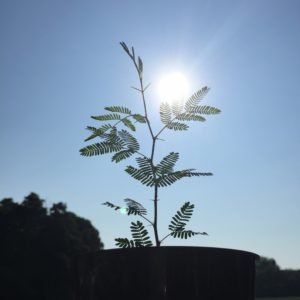 Photo of Farnesiana Tree by Aaron
If one pays particularly close attention there is a leafy factor involved her that brings to mind freshly cut stems, not unlike when the flowers are picked off the trees. There is also an earthiness to it that conjures up purple clover flowers and green grasses freshly cut and baled.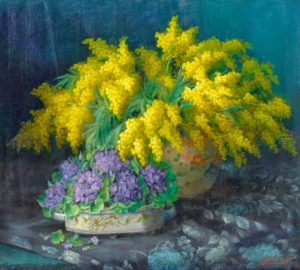 Mimosa and violets by Julien Stappers
It's stunning in is presentation and in some ways challenging in its contrasts and complexity (no surprise here, Caron fragrances are famous in my mind for this very aspect). Soon thereafter the fragrance takes a turn to explore the Farnesiana flower as in what it becomes as more of an absolute (the end process of extracting the fragrance from the flower). At this stage there is a very strong resemblance (and I'm sure it's also paired with it) to Violet. It's a very sweet and savory scent that's both elegant and sublime and oh so very Caron. With every whiff my mind begins to wander here and I suddenly take an imaginary trip to the south of France at the special moment when the flowers start to bloom and the magic happens, i.e. just take me to the Route d'Or already…(editor's note:Each year in Nice from January 15 -March 15, there is a festival that celebrates the blossoming of Mimosa, with floats parties and parades)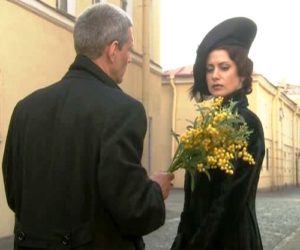 The Master and Margarita 2005 miniseries
The mid stage brings us to a nutty territory characterized by what I would call an Almond Marzipan paired with Heliotrope. The great thing about this that it doesn't come off as something edible. It simply smells delightful and quite unique for Caron. We also start getting our first glimpse of the more sensual undertones of the base.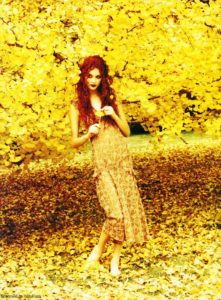 Ellen von Unwerth for Vogue, 1993
There's a powdery undercurrent of Sandalwood and very slight Opoponax Incense mingled in the mixture that gives that very special bit of seriousness and refinement of a very fine perfume. The Violet note is still present, but has taken on aspects more of what I suspect to be Iris (as in Orris Root) is utilized here to add to the powderiness of the overall composition…it's gorgeous.
Not long after Vanilla starts to play a key role acting to bring everything together to a stunning finish. Between the Vanilla and Opoponax there is a bit of Tonka and I also get an Anisic quality from time to time. The freshly cut clover from earlier has now turned into straight up hay that's been dried in the sun and ready to be given to the horses. From the midst of all this light musk rises to the occasion making for a sensual end of powdery-musky Vanilla Sandalwood end.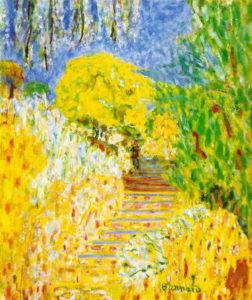 Pierre Bonnard Studio with Mimosas 1938
Overall, I see this perfume as a lovely day out among the trees and nature. A lovely mini vacation in a bottle – a perfect one at that. You want to know what I think. I think YOU need a vacation in a bottle! Everyone should have the opportunity to experience this beauty.
–Aaron Potterman, Contributor and Vintage Perfume Expert
Art Direction: Michelyn Camen
Editor's Note: CARON has moved their USA/ New York Headquarters and showroom. Brand ambassador Diane Haska, a friend for over ten years, is available to show you the line by appointment only. If you are planning to visit New York City or live in the tri-state area it is so conveniently located. One Grand Central Place| 60 E 42 St/54th Floor | New York, NY 10165
You can order any current CARON fragrance including the coveted urn perfumes by calling Diane (212) 308-0270 | (877) 88-CARON |dhaska@alesgroup.com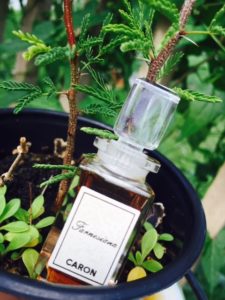 CARON Farnesiana extrait is a fountain/urn fragrance Photo by Aaron
Thanks to Caron Paris USA we have a 7.5ml of the hand poured and individually bottled Pure Perfume Extrait of Farnesiana. for a registered USA CafleureBon reader if you are not sure if you are registered click here you must register on our site or your entry will be invalid). To be eligible please leave a comment ON THIS SITE with what you enjoyed about Aaron's review, and if you have a favorite Caron Paris fragrance. Draw closes 6/19/ 2016. You can follow us @cafleurebon @maison303 on Instagram. Check out on @caron.paris on instagram as well.
We announce the winners on our site and on our Facebook page, so Like Cafleurebon and use our RSS option…or your dream prize will be just spilled perfume