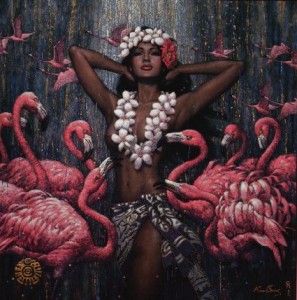 Paradise by Karl Bang
This week I am delighted to highlight yet another gorgeous natural perfume that has been selected as a finalist for the 2016 Art & Olfaction Awards in the Artisan category. Jennifer Botto of Thorn & Bloom's magnificent no holds barred opulent white floral composition is sure to delight the devotees of jasmine.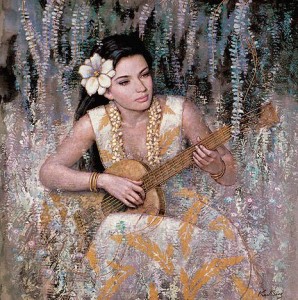 Serenade by Karl Bang
Upon first spritz Bird of Paradise is immediately and unapologetically floral. Champacas warmth is matched by the headiest jasmine's intoxicating qualities, yet they are both tempered by the more indolic background notes within jasmine. The lush opening of ginger and citrus is paired with a ripe tart aldehydic pineapple accord that is a work of art in and of itself. And although you might be thinking to yourself "I'm not sure if I want to smell like a pineapple?!" You may soon find that indeed you do.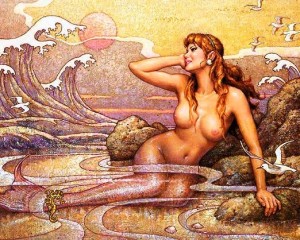 Mermaid Karl Bang
At the base of this beautiful efflorescent beast there is an extremely special salty aquatic wood feeling that comes out especially in the drydown this is imbued by the lovely and rare spellbinding powers of very high quality ambergris. This generous and dexterous use of natural ambergris completely takes me away. Here it is treated like the precious gem that it is. Botto's careful infusion is thoughtfully and masterfully used to highlight the rest of the elements in this transcendent magic potion. Ambergris provides an animalic marine quality that envelops the intoxicating tropical floral fruity embrace and not only magnifies and boosts it but simultaneously grounds it into a fuller being. The salty agrestic nature tempers down the lush and verdant flower power that could easily have gone toward cloyingly sweet. Ambergris and the milky anchoring sandalwood are an extraordinarily beautiful pairing throughout the perfume but are supremely suited for one another during the drydown where they "evoke planks of sun-scorched driftwood floating upon languid waves." Frankincense acts as a stable support giving some of its resinous beauty and sublime staying power and references of the sacred. This elegant drydown hugs the skin effortlessly and stays with you for a long time. Even better sprayed on a favorite shirt or scarf making it all the more celebratory the next time that you wear it.
Notes: Ginger, Citrus, Pineapple, Champaca, Jasmine, Frankincense, Sandalwood, Ambergris
Disclosure: I received my sample of BIRD OF PARADISE from Thorn & Bloom (Jennifer Botto), opinions my own.
– Zee Boudreaux, Natural Perfume Contributor
Art Direction: Michelyn Camen, Editor in Chief. I chose the paintings of Karl Bang, known for his remarkable sense of colour, attention to detail and celebration of female beauty.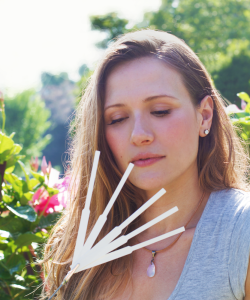 Jennifer Botto of Thorn & Bloom
Editor's Note: Jennifer explained to me that Birds of Paradise is an expression of her longing for the tropics a way to transport herself to that luscious paradise, after having spent many long, cold, barren winters in Boston. She wrote, "I wanted to bottle the atmosphere of past holidays spent luxuriating on the beach in perfect peace and solitude. I wanted to recreate a full day in paradise, from sunrise to sunset. Passing time is represented by the progression of notes: Top notes: Morning: bright, sparkling ginger and citrus; Heart Notes: Late afternoon: long cool shadows of voluptuous jasmine & champaca blooms; Base notes: Midnight: a salty mist of ambergris and sandalwood drifting upon languid waves." Michelyn Camen, Editor in Chief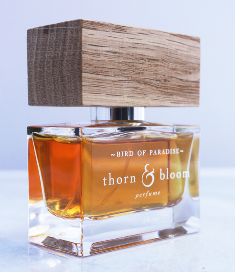 Thanks to Jennifer Botto of Thorn & Bloom we have a 7.5ml bottle of Birds of Paradise for a ConUS or Canadian registered reader PLUS a sampler of Stranger in The Cherry Grove (reviewed here by Einsof), Orange Blossom, Wild Rose and Savage Garden (reviewed here by Michael Singels). To be eligible, please, leave a comment with why you would like to win Birds of Paradise based on Zee's review, your dream tropical destination and where you live. Draw closes 4/14/2016
We announce the winners on our site and on our Facebook page, so Like Cafleurebon and use our RSS option…or your dream prize will be just spilled perfume