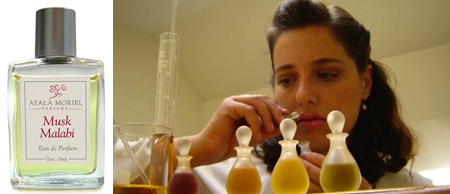 Perfumer Ayala Moriel
Natural Perfumer Ayala Moriel released Musk Malabi on March 20th, 2014 to coincide with and celebrate Persian New Year, traditionally celebrated on the vernal equinox. This perfumer was born in Montreal, Canada but was raised in Clil, an organic village in West Galilee, Israel, before returning to Canada to begin perfuming in 2001. Her firsthand knowledge of exotic worldwide aromatics is combined with her use of 100% natural, often organic or wild-crafted raw materials in sensual and sophisticated perfumes that are cruelty-free, sustainable, and as "green" as possible. Ayala Moriel started her line because although she loved fragrance, she was sensitive to synthetics. All her fragrances are hand crafted in small batches and each perfume is lovingly placed in a luxurious bottle and giftwrapped for the wearer.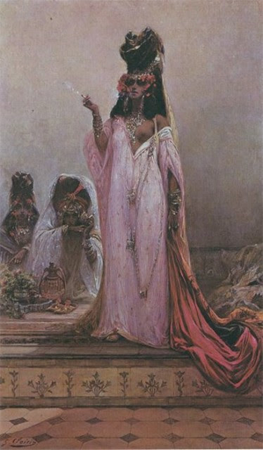 "Harem Woman" by George Jules Victor Clairin
Such careful attention is reflected in the construction of Musk Malabi, a fragrance inspired by and styled after what Ms. Moriel calls the "Queen of all Middle Eastern desserts". Malabi is a chilled pudding made of milk or cream and sugar thickened with gelatin and topped with bitter orange and rosewater syrups. Attempting to capture not only the aroma but the texture of this cool creamy treat, it opens with a breath of dense citrusy freshness, and a whisper of soft spices. Coriander's coolness balances cardamom's warmth, as citric notes fade and flowers begin to bloom everywhere.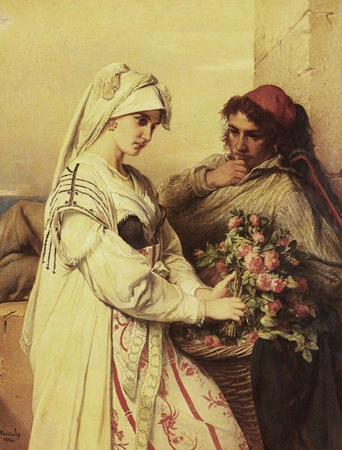 "The Rose Vendor" by Jean-François Portaels
The scent of voluptuous and exotic roses follow, pierced by a dry neroli note before fully opening into the sensuous veil of orange blossom absolute. This bouquet of sultry blooms dominates the heart, which is kissed by spices. Musk Malabi develops gracefully while weaving an enchanting lingering vapor of translucent botanical musk throughout. I am reminded of of that giddy feeling of meeting and falling head-over-heels in love. Memories of languid walks hand-in-hand past blooming roses and late evening trysts under flowering fruit trees bring a blush to the cheek and a sigh to the heart. Much like a summer romance, this creamy musk confection seems to fade but reappears when you least expect it and most need it. Musk Malabi hovers on the edge of gourmand and is perfect for warm weather Sillage: close to average. Longevity: average.
Notes: Bitter orange, cardamom, coriander, blood orange, Turkish and Bulgarian rose absolutes, Tunisian neroli, orange blossom absolute, Atlas cedar, myrrh, 100% botanical musk.
Disclosure: Review based on EDP sample sent to me by Ayala Moriel Parfums.
John Reasinger, Senior Editor & Natural Perfume Editor
Art Director: Michelyn Camen
Editor's Note: Ayala has in depth knowledge of vintage and contemporary perfumes, and back in the early 2000s', I remember reading her great fragrance reviews that she posted on Basenotes.com. I tested this perfume and for me, Musk Malabi evokes the image of a Persian King kissing the neck of the most desired woman in his Harem at her feet a carpet of rose petals. If you haven't checked out Ayala's thoughts on the art of perfumery on her Smellyblog.com, I highly recommend you do so.-Michelyn Camen, Editor in Chief