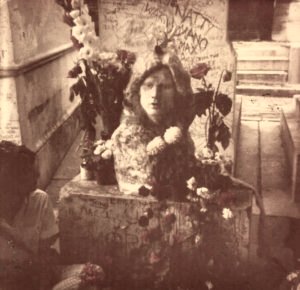 Author Liza Wade at Jim Morrison's Grave, La Pere Lachaise Cemetery, Paris, France, 1984.
What is the scented intersection of perfume, poetry and rock? What brings together two 19th century French poets with two 20th century iconic American Rockers? Each of the four consciously and unconsciously referenced each other, through ideas, imagery, fashion and lifestyle.They shared common themes of sex, death, intoxicants, and rebellion. They each craved freedom from the constraints of convention and pushed the boundaries of what was acceptable. Arthur Rimbaud suggested words could create images so exacting that they could be smelled. Poets Baudelaire and Rimbaud both sought the universal through the senses and the highly personal through symbols. Influenced by their poetry, the American rockers Jim Morrison and Patti Smith wrote music that further explored these themes. There are four evocative fragrances which honor their boundless spirits and the shared scented legacy they left behind.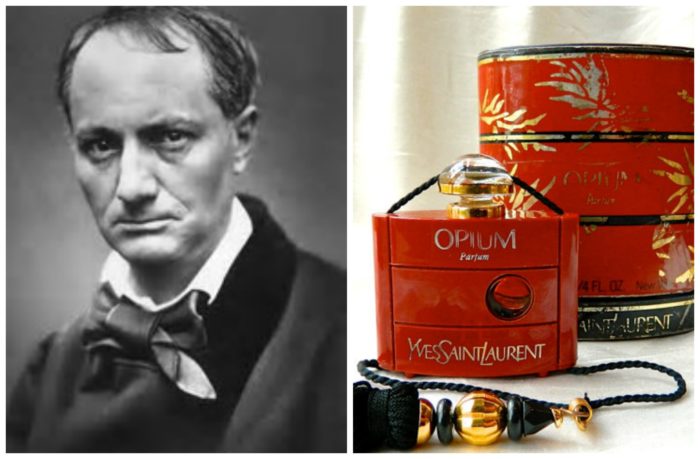 Charles Baudelaire (1821-1867) and Yves St. Laurent Opium (1977)
"You shall love that which I love and that which loves me: water, clouds, silence and the night; perfumes that cause delirium." ~ Charles Baudelaire
Scandalous. There is no disputing that poet Charles Baudelaire lead the prototypical rock star lifestyle. A significant inheritance provided him with the means to live the high life in Paris of the Second Empire. A renowned fashionista, famous for his ruffled shirts, Baudelaire passed his time in the art galleries and cafes of the City of Lights. On the flip side, Baudelaire was a frequent patron of bordellos and regularly relied on hashish and opium to enhance his sinister nature. Not surprisingly, his poetic voice was dark, if not a bit drug laden. Baudelaire's recurring themes of sex and death were considered shocking in a time when Victorian mores ruled. No other writer had touched on that in such an uncensored manner before. Moreover, Baudelaire's use of the sense of smell and of fragrances was so intimate it felt voyeuristic. Baudelaire's debased behavior along with his cutting-edge poetry made him a scandalous celebrity his day.
Opium ad with Sophie Dahl by Steven Miesel, 2000
The scent which comes to mind for Baudelaire may be modern but it echoes of Paris and it too is filled with scandal. At the time Yves St. Laurent Opium was launched, the name alone elicited public outrage. Baudelaire would have approved. Using the name Opium garnered free publicity and controversy that catapulted the fragrance to be an immediate best-seller. It remains a top seller to this day..Opium opens with a mixture of fruit and spices, the warmth of mandarin, plum, clove, coriander and pepper but it is the sweet, addictive woody base that dominates Opium's identity. A credit to perfumers Jean Amic and Jean-Louis Sieuzac of Roure, Opium, like Baudelaire has many imitators, but none come close to the sophistication and amazing lasting power of either.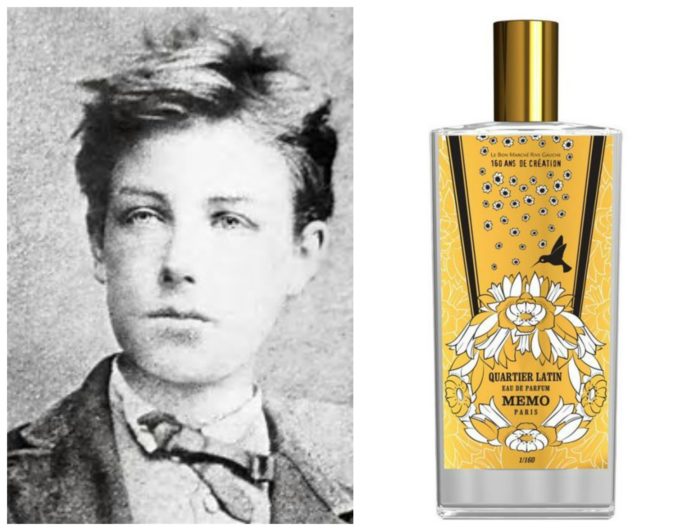 Arthur Rimbaud (1854-1891) and Memo Paris Quartier Latin (2012)
"True alchemy lies in this formula: 'Your memory and your senses are but the nourishment of your creative impulse'." ~Arthur Rimbaud
Restless. A shooting star, Arthur Rimbaud lived fast and wrote furiously. It is astonishing to consider that his writing career spanned a mere five years. The imagery in Rimbaud's poems is filled with references to the senses and to smells. Like Baudelaire before him, Rimbaud was fond of altering his own senses although it was usually through absinthe and hashish. Rimbaud went full throttle in his personal life. He seduced fellow poet Paul Verlaine through letters; the older, established (and married) man from Paris sent for the young prodigy from the Provinces and this love affair was considered scandalous. The relationship was creatively fruitful as they influenced each other's writing, however, it was punctuated by jealously and rage. The end of their affair occured during an argument when Verlaine shot Rimbaud in the hand. Verlaine went to prison and at just 21 years old; Rimbaud turned his back on poetry forever.
The infamous Latin Quarter in Paris was the hub for Bohemians during the Belle Epoque. A woody-oriental fragrance, Memo Paris Quartier Latin boasts an accord which would make Rimbaud proud. Sandalwood and cedar evoke the distinct aroma of vintage paper and pencils, clove leaf hints at the cigarettes smoked by the students and artists who frequented the Quarter. Amber and tonka bean suggest a last cup of coffee in a cozy café juxtaposed with the dark damp streets outside. Perfumer Aliénor Massenet has created a fragrance that transports you to the very time and place of the rebel poet.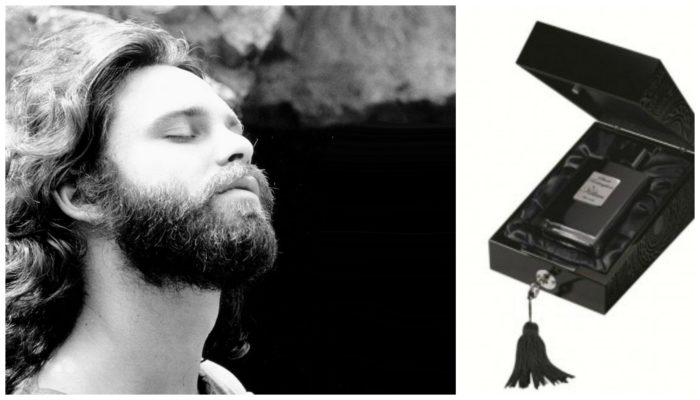 Jim Morrison (1943-1971) and By Kilian Sweet Redemption, The End (2011)
"This is my poem for you, Great flowing funky flower'd beast, Great perfumed wreck of hell." ~Jim Morrison
Subversive. Almost half a century after his untimely death, Jim Morrison continues to stoke popular imagination as the quinessetial rock star with his seductive stage presence, Dionysian good looks, and reckless lifestyle. At heart, however, he was a poet and Jim Morrison's literary inspirations were Baudelaire and Rimbaud. One of Morrison's most infamous pronouncements, "I believe in a long, prolonged, derangement of the senses in order to obtain the unknown" was essentially copied from Rimbaud.
One of the last photos of Jim Morrison before his death in Paris 1971 Jim O'Rourke©
Rock and Roll was the platform which made Jim Morrison notorious. However, as Morrison's public persona grew more seditious, it became difficult for him to maintain. In March of 1971, Morrison escaped the excesses of his life in the U.S. by moving to a quiet apartment in Paris. The sweet redemption is that Morrison, like Rimbaud, lived large and died young. Jim Morrison died of a heart attack at the age of 27.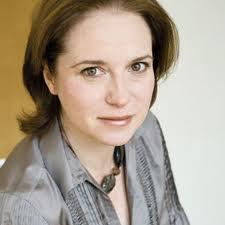 Calice Becker via Calice Becker
Legendary perfumer Calice Becker of Givaudan created the masterpiece By Kilian Sweet Redemption, The End. This fragrance is all heart. Orange blossom, frankincense, and myrrh define its character. Opopanax, benzoin and vanilla give Sweet Redemption the sweaty aspect that brings to mind the "Lizard King" in his black leather pants after a concert at the Hollywood Bowl. The subversive sweetness revealed from the orange blossom hints at the whiskey taking up permanent residency in his veins.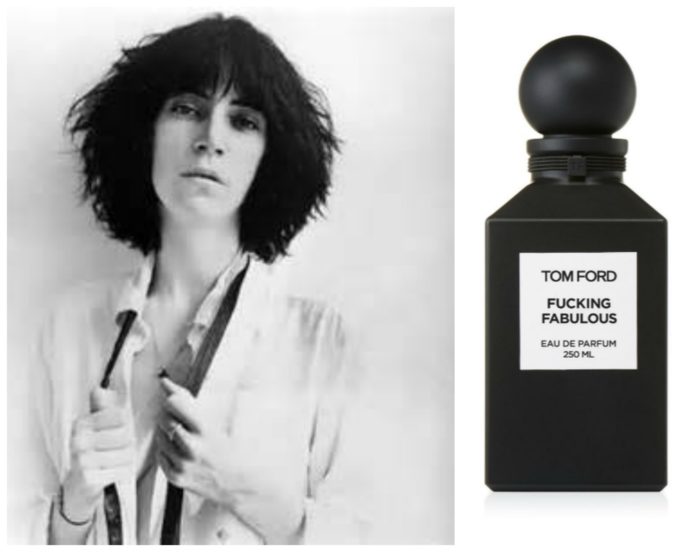 Patti Smith (1946-) and Tom Ford Fucking Fabulous (2017)
Patti Smith "Horses" 1975 (photo by Robert Mapplethorpe)
"april is the cruelest month etc. what remains? brian jones bones, jim morrisons friend jimi hendrix bandana. sweatband angel. judies garland. the starched collar of baudelaire. the sculptured cap of voltaire. the crusaders helmet like a temple itself. Rimbaud's valise." ~Patti Smith
Transcendent. Patti Smith boldly referenced all three of her poetic influences. Smith's iconic man's shirt was not only a rejection of rock's expectation of female sexuality but also a reference to Charles Baudelaire. Like Morrison, Smith considered herself both a poet and a rocker. Her first album included a spoken word piece and she improvised using poetry in many of her performances. Smith's rock career was launched at New York's infamous CBGB where her lyrics and delivery paved the way for the punk rock esthetic.Smith rejected mainstream stereotypes while embracing the senses and using highly personal symbols.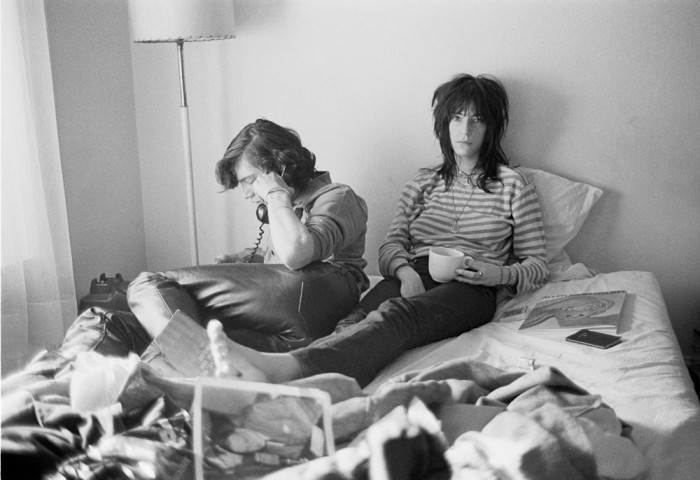 Patti Smith with Artist Robert Mapplethorpe
From her early romance with closeted gay photographer Robert Mapplethorpe, Patti Smith's life has been unorthodox. Like Rimbaud, Smith quit her art abruptly and chose a different path. In 1979 she stepped out of the limelight to become a wife and mother. The point of difference is that after her prolonged sabbatical, Smith has returned to the public arena as an award-winning and best-selling author.
Smoky, sweet and appropriately androgynous, Tom Ford Fucking Fabulous is as irreverent as the "Godmother of Punk". A decadent leather-oriental, the name suggests this fragrance all about audacity. The perfume is as Fucking Fabulous as Patti Smith herself, with its key notes of bitter almond, resinoid, clary sage and leather. Not one of these elements screams louder that the rest; instead, the fragrance has one voice full of vitality and rebellion. It is the whole package: sex, notoriety and intoxication of the senses.
Scandalous. Restless. Subversive. Transcendent. This is the scented intersection of perfume, poetry and rock: the legacy of transformation.
Disclosure: Samples from writer's personal collection.
~Liza Wade, Monthly Contributor
Editorial Direction: Michelyn Camen, Editor-in-Chief