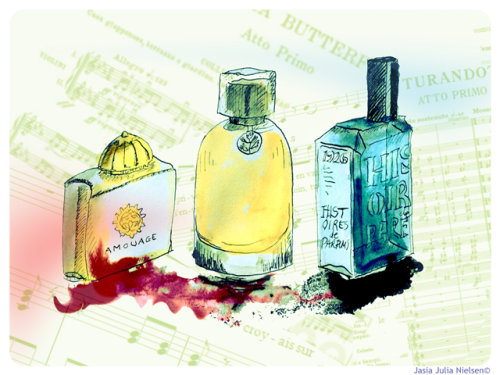 Orignal Ink and Water Color Illustrations of Amouage Honour Woman, Ego Facto Ego Facto Prends Garde À Toi and Histoires de Parfums 1926 Turandot by Jasia Julia Nielson
To turn to the Opera for inspiration for a perfume is by no means new. Jacques Guerlain created Liu, which was inspired by the slave girl in Puccini's Turandot, in 1929.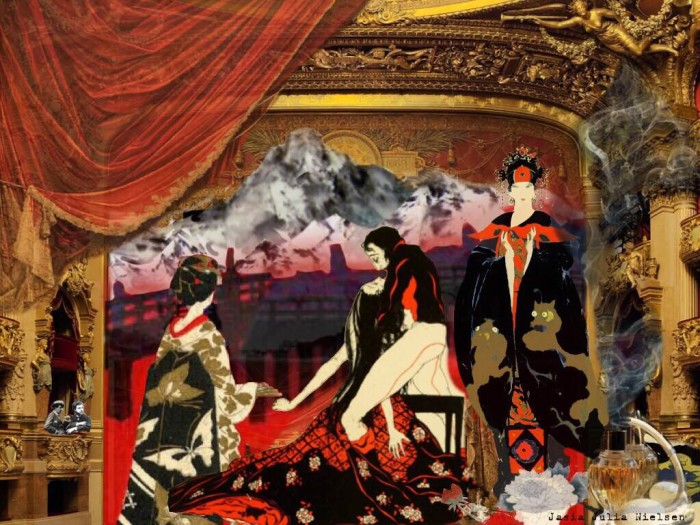 Theatre collage by Jasia Julia Nielson: Opera Garnier Paris, costume design by Umberto Brunelleschi, an illustration by Hans Henning Voigt, Japanese woodblock print artist uncredited.
Fortunately we are still being presented with olfactive interpretations of famous masterpieces interpreting the feast for eyes and ears evoking opera at its greatest.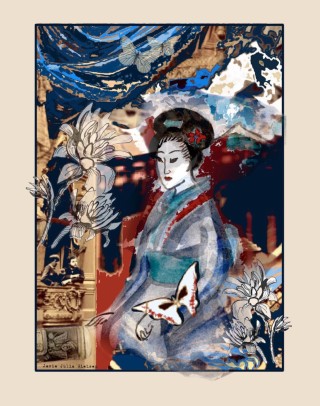 Original Madama Butterfly watercolor illustration by Jasia Julia Nielson
Creative Director Christopher Chong of Amouage dedicated Honour Woman to Puccini's opera Madama Butterfly, the story of the geisha Cio-Cio-San who marries the American Lt. Pinkerton, and awaits his return, only to see all hopes dashed, honour allowing her only one way out; death. The opening of Honour Woman has a short burst of metallic pepper foreboding the tragic end, however, it is soon put firmly away by the hope of white flowers, like the white stripes of the ship on the horizon – "White, white… the American stars and stripes!". It's a creamy, but by no means delicate with a seductive white floral bouquet of tuberose, gardenia and jasmine. In the heart an aquatic metallic scent, stemming mostly from lily-of-the-valley and incense, can be glimpsed behind the flowers. The aquatic-notes sit beautifully as dew on the wreath, while at the same time linking to the tears and sea of hope that 'one fine day' ('un bel di'). The metal pointing at the hara-kiri Butterfly will commit with the sword of her father which is inscribed with the words; "Let there be honour in death, where there is no honour in life". A base of resins and incense closes the scent, drawing the final curtain.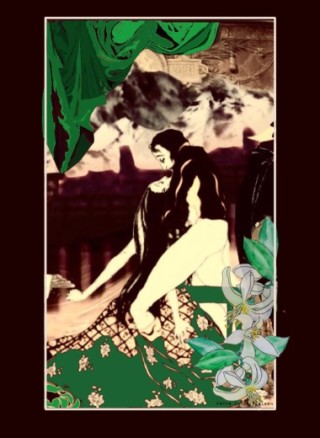 Carmen collage: Illustrator Hans Henning Voigt -(digitally altered) and original floral ink and watercolor by Jasia Julia Nielson
Perfume, like opera, evokes strong emotions. Prends Garde À Toi by Ego Facto, does just that. Like the Habanera-aria) which the perfume takes its name from, it either sings to you sweetly of freedom and love, or growls 'prends garde a toi'- watch it, you! This effect sums up exactly what Georges Bizet's Carmen represents, a strong, independent woman who grows weary of her men, because they can't live up to her expectations, they are no match for her charisma. Creative Director Pierre Aulas, and perfumers Jean and Aurélien Guichard have gone all in pursuing the 'authentic' Carmen, all they believe she stands for, it's very clear that what they didn't want to do was a caricature of a Flamenco Dancing Femme Fatale in red and black and a rose between her teeth.It's daring to present this green, floral, woody fragrance. But exactly who is Carmen, or rather what is the essence of her if not exactly unpredictable and daring. An abstract fruity note starts the aria, singing along with an almost aquatic freshness before being outshone by a sharp, thorny grass scent. From greenness the fragrance turns into a breathy whisper of a white florals and woods before ending in a warm musky, dry feel, like that of a mezzo voice in pianissimo. It might be the Habanera it's taking its name from, but the heart has the foreboding of the 'card aria', in which Carmen foresees her own death.
Both Cio-Cio San and Carmen meet a tragic end, so let us finish on a slightly happier note. We have come full circle back to Turandot – 71 years after Guerlain Liu, Histoires de Parfums' Gérald Ghislain's offers his interpretation of Puccini's opera; 1926 Turandot.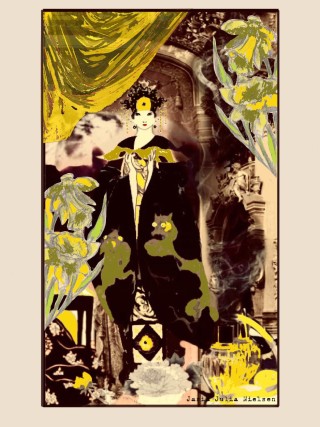 Turandot collage: Turandot: costume design by Umberto Brunelleschi (digitally altered) and original floral pencil and watercolor illustration by Jasia Julia Nielson
Turandot is the beautiful Chinese ice princess, who has sworn to only marry the man who answers her three riddles correctly; if he doesn't he must die. Prince Calaf passes the test but, seeing her fear, gives her a riddle to get out of her promise to him. "You do not know my name! Tell me my name before dawn!" The perfume starts with a very true and decisive narcissus, and that strange poisonous sharpness of the narcissus accentuated by the bite of ginger. On my skin it is sharper and seems more poisonous yellow, than on the mouillette, where it's softer and a bit sweet as soon as a subtle juicy pear scent sets in. I would say it's almost pretty, just with that touch of razor sharpness. It's a clever way of adding a Far Eastern and aloof touch to characterise the icy Turandot. Even as the top starts blending into the heart of jasmine and carnation, narcissus plays the first violin to a very subdued powdery, slightly spicy carnation and a well behaved jasmine, adding just enough for a feminine touch. But it's the narcissus which provides the scent-leitmotif. The dry down according to the official notes, are patchouli, amber, leather and incense which sounds a lot more 'in your face' than this fragrance ever becomes. The slightly bitter and non-smoky incense ties in with the ginger and the narcissus to keep a tart and felt Asian trail throughout the perfume. All notes are beautifully intertwined, and one perceives a soft floral-tinted leather as well as fruity amber chord, but truly, everything here is so subtle, so quiet. Shh… "But my secret is hidden within me;
none will know my name!" In that night no one sleeps – (Nessun Dorma, None shall sleep) everyone is kept awake to find his name. When dawn, breaks the Princess responds "I know the name of the stranger! His name is…Love!"
Jasia Julia Nielsen, Contributor