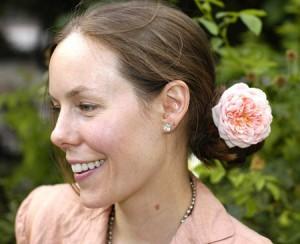 There are 'friends-in-fragrance' and there are friends. Seldom does one have the opportunity to interview a perfumer that is both. Dawn Spencer Hurwitz, the founder and owner of Parfums des Beaux Arts (affectionately known as DSH), is the exception. Can one separate the two? That is the more professional and journalistic approach, but not mine, not today. Dawn is not only a talented multi-dimensional perfumer and artist but a phenomenal woman and friend. Any one who has met Dawn knows that her parents blessed her with a name that describes her perfectly. She is not one to self promote or seek the spotlight, rather like the time of the day before sunrise, she prefers to stay below the 'horizon. Part water sprite, part steel, always one step ahead, DSH has been a creative force in independent perfumery and in the fine arts for nearly two decades..
The year 2009, was a year to remember for Dawn Spencer Hurwitz, niche perfumer So many things have gone right for you. What do you attribute this abundance of acknowledgment to, including being asked to be listed in Michael Edwards's Perfumes of the World?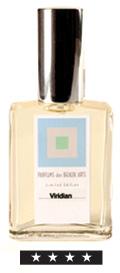 Photo credit: Scent Notes
DSH:

WOW! Thank you! Well, I would say that a number of things did go very right for me in 2009: A four star rating by Chandler Burr in the NY Times blog (Scent Notes), a "Best of Boulder" award, and my first Sniffapalooza visit, meet and greet. Among so many other wonderful opportunities and a real sense of growth. I don't think that I can point to any one thing that made the difference but a multitude of influences coming together. I will say that no one is "self made", in my opinion; I have to thank many, many people who have supported my work, written about it, and given love to it over the years, I do think that this is the time for DSH Perfumes to shine.
For those readers, who may not know your background, please tell us how you began

your perfumed path.
Newbury Street , Boston
DSH: I started designing perfume in 1991 after getting a job doing custom perfume 'cold'. (When I say '"cold"' what I mean is that I had no prior experience with perfume or even working in retail before landing the job). It was sink or swim. I swam. The job was at the original Essense Perfumery on Newbury Street in Boston. I was a student at BU / College of Fine Arts at the time; perfumer Sarah Horowitz Thran was at Emerson. By late 1992, we bought Essense and started our own perfumery that lasted until the Fall of 1994 when Sarah left for LA. I came to Boulder 6 months later. While still at Exsense, I had the opportunity to learn perfumery basics and really get to understand perfume from the ground up. I have been studying ever since: perfume history, the great perfumers and their masterworks and what clients really want. I've learned a lot since then and yet it all still seems so new; it doesn't seem possible that I've been designing for nearly 20 years.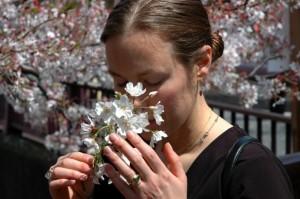 You are a certified aroma-therapist. In what way does this background help your perfumery?
DSH: I think that knowledge of the healing characteristics of aromatics can only help; even when designing with a mix of synthetics and naturals. I don't see much of a difference, from a design standpoint, between all botanical perfumes and perfumes with synthetics. Of course, with differing materials, you must expect different results in terms of feel and longevity. Most synthetics are designed to have specific characteristics (greater tenacity and diffusion, among others) but can smell 'plasticky', harsh and well, 'soul-less' while naturals to some noses smell 'muddy', overall too earthy and many have little tenacity (or perhaps there is no natural material available that creates the desired scent experience) so there is always a trade off when designing and making decisions. I find that to create a perfume that is conceptual and artistic, but can also maintain some of its healing properties is like cake and ice-cream: it's a win-win.
How do you determine what fragrance becomes a natural fragrance?
DSH: It's all about inspiration. If the design that I am working on can be made using all naturals and still 'do' all of the elements that I have in mind, then that is an optimum scenario for me, as I prefer working with naturals. But if the concept requires that I move into the realm of isolates, accords of naturals/ synthetics or some straight synthetics, then that is where the scent needs to be. It's all about what I want the perfume to be, conceptually. Now, having said that, sometimes I will do something I would call a "limited palette" piece (as a painter might decide to do monochromatic work, for example) and this would mean that from the start I have decided to keep my materials strictly in the naturals. Yet, it's still part of the inspiration: to create a new fine fragrance using just naturals. For example, my latest natural fragrance, Bancha was one of these 'limited palette' pieces. It can be a wonderful challenge to devise a natural perfume that doesn't feel limited by material constraints. I know that many of my clients want all botanical perfumes and so I have set about making a new collection in this spectrum.
I once told you are the "Luckyscent" of fragrance. How do you manage to create so many great perfumes.
DSH: I remember you saying that I am 'my own Luckyscent' and I still think it may be one of the best compliments ever paid me. The truth of the matter is that I have an insatiable need to create; it's what drives me. I want to experience working in every style of fragrance; not be locked into just one that is the DSH 'thing'. I push myself to be knowledgeable and workable in all styles and see what's it's all about. Plus, in the world of perfume, there are endless new designs to be created with new combinations, new inspirations and new materials. It's truly endless. And even with all of the perfumes I have created in the past and are available at my studio & website, I am continually filling notebooks with ideas and inspirations that may never come to manifestation.
What inspired your Chroma Series of perfumes .Please explain what inspired each one.
DSH: This collection comes directly from my background as a Painter, Color is the primal visual form for emotion; perfume is the same for our sense of smell. I wanted to express something that is a basic correlation for me and how I think about perfume in general. You know, for a long time I had this concept of translating color into scent pulsing in my mind since I do experience all aromas with a color, texture and shape along with the smell and I am so engaged in this phenomena that I thought, yes, this is really a deep inspiration that can challenge what perfume can be as well as, hopefully, open doors for a new experience of perfume. I also feel that the chroma series directly speaks to the connection between perfume and formal art; and opens the conversation to include fragrance as 'art for the nose' and not just to smell pretty (not that there is anything wrong with perfumes that just simply smell pretty). the chroma collection consists of the following aroma-colors: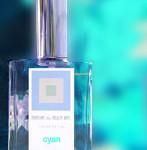 1- Cyan: our newest: (and thank you for naming it) is an aqua blue color. A light filled scent that I love for it's breezy feeling and it's softness. There is also something kind of Japanese about it for me; a purity of feeling and that there are no extraneous pieces. Cyan is an eau -fraiche, so it's hesperidic but with subtle herbs, flowers and earth influences as well. Cyan blue is about sky and water
2- Viridian: a deeply lush and yet transparent green, blue- green color pigment used in artist colors. I love the idea of this: something from deep within a forest: earth and greenery. I used lovage root and herb in this perfume which gives it a celery – anise like nuance that I feel is surprising and wonderful. I never get tired of smelling Viridian.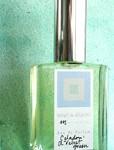 3- Celadon: A Velvet Green: is one of the most popular of the aroma-color series, I think because it is bright and light and at the same time is comforting and grounding. The concept was to create a green perfume, truly green, but with out the use characteristic sharp quality that most green perfumes have. It is a bit of a trick to create a frosted green; dewy green; and crisp green with out a sharp leafy feel. Celadon does this trick.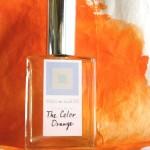 4- The Color Orange: As Mr. Burr said "this is Pop Art" and he was so right. I had wanted to create an orange perfume that was not just plain "orange" like a blood orange or mandarin, but something complex and abstract and yet, of course smells of orange. This is what The Color Orange does. I love it.
5- Sienna: inspired by the wonderful 'burnt sienna' pigment. I think that burnt sienna might be one of the most beloved colors and so I had to express it. It's dry and warm, of course, but has real subtleties. It must have spice but not be a classic spice perfume… it must also have some feeling of home and comfort and so there is dry cinnamon bark powder, creamy basmati rice, oak, honey and leather.
6- Umber (Bois de Rose): the 'bois de rose' gives a hint as to the main influence of this perfume, but it's much deeper and more moody than the effervescent effect that pure rosewood has. Umber is an earth pigment and I wanted to express a real depth of feeling and earthiness together. I also think that umber has a kind of enigmatic quality. It's hard to pin down all of the nuances of umber pigments and I think that the same can be said for this perfume.
7- Quinacridone Violet: is a bright, supersaturated pink, a violet color that is a very recent man-made addition to the artists' palette. This is one of the most vivid of the aroma color series; most people can truly sense the color from the scent. The fruits and flowers in Quinacridone Violet really convey the intensity of the color.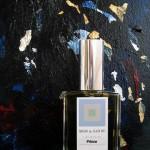 8- Prince: comes from an obscure textile color that was popular in France in the 1600's. It is described as an indigo – blue- black with iridescence of crimson. I loved the idea of this from the first…the challenge to create a color I have only seen in my mind's eye and to create an aroma color in a Seventeenth Century fashion. Apothecary rose, absinthe, herbs and rich base notes give Prince the right feel.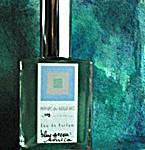 9- Blue-Green:arnica: this scent started with the challenge of using arnica as a perfumery note (love that) and is meant to express the wet freshness of blue-green; like da Vinci's concept 'the bluing effect' of atmosphere when receding in space. Blue-green: Arnica is atmospheric and feels like the outdoors.
10- Kohl Gris: charcoal gray. Warm, dry, slightly scratchy and deep but not too far down. I felt that ambergris and clove leaf create the perfect balance of richness and 'burnt' spice. I think charcoal gray is a simple kind of color and the scent reflects this simplicity.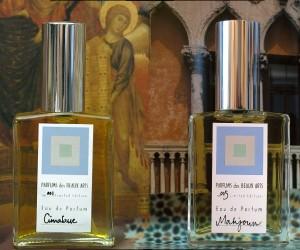 What are your best selling fragrances?
DSH: That's a hard question. I find that sales cycle; they go in waves. There are, however, some perfumes that are always cycling at the top: Formula X, Pamplemousse, Cimabue, Mahjoun,Tubereuse, d'Anjou, and American Beauty.
Since 2009, Oude Arabique, Minuit and Oeillets Rouges have risen to new heights as well; carnation seems to be having a Renaissance along with the fascination for all things oud.
Did you know that when created Hanukkah Cannelle, you were the first perfumer to create the scent of Hanukkah ?
DSH:

Really? I am surprised to know that I am the first perfumer to create a Hanukkah perfume. There are so man other Holiday scents out in the world, it seemed natural to work with Hanukkah. My first inspiration was actually a suggestion from a client who loves this Holiday but it took some time to develop a full concept around it. The food stuffs for both the Passover seder and Hanukkah were taken into account. I must admit that I love to smell it; I find it a bit addictive.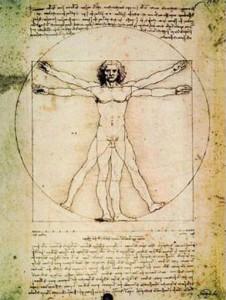 What did you do before you were a perfumer?
DSH: I studied Painting at Boston University College of Fine Arts. When I attended, it was a rare find, as a school teaching Art based on the Renaissance method: drawing, painting, sculpture and design based on life study and the figure. I studied anatomy and learned how to make all of my media from scratch. I can even make a fresco… But I have been involved in Art all of my life (always drawing and painting) and making mosaic (of sorts: i,e. putting things together to create something new) as long as I can remember. It is this sense of pulling from all experience and all materials that makes up the foundation of my work as a whole, whether it be a painting, a sculpture, or a perfume.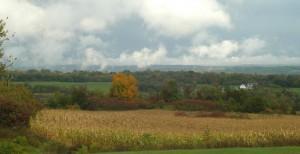 Duchess County, New York
Where did you grow up? What was your family life like?
DSH: I grew up in a small town in New York; Dutchess County to be exact. I loved many aspects of growing up in the country and I spent a lot of time picking flowers, making weird purple "grape" smush that I used as a dye / paint for rocks and exploring the natural world around me. Sadly, I am allergic to most outdoor things so it was a treat when I could manage it for a whole day. The trees, rivers and pastures are still vivid in my memory and I have been inspired to create a number of perfumes with influences from my childhood (d'Anjou, April and Ma Folie de Noel, to name a few). In my family, I am the 'strange' one; everyone else is involved in nursing / emergency medicine . I think that I am much more like the older generation; my grandparents and great aunt. My grandfather was an entrepreneur and a chef for a time, my grandmother wrote poetry and my great -aunt was a fashionista (before there was the expression).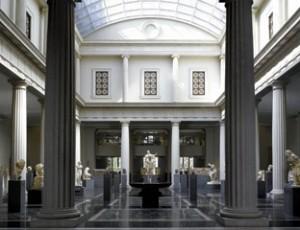 Metropolitan Museum Of Art, New York
Another grandmother made EVERYTHING by hand, so was a whiz at sewing, knitting, crochet, quilting, you name it! and I had a grandfather who worked with Broadway shows. I'm much more influenced by them and their generation than by my parents (who are absolute children of the fifties!). While the country was great, I did spend as much time in New York City as I could, sometimes skipping school to go to the Met and other museums. I couldn't get enough Art.
When I interview a perfumer, I ask them which perfume is their favorite child. I get a lot of PCanswers like "ohhh, I love them equally or the latest one." I know you will have a different answer to the question.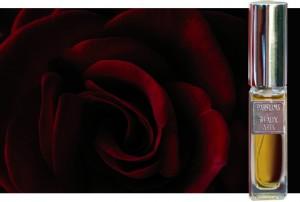 dirtyRose, a Cafleurebon favorite
DSH: It's true that I love 'my children' equally or for different reasons , like loving different dreams, but there are a few scents that I wear more often than others: Minuit, Aqua Admirabilis, Tubereuse, Parfum de Grasse, dirtyROSE, Arome d'Egypte, Nourouz, Ambre, Rose Vert and most recently, Bancha.That sounds like a lot. The fact of the matter, though, is that I rarely get to wear perfume, at least not the way I did before I started designing it. Now, I just have vacations or evenings out or perhaps one day a week to wear a scent for my own pleasure.
Which fine artists inspired you?
DSH: SO many! George Tooker, Piero della Francesca, Frangelico, Hans Hofmann ( which inspired the painting below and his student Mark Rothko), Antonio Lopez Garcia. (the list goes on…) Matisse, Cezanne, Corot. I'm really all over the place with artists I love. I just LOVE ART.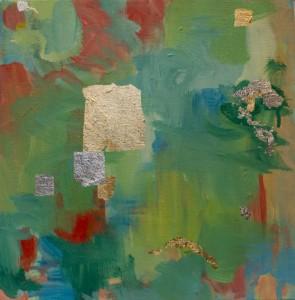 DSH's homage to Hans Hofman, Hans Hofman 2
Describe yourself in one word…
DSH:: Mercurial.
Despite your ongoing success you have remained humble. Do you believe your own press? Do you read your own press?
DSH: Oh goodness, Michelyn… what a question!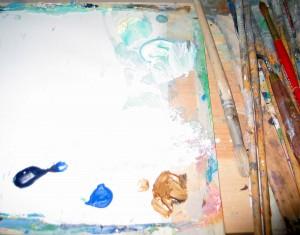 Dawn's Pallette
Like any artist, I hope that my work will be well accepted. I want to make art / perfumes that speak to people; to create happiness (or pleasure, thoughts / feelings / experiences). Press can be great to get your name out there and who doesn't like to read nice things? For me, I don't think it's healthy to read everything; it can be overwhelming. I like to think that if I am true to my creative vision that it will get noticed and that I will be able to reach a wider audience.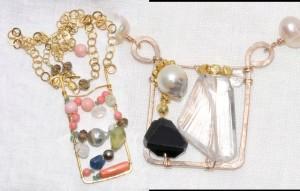 DSH Jewlery
You also design jewelry….beautiful wearable art… will you ever retail your designs online.
DSH::Yes, I started designing jewelry from a lifelong love of gemstones (what incredible light and color!) in 2007 as a hobby. As luck would have it, I recently started showing the pieces in a gallery here in Boulder last year and now a new website is in the works. It's amazing to me; I never would have thought that I would be an aspiring jeweler even though I have always loved stones,(Editor's Note: Email Dawn at dsh@indra.com to see or purchase more of her wearable art).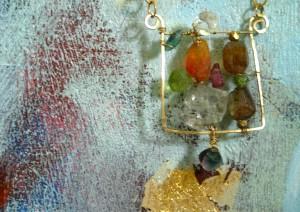 Please tell us about your one- woman -show Sensory Sublime…
"Sensory Sublime" was a multi-dimensional show featuring perfumes inspired by paintings, gem pieces inspired by perfumes and paintings inspired by both gem pieces and perfumes. What fun to have my worlds collides in such a way. It was all reflexive:a multi-sensory show – illustrating how multiple disciplines can influence one another and that the same inspirations can be expressed in differing ways. It was a very fun show – really a one of kind. I was inspired by doing scent tours' at the Denver Art museum for their "untitled #11" event during their' color as field" show of abstract expressionism paintings.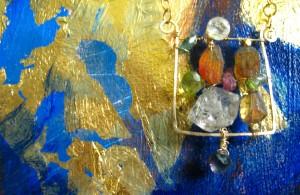 It was one of my first showings of the chroma series. Then, in Boulder, I then showcased the concept of "smell the paintings; feel the painting in gem form and see the paintings of a scent". I am hoping to create the new website to reflect this kind of multidisciplinary work so it will be a place to see and buy my paintings as well as the gem pieces. I will surely keep you posted about any upcoming website launches.
Tell us about your home base…Essence Studio. Since I know you are a great cook, what about opening a small cafe within?
DSH: The Essense Studio is my studio where I meet with clients and make everything, but there is also a retail store where I sell my perfumes, jewelry and art. It's really great to be able to show all of my work in one place. I want the studio to feel like a living, breathing, art space. No cafe… but dishes as inspiration for a great perfume…hmmm Your question did make me smile; thank you for that.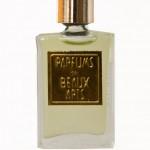 I have been wearing your latest fragrance Bancha. I wear it most often when I am in a down mood. The word means "green tea" in Japanese, but it doesn't smell like tea at all.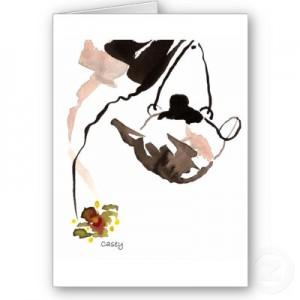 DSH: Bancha is one of my favorite teas and to me, even the name is relaxing. This relaxing feeling is why I used the name Bancha for my new perfume, not because it smells of or even has a true tea note. It's definitely about the feel. Bancha is actually an ayurvedic balancing perfume, so it's inspiration came from more Indian traditions than Japanese but something about the overall design aesthetic feels Japanese, so I think the name really fits.
Perfumers Neil Morris, Mandy Aftel, Maria McElroy, Kedra Hart all start their days with a cup of tea. Are perfumers tea people, the way some people are cat people.
DSH: I would have to say yes, since I am a tea person as well. I start my day with tea and although I love coffee in the afternoon, I probably have twenty varieties of tea to one variety of coffee. Perhaps it's that tea blending can be masterfully done to create perfect aroma balances just like perfumes. Teas and Tisanes are kind of the precursors to perfume anyway, with the herbs, flowers, leaves, and spices… it's all there. You know, now that I really think about it, what the real thing is is this: that perfumers are perfumers in all things, including their foods and drinks. We're always coming back to fragrance no matter what.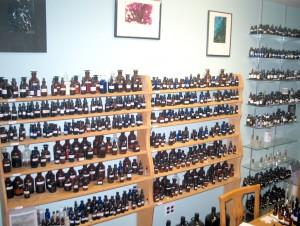 What's after Bancha? Any new fragrances in the works?
DSH: I have a bunch of perfumes in the works right now: (what a surprise, right?) A few are commissions so I can't speak about them, but for my own launches, there is a new men's scent, and a fabulous retro green on the way. I recently previewing the US version of Butterfly Nectar for DAWN Perfumes at Sniffapalooza Spring Fling. It is a fruity floral with a fresh topnote and a honied-gourmand drydown. There is a refreshing, outdoorsy quality in it that I really love; it's unlike the typical fruity floral. Oh yes, and there is a new aroma color in my mind for Fall. It will also be a design that will surprise you since it will have a fruit lead in note. It's always very exciting to create something new.
How do you balance your life with so many scented balls in the air?
DSH: I have no idea. Sometimes it seems as though I can get tons done and then wonder how I did it and other times I wonder why I can't manage to do all that I have planned in the time I planned to do it. I think the concept of juggling is a good one… on my good days I think of it as dancing.
Michelyn Camen, Editor in Chief